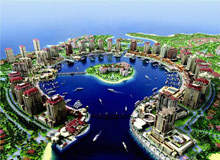 When the land begins to run out – we can just build more of it, right?
It sounds like a dangerous solution – akin to printing more money when the economy is low. But for coastal cities, island countries, and other water-filled regions facing rising sea levels and decreasing amounts of dry space, creating new land has become the solution of choice. The process, which has been around since the 19th century, involves either protecting submerged land from the sea with dykes or building land up above the water level using earth or sea sand.
From the moment the Palm Islands off the coast of Dubai were embroidered onto the world map, land reclamation projects developed a new dimension of economic power. Now, all over the world, spectacular satellite images and renderings of tulips, pearls, cedar trees and even the universe itself are cropping up on our coastlines. These developments are not only creating more space for local infrastructure, but are also capturing the attention of the world.
New technology, new era
More sophisticated technologies are enabling faster production of more-durable and environmentally friendly land, which – according to Tony Minns, scientific director of hydraulic engineering for the recently merged Dutch water-engineering consultancy Deltares (formerly WL Delft Hydraulics) – is the main reason for the land reclamation boom. "We have a lot more insight into how sand behaves and how the waves attack – about the interaction between weather and wave patterns, and currents and flows. And knowing that, we can design the shape of the island so that it requires a lot less maintenance in the future to keep it where it is," he says.
"When the land begins to run out – we can just build more of it, right?"
Such tools give architects more freedom in terms of the design and shape of land. But not all land designs will work. "When the architect predetermines the shape of the island, it's just a matter then of working together to create shapes that will stay put," says Minns. New landfill drainage methods are seeing settlement periods reduced to as little as months, depending on the type of ground (sand dumped on a peat bog surface in the Netherlands takes longer to settle than sand dumped in the already sandy Middle East).
Settlement acceleration methods used for the Pearl-Qatar – a 400ha high-end residential development off the coast of Doha in Qatar – saw the reclamation works completed well ahead of schedule. The Middle Eastern Dredging Company reclaimed 18 million cubic metres of land, speeding up the settlement with surcharges, vertical drains and a variety of rollers.
It's faster, stronger and more beautiful than before, but have all the issues with land reclamation been ironed out?
Engineering and architectural challenges
Incidences in the past of artificial land sinking over time, and even reports of buildings on reclaimed land shaking more violently during earthquakes due to their slippery sand foundations suggest that land reclamation projects are still not problem free. "We haven't done away with all the problems," says Minns, "but we have a lot more knowledge on how to avoid them by doing studies and investigations beforehand."
"It's faster, stronger and more beautiful than before, but have all the issues with land reclamation been ironed out?"
Gene Dyer, principal architect for US architecture firm Moshe Safdie, says that today most of the complications associated with building on reclaimed land are resolved in the foundations. "Once you get above that, it's fairly typical," he says.
Dyer is the project director for the Marina Bay Sands integrated resort, a $3.6bn hotel complex developed by casino giant Las Vegas Sands, being constructed on the reclaimed land of Marina South in Singapore. This land was reclaimed in the 1970s using locally sourced sponge-like marine clay and took 20 years to settle before any developments took place. Nearly four decades later the landfill is still proving to be far from ideal.
"We knew it was going to be difficult, but not this difficult," said Dyer last year when the resort's foundations were being laid. "The landfill is just like jello – when you excavate down inside of it there's no retention. It just wants to flow."
Using an ingenious earth retention system known as 'peanuts', project engineers from Arup were able to safely excavate the materials. While it's been more costly and timely than expected, construction is underway on the 0.6km² site, which will hold three 50-storey hotel towers connected by a two-acre rooftop 'sky park'. It is due for completion in late 2009.
Politics and controversy
Sea lane encroachments and high financial and environmental costs have historically been the counterarguments for land reclamation – and continue to spark controversy.
"More sophisticated technologies are enabling faster production of more-durable and environmentally friendly land."
Damage to the environment is also an issue in the land reclamation hotbed that contemporary projects are attempting to diminish. Singapore's Urban Redevelopment Authority says that current and future reclamation projects will adhere to a state-of-the-art marine environment protection plan developed by the consultancy DHI Water & Environment P/L, which seeks to improve the marine environments in which constructions are built.
Deltares is also involved in a coastal development programme called Building with Nature (BWN) in association with the Dutch Government, which will undertake projects that enhance nature at the same time as creating land.
"Rather than building for building's sake, we want to ensure that in a human sort of way it still maintains some natural ecological function," says Minns. The BWN principles emphasise solutions that are mutually beneficial for land and sea, such as dunes and beaches, rather than bulwarks against the sea.
Land fill or land float?
Another possible solution to overcoming environmental issues is the emerging concept of floating structures. Innovative Dutch design company Waterstudio, led by architect Koen Olthuis, has invented a flotation device that enables large-scale projects to float on water and, in effect, cause less harm to the environment. His patented design – a floating foundation block of concrete, sand and foam held together naturally by bacteria, and secured to the ground by steel cables to prevent movement with the current – can hold land of up to 200m by 200m, and buildings of up to 100m in height.
"We're not against the idea of reclaiming land," says Olthuis, "but we see that there are some disadvantages to landfill and reclamation concerning water quality and the environment." Land reclamation that forcefully changes the natural flow of water can have a negative impact on marine life and sand erosion of beaches – Olthuis's design enables water to flow naturally underneath buildings.
Waterstudio currently has about 40 floating houses in the Netherlands, with numerous larger projects in the pipeline, including a floating beach and mosque in Dubai, a floating school in Amsterdam, and a floating village near The Hague in Holland called The New Water, for which construction will begin in 2010.
Olthuis's vision for the future is one in which floating projects work in tandem with reclaimed land. Once Waterstudio's projects are up and running in Dubai and regulations for floating constructions are finalised in the next five to ten years, it could likely become a reality.