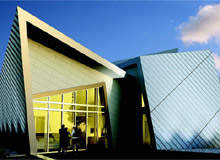 As a subdivision of architecture synonymous with affordability, practicality and cookie-cutter manufacturing, prefabricated housing has never been a cause célèbre for practitioners more concerned with 'high design'. Prefab's principles may be worthy, but the concepts of blanket availability and mass production jar somewhat with the visionary quest to create something unique and utterly of its place.
Richard Rogers' Oxley Park 'flexi-houses' may demonstrate that there is an appetite for the benefits of prefab among big-name architects, however, the finished site will consist of 145 units, 56 of which will carry a £60,000 price tag, meaning that the overall concept does not break from the construction style's core principles.
The Villa – Liebeskind Signature Series
"Daniel Libeskind's two-storey villa has been described as 'a crystal growing from rock'."
The Villa signature series, Daniel Libeskind's first foray into this arena, is a different beast entirely. In what is only his third residential project, these sculptural living spaces might be better described as 'pre-fabulous' or 'off-site bling'. They don't come cheap either: anything between €2m and €3m all-in, dependent on location.
Primarily built in wood, with elements of the exterior clad in aluminium, the 515m², two-storey villa has been described as 'a crystal growing from rock'. It includes four bedrooms, four bathrooms and a 100m² 'grand room' that incorporates a high-spec kitchen.
Like Libeskind's Jewish Museum in Berlin – and an acknowledged nod to the city's celebrated 19th-century architect Karl Friedrich Schinkel – the exterior is enveloped by a standing-seam zinc façade that incorporates solar thermal and rain harvesting systems. Sharp, metallic angles are juxtaposed with floor to ceiling windows, illuminating the structure from within and demonstrating that prefabs need not necessarily sacrifice design at the expense of function.
As well as being able to choose between receiving the zinc cladding in pre-weathered blue-grey or graphite-grey, inside the building clients can go for either the 'casual style' – think smoked parquet flooring and slim stainless steel staircases – or 'Libeskind style' interior, marked by stark white flooring and clear sharp forms akin to the building's exterior.
The assertive, angular nature of the work is typical Libeskind and it is difficult to believe that the three interlocking structures that form its core are built offsite in a German factory. Once the elements have arrived on site it will still take several months to assemble.
Sustainable design
Although cost and practicality are less central to this project than other prefab solutions, another core selling point of the concept is very much in evidence: sustainability.
"Prefabricated housing has never been a cause célèbre for practitioners more concerned with 'high design'."
The villa employs onsite renewable energy sources for heating, electricity and water, with a solar thermal system and high-efficiency heat pump coming as standard. Photovoltaic thin film can generate electricity, while rain water can be harvested from the rooftop to be used in the garden's irrigation system. The multifunctional ventilation system is exclusively powered by solar and geothermal energy.
An initial concern that some potential buyers might have is that of exclusivity: what's the point in purchasing a capital-A architect home if your neighbours go out and get themselves the same one six months later?
To allay such fears buyers will be promised regional exclusivity, maintaining the niche nature of the product and guaranteeing that Knightsbridge, Monte Carlo and the Hollywood Hills will not be overrun with identikit Libeskind projects for the foreseeable future.