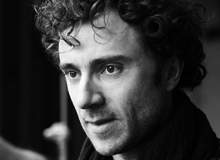 "It's like the moon landing. You are seeing it very starkly now but over time it will disappear," says Thomas Heatherwick of his latest completed project – eight low-cost units for arts businesses at Aberystwyth University that, with their unusual designs and reflective surfaces, resemble lunar vehicles that have returned to earth 40 years after the Apollo 11 mission. "There isn't enough greenery growing around it yet to stop it reflecting the sky so it is really bright," he says.
The star designer is talking to me from his new London studio on Gray's Inn Road, which he moved to in mid-2008. It's a large space that acts as a laboratory for the designer and his 30-strong team, and is filled with prototypes and completed projects, as well as some strictly under wraps.
Heatherwick has a boffinish eccentricity and a highly original and imaginative design approach that has taken the 39-year-old London-born designer a long way since being handpicked by Terence Conran to design for him before he graduated.
He wants to make places special. "I am, like many people, amazed by how it is possible to travel substantial distances and for places to be so similar," he explains. "It is kind of fashionable to say the world is a wonderful place, but actually one is looking for the points of difference rather than the similarities." But Heatherwick is not searching for the iconic; that would be missing the point: "Defining something that can be special or unique is part of making places that are not made
according to a formula. We like people who have their own funny, extraordinary characters."
"Heatherwick is a sculptor, product designer, engineer and has a multidisciplinary practice."
Heatherwick is a sculptor, product designer, engineer and has a multidisciplinary practice. First and foremost though, he is an ideas generator. "The studio's work is defined by trying to push forward ideas," he explains. "That is the interest that underpins what I believe makes society and culture interesting."
2009 is shaping up to be a busy year for the practice. In July Heatherwick revealed plans for the £13.2m UK pavilion at the 2010 Shanghai Expo, which will have 60,000 'hairs' that will move with the wind, and have seeds from Kew Garden's Millennium Seed Bank embedded in the ends.
In April 2009 he completed the low-key but equally unusual new centre for creative businesses at Aberystwyth University – eight small sci-fi building units covered with an exceptionally thin layer of milled steel, set in a forest landscape.
Teething problems
It has not been an easy year so far. In April, the B of the Bang, designed to commemorate the Commonwealth Games in Manchester, was deconstructed after just four years, when some of the 180 tapered steel spikes began falling off. The project team, which included the designers, Heatherwick Studio and structural engineers Packman Lucas Limited, agreed an out-of-court settlement of £1.7m after council bosses took legal action.
Heatherwick tells me that Manchester still believes in the project and wants to rebuild it. Elsewhere the Rolling Bridge in Paddington, London, was closed for a year due to faulty welding, while a glass footbridge held together without screws or bolts designed for King's Cross was cancelled due to lack of funds.
However, despite his lack of formal training as an architect, Heatherwick is becoming increasingly involved in ambitious architectural projects, particularly following the acclaim that greeted his first free-standing building. The East Beach Café in Littlehampton, completed in 2007, is a sculptural form designed around a rusting steel shell. It won a RIBA National Award.
"Buildings are very, very hard things to build," he says. "20 years ago I suppose I was frustrated at why buildings were so ugly. They were so sterile and felt like intellectual exercises. They did not feel rooted in the love of making things like objects on a smaller scale seemed to, whether that was potters' work or jewellery."
Heatherwick's design approach remains the same, regardless of scale. "I have always worked in quite a loose way on each project, in terms of how much to experiment with materials or words or ideas," he tells me. "The more I have worked on things the more confident I have become. Every project comes out of quite a lengthy period of analysis and redefinition of what the problem is."
Welsh charm
Crinkly walled, the business units at Aberystwyth University provide accommodation for 16 creative start-up enterprises in the middle of a wood. Each building has a timber frame, split in two to allow in light and air and provide a shared entrance area. "They are quite simple, humble buildings," Heatherwick explains. "Over time the trees will grow through and around the buildings, which should, I hope, be engulfed by them."
"Heatherwick even designed a knobbly mangle to find the right crinkle for the creative business units."
They are clad in exceptionally thin stainless steel, which has been crinkled and then sprayed with CFC-free foam to make it rigid and provide insulation. Heatherwick discovered a mill in Finland where they roll the steel 0.1mm thick – the thickness of a soft drink can. It kept costs down: "If you pay by weight it is one fifteenth of the cost," he says.
The designer likened the process to that of architectural tailoring. "For me it's like a padded jacket that is rock solid. We were tailoring these strips of metal onto a timber frame."
Heatherwick explains that he was influenced by fashion designers such as Issey Miyake, who designs using fabrics that are not 'dead flat' but crinkled, alive and allowed to express themselves – a concept that has been explored a lot in fashion. "I was interested to see how that could be transposed to buildings," he says.
The steel's shiny surfaces grasp the light, throwing it back with reflections of the surrounding leaves. It is as serene as it is beautiful. He even designed a knobbly mangle to find the right crinkle. Insulating foam was then injected behind the sheets to keep their shape. Each unit was designed to be environmentally efficient from the outset.
Hair play
The UK pavilion project at the 2010 Shanghai Expo was a coup for Heatherwick – a project that would normally go to a top architect. He describes the finished design as the 'world's largest ever hairy building'. His design calls for natural light to channel through the acrylic spines to light the building during the day. At night the structure will glow from within.
"Heatherwick is becoming increasingly involved in ambitious architectural projects."
Heatherwick designed a simple cube from which 60,000 transparent acrylic rods, each one 7.5m long, will emerge. Inside, there is a 'seed cathedral', where seed samples from Kew Gardens' Millennium Seed Bank project are embedded in the ends of the light-channelling rods.
"There is so much stuff around us in general," says Heatherwick. "All I want is to create something that can jump out and have clarity and a specialness and get you thinking. If someone just finds something interesting, I am happy."
Heatherwick is one of the judges for this year's Stirling Prize, but readily admits that he still has a lot to learn about architecture. Despite this, his design approach is refreshing and difficult to ignore. Architecture has a lot more to learn from this unique designer.