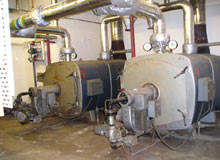 The topic of energy has never been more pertinent than now. Fears over security of supply, rocketing gas and oil prices and an increasing reliance on foreign sources are affecting everyone, but industry is perhaps being hit the hardest – in some cases energy bills are becoming so astronomical they have the power to make or break a business.
Although government refrain with regards to climate change has largely been ignored in previous years, the very real impact of dwindling energy supply, coupled with the increasingly frequent implementation of policy and regulation is making commerce sit up and take note – it is now only the most foolish of company directors that ignores the issue of energy efficiency and all the associated impacts.
ENERGY-SAVING ACTION
The recently published UK Energy Review paves the way for a new wave of energy production. Renewables targets, wind and solar power, and combined heat and power all feature in future plans for a stable energy supply, but the main focus is on nuclear power plants and the energy supply they can offer the UK.
While some industries, like the manufacturing sector, are being forced to take immediate energy-saving action in order to keep from financial ruin, others seem to be coming round to the idea of energy efficiency more slowly.
In particular, the construction industry has been slow to make changes – partly because developers fear a lack of profit if they install more expensive energy-efficient equipment and do not get a return for it.
INFORMATION OVERLOAD
With so much legislation, regulation and new technology, many companies find themselves dazzled by the breadth of information available – and find it hard to decipher the best practice for their needs.
"It should be basic due diligence that energy efficiency options are designed into new buildings."
Energy management consultancy Energys advises clients on how to make the most of their energy efficiency options. Managing director Vince Wells feels that the construction industry needs to pay more attention to the benefits that can be achieved through latest practices and technologies.
"Ever-rising energy costs and more stringent building regulations mean that it should be basic due diligence that energy efficiency is designed into new buildings."
"Reducing running costs of existing energy-inefficient building stock is a big part of our business but potential savings would be even greater and the expense and hassle of retrospective measures avoided if architectural thinking and heating and ventilation (H&V) systems and lighting design and specification had been energy optimised at the planning stage."
Buildings are major energy consumers – with domestic and commercial combined thought to be responsible for around 40% of Europe's final total usage. The heating and ventilation sector is a major component for energy efficiency – improving the efficiency of heat spacing and limiting heat loss will make the biggest impact on construction and development.
Reducing fuel poverty is another major aim of new legislation – with prices rising so steeply that fewer people are able to afford the energy they need to keep warm.
ENERGY EFFICIENCY REGULATIONS
New building regulations that were implemented in April 2006 will go some to way to encouraging developers and property directors to install energy-efficient devices, but the UK has already missed the first date for implementation of the European Energy Performance of Building Directive (EPBD) which was meant to come into effect in January 2006.
The Government also plans to introduce a code for sustainable dwellings similar to the current eco-homes initiative – with dwellings being rated up to five stars.
"It is now only the most foolish of company directors that ignores the issue of energy efficiency."
This code will be voluntary for private buildings, but compulsory for anything built with public funding.
"The key determinants of building energy demand are well known and straightforward to take into account. Leaving aside architectural elements, where energy considerations can frequently be sacrificed to aesthetics, H&V engineers have a major contribution to make in specifying energy efficient plant and paying particular attention to controls and building management systems," explains Mr Wells.
Mandatory changes to part L of the building regulations aim to create new dwellings that produce 20% less CO2 and commercial buildings that produce 28% less than those built to equivalent current (2002) standards.
Part L states that 'reasonable provision shall be made for the conservation of fuel and power in buildings'. Methods to encourage this include: limiting heat gains and losses through insulation, building fabric and pipes, ducts, and vessels used for space heating and cooling and hot water; providing and commissioning energy efficient fixed building services with effective controls; and providing enough information to the owner about the building and its facilities to enable them to run it at its most efficient.
EXPENDITURE VS EFFICIENCY
So there is plenty of legislation already implemented or in the pipeline, but some developers are still reluctant to really embrace energy efficiency techniques – seeing them as an added outlay with little benefit – and those that do include best practice expect to claw back the extra expenditure in their sale price, and are often not concerned with ensuring that the new owners know how to make the best of the facilities their buildings contain.
"Some developers are still reluctant to really embrace energy efficiency techniques."
"On energy performance in general and on building management systems in particular, new building clients have historically been insufficiently rigorous in specifying the performance requirements they expect.
Suppliers should be working to a performance matrix which is monitored by the client as complying with specification at the time of commissioning and prior to handover," says Mr Wells.
While huge uprising energy prices have caused shock waves around Europe, they are perhaps a blessing in disguise when it comes to incentives for improving energy efficiency: making cost-aware owners and commercial landlords increasingly likely to follow that more demanding path to ensure maximum future return on their investments.