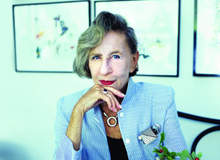 Andrée Putman is one of the world's leading interior designers. Born in 1925, in the 1960s she worked as a design journalist for the magazine L'Oei. The Parisian grande dame of design made her name reproducing the forgotten 20th-century furnishings of designers like Eileen Gray, Mallet-Stevens, Pierre Chareau and Jean-Michel Frank, who subsequently enjoyed a renaissance in the design world.
But it was interiors that made Putman a design icon through projects including shop interiors for Yves St Laurent, Thierry Mugler, Azzedine Alaia and Karl Lagerfeld, and even Air France's Concorde fleet.
In 1984, when designer Ian Schrager created Morgans Hotel, which was designed by Putman, the notion of the 'boutique hotel' was born. Many hotels followed, among them Wasserturm in Cologne and Pershing Hall in Paris. Putman created the film set for Peter Greenaway's movie The Pillow Book, the office of former French Minister of Culture Jack Lang and the Bordeaux Museum of Contemporary Art.
"Putman's interiors are simple but not impersonal, serene but not cold, tempting but not opulent."
In 1997 she founded Agence Andrée Putman producing design products, furniture and home accessories. In April 2009, at the Salone Internazionale del Mobile, Putman debuted a minimalist all-aluminium chair for Emeco, inspired by her legendary Morgans Hotel. Putman furnished the Morgans Hotel with the Mallet-Stevens chair, and her new design for Emeco was conceived as a 'soul mate' for that chair.
Chairman of Emeco Gregg Buchbinder described Putman as the most stylish woman he had ever known. "Andrée arrived in six-inch stilettos," said Buchbinder. "She told me she wanted to do with the Emeco chair what her friend Coco Channel did with the little black dress."
Christopher Kanal: How would you describe the Andrée Putman style?
How well do you really know your competitors?
Access the most comprehensive Company Profiles on the market, powered by GlobalData. Save hours of research. Gain competitive edge.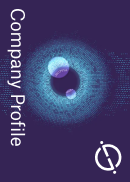 Company Profile – free sample
Thank you!
Your download email will arrive shortly
Not ready to buy yet? Download a free sample
We are confident about the unique quality of our Company Profiles. However, we want you to make the most beneficial decision for your business, so we offer a free sample that you can download by submitting the below form
By GlobalData
Andrée Putman: It is work that has to be almost invisible. I often say that it has to be omnipresent in its disappearance. My interiors are simple but not impersonal, serene but not cold, tempting but not opulent, charming but not nostalgic, they are refined but not restrictive. Basically I always try to reconcile poor and rich materials. It is an anti-ghetto and non-conformist idea about the arrangement of space and light and about the elegance of details.
CK: You have worked on many projects, including interiors for Yves St Laurent shops and Concorde. Which project did you enjoy the most?
AP: A very remarkable industrial building that had to be transformed into a museum in Bordeaux. The most talented artists of the past 50 years have been shown there. I like the way the curator was involved in my work; he added something of himself.
"The Parisian grande dame of design made her name reproducing forgotten 20th-century furnishings."
CK: You created the boutique hotel concept. Did you ever think it would inspire so many imitators?
AP: I never understood the relationship of these two words. The idea with Morgans in 1984 was to redefine a hotel: this kind of exceptional parenthesis of a dwelling, which is somewhere between public and private, unfamiliar and intimate, permanent and ephemeral, leads us to examine the question of hospitality. I am happy that people liked it.
CK: You are a great pianist. Did you always want to be a designer?
AP: It happened by chance, in the precise moment when things were ready for changes. I studied piano for 15 years – I was going to be a composer and I even received a prize for harmony at 16.
Since my childhood the principal features of my character were my need for freedom and my ability to say 'no'. When I was 15 years old I decided to empty my room of all objects that I found too loaded with signs of the past, with symbols of the social status and the haughtiness of an environment that I could not stand anymore. I just wanted an iron bed, a contemporary chair and a Miro drawing.
With this emptiness, the emptiness of my room, I liberated myself. I turned down all the dictates of good taste, elitism and bourgeoisie. In a way, with this decision, I had already chosen to treat 'space' (interior design) rather than 'time' (music).
CK: Does the current global economic slowdown make design more or less relevant? Do you see new design styles emerging out of this period of uncertainty?
"Morgans Hotel, which was designed by Putman, gave birth to the notion of the 'boutique hotel'."
AP: In spite of the fact that I have a great respect for my colleagues, I think that the media attention and the star system regarding designers went too far. They are treated like philosophers, like discoverers, like gurus. For me, designers are quite simply people who put charm, spirit – in short, a heart beat – in places and in objects. They are people who are free from the concerns of being odd and original at any price. I love objects that are totally pure from any effort of design; of a design that is too often arrogant and pretentious.
CK: What makes good or bad design?
AP: The artist always looks at the past while thinking about the future. Some people calculate and constantly search for the latest trends, but that's not my objective. I use my feelings and my mind to access a bazaar of different styles and concepts.
CK: Are you pleased with the results of the redesign for Morgans? Did you want to start from scratch or continue its design legacy?
AP: The original project in 1984 was especially enjoyable because of the owners' enthusiasm. Their desire was to have the best and they put care into every detail. They also had the courage to take risks. I think that Morgans had a mystique to it that others found exciting. I hope that people will find this new incarnation to be just as intriguing. I have not changed the essential elements, which have worked from the start.
CK: How do you approach a design project? Where do you start?
"In 1997 Putman founded Agence Andrée Putman producing design products, furniture and home accessories."
AP: How does one find the subtle point of equilibrium between a traveller, a passer-by and a place that is unfamiliar to him? How does one make people feel at home in a hotel without falling into the trap of giving the place the caricatured feeling of an illusory home? The main purpose is to innovate by creating an architecture with a very vivid expression, powerful enough to create particular atmospheres poles apart from the usual hotel clichés.
CK: You sparked the art deco revival years before it happened. Did you ever think you were ahead of your time?
AP: As a child I always wanted to go to where things started, where they were invented. I was carried by the enthusiasm of curiosity, in search of ecstasy or simply of the happiness one can find either in books or in the thoughts or the words of others. I believe that I am modern. Even if I take an ancient object, the way I will choose to present it will be contemporary.
CK: What has been your life philosophy?
AP: I have always cultivated the rebel spirit. From my early childhood I felt very different from others. What I'm interested in is the balance between discipline and revolt. I prefer to listen to the present, to live in this contemporary world rather than in nostalgia.
I never take myself too seriously and I am full of contradictions. For example, I love cities, but I also like to immerse myself in places of strong spirituality, such as a 12th-century Roman abbey. I like contemporary art, Egyptian art and Chinese art, but I also like simple, everyday objects, which can be found easily. I am very curious by nature and very sensitive to various flows of information. I believe that to be happy, one just needs to find something to be passionate about.
CK: What was the last design that really excited you?
AP: The wonderful work on the Beijing Opera by Paul Andreu and an exhibition of Marc Newson's unique and limited edition pieces shown at the Gagosian Gallery in New York in 2007.
CK: What is the best piece of advice you have been given?
AP: Go ahead!