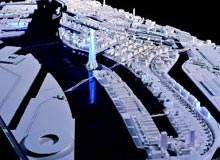 The last decade has seen rapid growth in the real estate market, both in volume and price. The general feeling is that the global property market has reached full maturity, particularly in urban areas. Large cities are buzzing with renewed activity,
while some regions of the world are experiencing a remarkable new wave of development.
One automatically thinks of China and Russia, but the Czech Republic and Hungary are also attracting attention with new developments such as the ING Bank Headquarters by Erick van Egeraat in Central Budapest.
Even 'old Europe' is alive with new
projects: London has a plan to develop a new urban area beyond Tower Bridge; the visionary redevelopment of La Defense is being extended, taking urbanism into the outer ring of Paris; and Berlin has unveiled a regeneration plan for its many
still-unoccupied areas.
AVANT-GARDE HAMBURG
Hamburg is arguably the European capital of avant-garde urban architecture, judging by its Hafen City project, a city within a city.
New urban developments are being realised in The Netherlands too, a recent example being the Watervijk project near
The Hague by Dutch practice MVRDV.
Spain is also staking its claim; despite having been a long way behind other countries 20 years ago, it has achieved levels of architectural quantity and quality that are unique in the Mediterranean.
Barcelona, Madrid, Valencia and Bilbao are national
powerhouses for the property market, and at the forefront of the cultural life of the nation. In Spain it is widely understood that architecture drives not only economic development but also a more general cultural and social revival.
Before it was revamped by world-famous architects, Bilbao was a rather drab port. Today it is a popular tourist destination that appears in virtually every guide to Spain. The 'architecture = tourism' equation should be self-evident. Investment in
architecture pays dividends and is likely to carry over into other sectors.
URBAN REDEVELOPMENT
Italy is also experiencing a revival, particularly in Milan, which has put forward a far-reaching urban redevelopment plan, encompassing the Fiera di Milano fairgrounds redeveloped by Massimiliano Fuksas, Foster and Partners' gated community of Milano
Santa Giulia – built over the former Montecity and Rogoredo areas – and the new fashion district around the Garibaldi Station.
Rome has several major projects underway, including the Centre for Contemporary Arts designed by Zaha Hadid, Odile Decq's MACRO project, which is set to revitalise the surrounding neighbourhood, and the large redevelopment project for the southern
suburb of EUR.
STAYING POWER
However, such projects will only be a success if investors, developers and architects resist the temptation to choose quick fixes and commit themselves to the quality of construction, materials, details, finishing and delivery times. Meticulous care
will be needed at every step, which in turn will require greater effort.
"Small pockets of excellence are not sufficient. The basic standards of architecture must be raised."
Small pockets of excellence are not sufficient. The basic standards of architecture must be raised; good buildings must become great architecture. A fine example is the popular residential neighbourhood on the outskirts of Madrid developed by Dutch
practice MVRDV, a development which shows that basic constructions can have still dignity and harmony.
Particularly noteworthy is the issue of architecture competitions, which are increasing in number almost by the week.
This is certainly an exciting trend, but it does raise a few questions. For instance, of all the competitions that have appeared in
magazines and newspapers in recent years to so much fanfare, how many will really be a fixture in five or even ten years' time?
PUBLIC AWARENESS
Although this kind of media coverage tends to broaden public awareness of architectural trends, it can also lead to significant distortions. My own view is that architects should be judged more on what they have actually built than the plans they have
designed.
Another effect of competitions is to create virtual stars, great architects in theory who later come to grief on the nitty-gritty of contracts and building sites, and on that elusive concept, quality building. I remain of the opinion that an architect
must view himself and be viewed as a demiurge, not a stage designer of virtual reality.