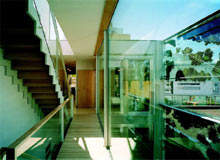 One of Sweden's most iconic architects, Gert Wingårdh has spent his career designing buildings that express his own personal architectural lexicon while embodying a typically Swedish sense of pragmatism and environmental responsibility.
Inspired by nature and the environment, while recognising the importance of relationships and places for social interaction, Wingårdh embraces a variety of influences, including childhood impressions of his hometown of Skövde in southern Sweden and the work of contemporary architects and artists.
When relating stories about early attempts at construction work, architects and engineers often refer to the joys of building with Mecanno. Wingårdh, however, played with a different kind of building material.
Fortunate to have plenty of space in the family home designed by his father, he spent hours building 'inhabitable and defendable' structures from empty dynamite boxes, discarded by the concrete factory where his father worked as a production manager. "In that space I created a lot of things with those boxes [by] stick[ing] them together," he explains.
LAYERS
The landscape around the family home proved to be an equally fruitful source of inspiration. "There was this creek which had small steps, layers of limestone," he recounts. These steps are, he says, "a sort of a recurring theme" in his later work.
The layering motif occurs in buildings such as Villa Nilsson (1989–92) and the Öijared Executive Country Club (1988), for which he won one of Sweden's most prestigious architecture prizes, the Kasper Salin Award.
Located at the central point between four golf courses, the Öijared clubhouse also reworks ideas gleaned from architects Frank Lloyd Wright and Emilio Ambasz – notably the latter's subterranean buildings – with an eco-friendly design approach; the clubhouse is geo-thermally heated and its grass roof reduces the need for cooling.
The clubhouse represented a significant turning point in Wingårdh's career. Widely publicised, it established him as a designer of buildings, rather than just interiors. Another important turning point was the opening of the AstraZeneca pharmaceutical research facility (1989–99) in Mölndal. "These two projects really started the ball rolling," he adds.
NATURAL HABITATS
Wingårdh's houses are typically 'hugging'. Villa Nilsson stands back from a rocky shore in a secluded cove. Long and low, the building lies parallel to the shoreline. Rough-edged granite steps lead inside and then down into the central sunken living area. Cherry woodwork provides a warm counterpoint to the cool grey granite and rough stucco on the walls. Bulbous rocks project into the rooms. "I like nature to invade the buildings," explains Wingårdh.
"Wingårdh embraces a variety of influences, including childhood impressions of his hometown."
A more recent house, Villa Astrid, shares some of Villa Nilsson's characteristics. Influenced by Japanese design, Wingårdh created an unfolding sequence of views at the end of a carefully designed route through the building.
Entering the V-shaped house, the visitor passes through the kitchen / living area, at the far end of which is a slice of rocky terrain beneath the box-like overhang of a mezzanine office space. From the living area, owner Goran Gannedahl and his wife have a stunning view of the sea and the surrounding bay.
"Villa Astrid is very typical of the way I approach a design, [in that] it's quite low and very low key when you approach it," he says. "Then you open the door and something happens, in this case the lower atrium. And then you are directed towards a view which you could have no idea of when you approached the building. Then you have the actual penetration of the stone inside the building."
Wingårdh also considered putting a pond in the atrium of Villa Astrid. The reflections would have increased the apparent height of the building. The client, however, preferred to give the space a functional aspect and requested wooden decking.
WEATHERED EXTERIOR
With its weathered copper skin, Villa Astrid successfully blends in with its green and hilly surroundings. And by extending the house over the rocks, Wingårdh could build a generous two-storey house on the available land. 'The site gives you a lot of cues,' he adds. "It all evolves from the site."
The living room is not the only area that is invaded by the landscape; downstairs in the master bedroom and en suite shower room, designed in glass, wood and slate, one of the walls consists of a rocky outcrop. In this villa, building and landscape are intimately connected, demonstrating once again the Swede's close affinity with nature and the environment.
On a practical note, "the isolation from the rock outside was important," says Wingårdh's partner and project manager, Karin Wingårdh. To avoid leaks, slices were taken out of the rock during construction and filled with foamglass to "stop water from the hillside coming inside", she explains. As for whether the client should clean the rock surface: "It can be nice if nature shows its tracks, but it is up to the client."
"'I like nature to invade the buildings,' explains Wingårdh."
INTEGRATING NATURE INTO ARCHITECTURE
Throughout his career Wingårdh has continually integrated the landscape into his work. Over the past few years, he has collaborated with Natur-Orienterad Design (NOD), a group of Stockholm-based landscape architects.
They have worked together on a number of projects, including Villa Astrid, VillAnn – his first concrete house – and the Bo01 apartment building in Malmö.
Nature's ability to make patterns and to subtly change the physical appearance of the building appeals to Wingårdh. "There's an element of chance in nature; it can't be controlled, which I find very attractive," he says. "There should be a dialogue between culture and nature, but a certain sense of decay is interesting."
People are also allowed to leave their mark on his work; when designing the Ale Cultural Centre and Secondary School in 1995, the architect left the pine benches unfinished so that students could carve their names in the wood.
Not all of Wingårdh's attempts to embrace change have been so well received. When NOD designed an 'ever-changing moss landscape' between two glass plates for apartments in the Bo01 building in Malmö, the flats could not be sold. "It was an idea people didn't like," he says ruefully.
Recently, he was criticised for leaving the façade of the Universeum Science Centre and Aquarium in Gothenburg relatively untreated, which has caused the wooden face of the building to become stained since it was opened in 2001.
As a result, he decided to treat the exterior of the Muritzeum, a new science and visitors' centre currently under construction in Germany, slightly differently. After the soft parts of the wood were stripped away with lye soap to create a soft relief, the surface was charcoaled to produce a durable, maintenance-free exterior.
EXTRA DIMENSIONS
In terms of the internal organisation of space within a building, Wingårdh often aims to create 'an extra dimension'. The combination of different ceiling heights and an 'hourglass' arrangement of rooms – visitors are channelled through a narrower space between two areas – gives rise to different concentrations of space.
He also uses differences in height to create feelings. When the visitor reaches a viewing point, for example, the overall feeling may be one of surprise. This same kind of moment of sudden disclosure, and the subsequent feeling of surprise at discovering something unexpected, can be experienced inside the Chancellery of the Royal Swedish Embassy in Berlin, which opened in 1999.
"We're leaving postmodern, backward-looking architecture behind."
The Swedish Embassy overlooks a plaza within the Nordic Embassies complex – itself enclosed within a curved wall of copper louvers designed by Austrian architects Berger and Parkkinen – and its design is heavily influenced by Baroque styles, Mies van der Rohe and Richard Serra.
Visual cues to the entrance include a Serra-like curving limestone wall and the glowing, birch-clad interior.
Each of the building's two stone and glass elevations is designed with materials which recall van der Rohe's work. Inside, a spiral staircase becomes the focal point. "It is a complex three-dimensional elevation in birch," explains Wingårdh. "I wanted it to age so it would look like a musical instrument."
Looking to the future, Wingårdh is optimistic: "We're leaving [behind] postmodern, backward-looking architecture. There are so many opportunities and things happening – it's like in the late Baroque period." At present he is excited by the opportunities of globalisation and the ongoing dialogue between architects around the world. "It's a very, very interesting time to be working," he smiles.