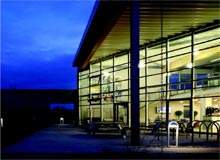 As I write this, the news is full of stories about energy: there is political uncertainty in the Middle East and the former Soviet Bloc that is affecting energy supplies; the Kyoto Protocol is clearly failing to deliver any significant improvement in
emissions in the developed nations; the Greenland ice cap is melting at twice the rate it was five years ago; and the Tindall Centre for Climate Change Research is projecting a rise in sea levels of up to 11m.
"We should be looking at a pan-European agenda that will ensure we are proactive in design terms rather than reactive to local legislation."
This debate has finally begun to change perceptions, both at government level and among the general public, and (in the UK at least) has resulted in a shift towards making energy certificates mandatory for all buildings.
One must also bear in mind the rebalancing of stock values against the bull run of the last few years. Inevitably, developers will be looking nervously over their shoulders as tenants retrench and the current crop of new developments come on
stream.
Will property directors look to upgrade their existing portfolios rather than trading old for new?
Are we sure that in a volatile market developers will seek to produce buildings that will be sustainable, given their view that green buildings cost
more to construct, or will they see this purely as a marketing tool?
Will the energy certification schemes mean a shift in markets, the provision of new buildings and the refurbishment of old ones? I suspect not. A shift in emphasis towards wholesale, responsibly conceived, energy-efficient buildings requires tough
legislation.
If this legislation has teeth, it will facilitate the wholesale demolition of old buildings so that new developments can be built. This creates an unequal playing field and is surely a waste of materials.
NEW FINDINGS
Much of this is supported by our own research. Gensler recently commissioned two surveys on offices in the UK, whose findings can be applied across the whole of Europe.
The first focused on 200 major occupiers of space (tenants) and their view of
their working environment. The second looked at the top 50 developers in the UK as well as the top 50 property directors or portfolio managers and their view of office buildings, particularly with regard to environmental stewardship through design.
Interestingly, Gensler found that developers and property directors do not necessarily have the same view of sustainable issues and rising energy costs. While 73% of developers believe it will increase their operating costs, only 59% of property directors feel the same way.
Similarly, 69% of developers believe it will have no impact whatsoever on their organisation, with only 19% of property directors sharing the same view.
"Will property directors look to upgrade their existing portfolios rather than trading old for new?"
It could be argued that this is because developers will just pass on the costs to others, but the
majority believe that energy-efficient buildings should be commissioned.
Perhaps this would change if they knew that property directors, whose energy costs represent 5% of turnover (compared with rental costs, which are 7% of turnover), say they would pay a premium of up to 10% on their rent for energy-efficient
buildings.
MASSIVE SAVINGS POSSIBLE
Property developers believe that up to 27% of the UK's commercial property energy bill could be cut through the creation of energy-efficient buildings, which would equate to around £220m per annum. This suggests that energy-efficient buildings
should be on everyone's agenda, but clearly this is not the case.
Perhaps the perception that they are more expensive than the industry norm makes trader developers strive for short-term rather than long-term gain. Again, though, this belies the figures. Substantiated data shows that the average premium is around 5%
on capital costs.
Gensler has just completed a new European headquarters for Herman Miller where the brief was to provide a bespoke 'green' building at no more than the cost of a developer's standard speculative building. The brief was met and the building has been
well received.
It must be said that the building did have the advantage of not being on an urban site and so was able to benefit from a natural ventilation strategy. Nonetheless, it does show that with full stakeholder buy in and careful preparation the premium need
not be that great and the increased rents and lower operating costs can benefit everyone. Avoiding complacency
UNIFIED APPROACH NECESSARY
We are all looking to reduce our reliance on fossil fuels and our environmental footprints through a combination of energy efficiency and diversification of supply, and it no longer seems logical for each country in Europe and North America to go it
alone. In Europe, we have a political and legislative framework in place that could drive change on a large scale.
"We need to fight this battle on as many fronts as possible to educate the wider population and drive change."
Brenda Boardman in Oxford is already at the forefront of a move to produce the 40% house – a unit that uses just 40% of the usual power and emissions. This is likely to be followed by a commitment to similar targets for commercial buildings,
although it does not deal with existing building stock.
Our research shows that 70% of property directors would prefer to make their existing portfolio more energy-efficient rather than demolishing old buildings and building new ones. The European Commission's forthcoming Energy Performance of Buildings
Directive is not consistent with this view and may result in unsustainable change in terms of building stock and resources.
CHANGE MUST BE DRIVEN
Looking at the issues facing us and the lack of urgency in response, I cannot help feeling that the drive for efficiency in manufacturing has exacerbated the tendency to change only when there is no other alternative. Similarly, with the data overload
created by the increased power and speed of computers, there is a tendency to only learn at the last minute – just because we can.
Designers may want to design responsibly, but there is a widely held belief that clients will not pay for it. I believe that we cannot afford to be so complacent. Change is possible and need not affect a business case adversely.
Given that construction is responsible for such a huge proportion of energy use, emissions and materials, it seems to me we have a duty to try to develop a strategy that will ensure our society has a sustainable future at the end of the century.
Retrospective analysis is no way to change, or to forge a new direction that is both secure and sustainable.
A EUROPE-WIDE FOCUS
Given the possibilities offered by the EU, we should perhaps be looking at a pan-European agenda that will ensure we are proactive in design terms rather than reactive to local legislation.
We need to fight this battle on as many fronts as possible to
educate the wider population and drive change. All avenues are valid; raising awareness in the popular media, education in schools, legislation at a European level, punitive taxation at national and local levels, and incentives through tax allowances are
all possible options.
"Energy-efficient buildings should be on everyone's agenda."
Different rules could apply to both new and old buildings, but the common theme would be to make husbandry of resources a natural way of thinking. Power generation would also have to be addressed at a micro level, whether making fuel cells, bio fuels,
hydro, wind or electric power economically viable, or developing a newer, safer form of nuclear generation.
We should also consider putting a facility management strategy in place for all new and existing buildings that would require buildings to be carbon-neutral, whether through design, technology or the planting of trees to offset carbon emissions.
It is surely not beyond the wit of all those involved in construction to create a groundswell of opinion that will make a real difference to the way our society develops in the future. Let us all strive to energise a radical centre, before it is too
late to make a difference.