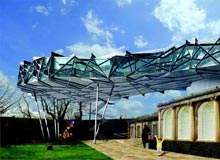 I was introduced to LEAF by one of my colleagues, who suggested that a couple of our recently completed buildings should be put forward for awards in this European context. Having been persuaded not only to submit our schemes for consideration but
also to chair a debate, I attended the 2005 forum in Barcelona with great enthusiasm.
The discussion I chaired looked at how dialogue can engage the public and empower them to influence their own environment. The audience was made up of many different European nationalities, and I was struck by the way the topic was viewed by different
cultures.
"True sustainability is about more than just the environment."
LEAF 2005 was an enjoyable experience, but I realised that my knowledge of my European counterparts and of European construction products was woefully inadequate.
Sitting opposite suppliers who wish to promote their products sounds like purgatory, but
I saw products at LEAF that I wouldn't have been aware of through any other medium.
The highlight was speaking to fellow professionals from other parts of Europe on a variety of subjects and absorbing many different perspectives. My biggest disappointment was that LEAF is an annual event which lasts only three or four days and leaves
many of the issues discussed unresolved, without any further action.
SUSTAINABLE DIALOGUE
One such issue is sustainability, a much used and abused word which in our industry has come to mean anything that is environmentally aware. This is laudable, but what are we trying to sustain?
In my view, sustainability is about ensuring that the
resources we currently enjoy are still here for generations to come, but this is a huge issue for which we must all take collective responsibility. It is all too easy to believe that we are designing for a sustainable development by specifying
'environmentally friendly' products, but this misses the point.
True sustainability is about more than just the environment; it encompasses broader issues such as social behaviour and communities. Buildings are among our most durable and valuable assets, and one of the biggest consumers of energy. They can also,
by virtue of their design, have an enormous impact on the health and well-being of their users. This topic alone is worthy of further debate.
We are aware of embodied energy in building materials and energy consumption during a building's life, but we must be aware of planning issues both in cities and the countryside.
Urbanism receives a great deal of attention, with plenty of initiatives proposed to encourage community consolidation and growth in urban environments. Ruralism tends to attract less attention, although maintaining and growing rural communities is often more problematic, particularly with the need for public and private
transport.
A COORDINATED APPROACH
These issues are not solely the domain of architects and the construction industry. We must work and develop strategies with town and country planners, transport analysts, and local and national government in formulating a coordinated approach.
Luckily, in the UK we have developers who look for environmental improvements that benefit the wider community and spread happiness through good design and architecture. We should celebrate and reward those individuals and companies that enrich our
lives through capital investment.
"Sustainability encompasses broader issues such as social behaviour and communities."
Clients are also putting pressure on our industry to deliver well-constructed buildings within ever-shrinking timescales. This is understandable, but we must be able to respond using systems, materials development and design approaches. However, there
is little opportunity to develop these approaches Europe-wide.
GOOD USE OF RESOURCES
Again, in my view, the design of environmentally friendly products and processes begins with research and development. Ecological considerations must be incorporated so that products made from benign materials that are readily recyclable and have only
minimal impact on the environment can be launched. Such products will ensure an economical use of resources to benefit future generations.
These are the kinds of issues the architectural community and the construction industry need to debate in a European forum. Once a year is not enough. The LEAF Review should fill this gap, providing a much-needed organ for continuous
debate and reaching a substantial audience across Europe.