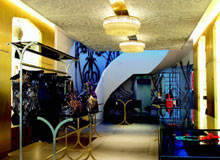 Shops are about far more than simply providing consumer goods and services. Retail clients are realising that a powerful lure for customers is the experience of shopping itself, which is where architects and interior designers play their part. In collaboration with a store's marketing and merchandising team, they can create spaces that reinforce and mould a company's retail identity.
Because of its immersive quality, a store environment can have a powerful effect in forming the consumer's impression of a brand, even going beyond what conventional advertising can achieve. Spaces that appeal to the senses can make the strongest impact and promote sales, says visual marketing expert and retail designer Marion Kamp of Kamp Design. "When you look in magazines that forecast trends, you will see that for the last seven years, spaces like these were the most important for trend for turnover in shops."
Concept stores
Based on Kamp's advice, Amsterdam design studio Tjep created a concept store, Heineken the City, that captivates customers' attention by appealing to their sense of touch. Near the entrance, a 2m-wide logo made of ice sends a cool breeze onto visitors' faces. "When customers come in, they're intrigued by what kind of material it is, and first they don't believe it's real ice, but once they touch it, they actually feel it," says Frank Tjepkema, the project's lead designer. The designers also translated the theme of coolness into the aesthetic of the store, which opened last July.
At Liberty of London's first concept store that opened in the same month, opulent patterns in the display areas provide a fitting backdrop for the brand's often ornate accessories and clothing. One of the company's signature patterns, the art nouveau 'Ianthe', appears in beaded black and white curtains and brass hairline inlays in the floor. The 'crystelle' pattern forms the texture of stucco ceilings 'to give the impression of a beautiful celestial garden,' says Liberty's creative director Tamara Salman, who collaborated closely with Parisian firm Architecture & Associés in shaping the look and feel of the store.
A changing room offers tactile richness; the soft surface of velvet deep-purple banquettes provides a sumptuous spot for sitting and a practical design solution, the seats doubling as dividers. The decor is intended to evoke the Orient Express, a reference to Liberty's travel-filled history but, when combined with other plush chairs and small rugs, the effect is more like that of an apartment, according to Pierre Beucler, the lead architect involved in the project.
"Despite a proliferation of innovative retail designs in recent years, the field has been slow to gain respect."
One of Beucler's missions was to provide a prototype for the flagship store in London, flexible enough to be easily adapted to other locations.
"The idea was to create a unique design that would be a modern interpretation of Liberty's heritage but stand the test of time and be easily translated into other stores around the world," Salman explains. Using furniture as dividers was part of that strategy, because it eliminated the need for extra walls, Beucler adds.
Architectural approach
Other projects take a more sweeping architectural approach, with striking results. Inspired by a Japanese tale about a man's journey to an underwater kingdom, Tokyo design firm Jamo Associates created a clothing store for Phillip Lim with interior walls made of 4,000 perforated concrete blocks, resembling bubbles in the ocean. Multicoloured oak floors recall the dry and wet sand of a beach while a fitting room and cash desk feature mouldings treated to resemble driftwood.
In Los Angeles, a new Alexander McQueen boutique emulates an 'ethereal cave', says Pentagram principal William Russell. Walls, ceilings and display fixtures morph into one another. The flowing forms were created using curved metal studs that resemble "the ribcage of some great beast," he says.
Food for thought
Restaurant design is also becoming increasingly concept-driven and experiential, according to Stanley Saitowitz of San Francisco firm Stanley Saitowitz Natoma Architects. "When you go to some of the new restaurants in London, New York or LA, there's more of a focus on the presence of the design," he says. "The experience of the space is compelling and complete. It's not just like you feel comfortable, but you're also in somewhere special that's memorable." At San Francisco restaurant Conduit, his firm used common electrical conduits to create a series of 'veils' that run horizontally and vertically through the space. The patterns were inspired by weaving, but the grids also evoke digital networks.
"Spaces that appeal to the senses can make the strongest impact and promote sales."
Some restaurant designs draw on food itself for inspiration, with decoration intended to whet customers' appetites. When Tjep created the identity and design for Amsterdam health food cafe Pluk, the designers opted for a colourful interior. The centrepiece is a glass counter displaying imitation fruit and vegetables. To make the fake produce appear real, the counter was coloured red, green and yellow, so the fruit and vegetables would appear to be suspended in juice. "The counters look delicious," Tjepkema says.
Despite a proliferation of innovative retail designs in recent years, the field has been slow to gain respect, according to Navid Maqami, a principal of American architecture firm GreenbergFarrow. "It's not as permanent as a museum or a campus building," he explains. But the field is beginning to gain credibility, says Robin Kramer of New York-based Kramer Design, a specialist in retail design and consulting. "Some of the world's great architects never looked at retail design or didn't take it seriously. When Rem Koolhaas did the PRADA store in Soho [in 2001] retail design started to get more recognition. Now, everyone is interested in it," she adds. "Creating something beautiful, functional and yet commercial is an interesting challenge."