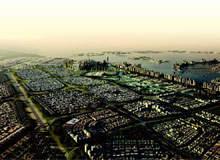 "We went to Dubai as adventurers after our first competition, which we didn't win," says Reinier De Graaf, Partner of the Office for Metropolitan Architecture (OMA). "We tried to pick up work left right and centre."
OMA wants to create an efficient, compact type of urbanisation that counteracts the extravagances of Dubai and Abu Dhabi, and provide a blueprint, even a manifesto, for future development in the Gulf and beyond, through current projects and unrealised ones, such as Ras-Al-Khaimah eco city.
Like OMA's projects in China, from CCTV to the upcoming Shenzhen Stock Exchange, the Dubai projects have certainly contributed towards the superstar status the practice enjoys.
"I think by doing work in those regions we have to be careful not to be equated with other superstars who do work in the same region for different reasons," says De Graaf. "That's why we lecture about it a lot because it always needs that explanation."
In Dubai, as elsewhere in the Gulf, fantastic projects from Saadiyat Island in Abu Dhabi – with its impressive roll-call of architects from Frank Gehry to Zaha Hadid – to Waterfront City, a 1.5-million-inhabitant development, are being realised with a degree of frivolity and spontaneity that would be anathema elsewhere. "The whole term "iconic architecture" is very much part of the competition where architecture is used to promote certain places and certain causes," says De Graaf.
The OMA partner knows the Gulf region well. He has responsibility for OMA's Middle Eastern projects including Waterfront City and is director of the practice's influential think tank AMO. In 2007, AMO released the book Al Manakh, the first ever comprehensive analysis of urban development of The Gulf. 'This is a single federation of partly cooperating and partly competing different states so they work together and at the same time try to set themselves apart from their neighbours,' explains de Graaf.
How well do you
really

know your competitors?

Access the most comprehensive Company Profiles on the market, powered by GlobalData. Save hours of research. Gain competitive edge.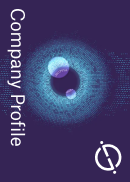 Company Profile – free sample
Thank you!
Your download email will arrive shortly
Not ready to buy yet? Download a free sample
We are confident about the unique quality of our Company Profiles. However, we want you to make the most beneficial decision for your business, so we offer a free sample that you can download by submitting the below form
By GlobalData
Designs on Dubai
Waterfront City will sit beyond the elaborate triptych of fantastical luxury residential and resort islands – Palm Jumeirah, Palm Jebel Ali, Palm Deira, and The World and The Universe. It will transform this area of desert into a business and residential region that will double Dubai's population.
While other islands in the developer Nakheel's opus focus of housing and tourism, Waterfront City will incorporate the city element of high-end living. Situated in the southern half of Nakheel's land bank on the border of Dubai and Abu Dhabi, the 140,000,000m² development (twice the size of Hong Kong) will become home to 1.5 million new inhabitants. In total it will add 70km of coastline to Dubai's meagre 15km stretch of natural shore. Such is Dubai's ambition.
"Dubai is a very wired hybrid, fundamentally based on the non-separation of powers."
De Graaf does not think that the global financial slowdown will affect the pace of development. "We are continuing to work on it, to look at the things we've designed to make them more effective," he says. "Waterfront City isn't a reclamation project so therefore there's not a huge pre-investment in reclaiming land from the sea. It's actually one of the safer projects in Dubai because it is more commonsensical. The risk is more limited therefore. Even after bankruptcy life continues and I don't think Dubai is bankrupt."
The statistics for the project are staggering. At the region's centre is Waterfront City – a 1,310m by 1,310m island designed by OMA and led by project architect De Graaf. Nestled into the mainland and moated by artificially constructed waters, the square island will be programmatically layered with a mix of business, residential, cultural, retail and leisure spaces (including a Manhattan-style Central Park). "Nakheel is known for its attempts to get onto the world scene very quickly so that creates a certain level of freedom." says De Graaf. "You can create something outrageous, but with an acceptance of the outrageous you can also get the radical utopian position."
Following its completion in 2018 the city will accommodate a residential population of 92,000 and a working population of 310,000, ensuring it will be bustling around the clock. OMA has designed the four districts that surround the central square, each having their own distinctive character.
Boulevard is defined by its soft water edges and extensive public parkland containing a mix of private plots and commercial spaces, Madinat Al Soor is a traditional Arabian community, Marina will combine a marina with high-rise residential buildings, and Resort will offer a resort lifestyle with luxury hotels, resorts and residential spaces, including the OMA-designed high-rise, The Spiral.
The central island will parade some iconic structures of its own, including an 82-storey tower (inspired by the minaret of the ninth-century Great Mosque of Samarra) and a 44-storey silver sphere. The Sphere is described by the designers as a self-contained urban neighbourhood, where public, residential and office space intertwine.
Monotony of the exceptional
The merging of public and private interests in Dubai allows for strong partnerships and an extremely swift process development from design to realisation. According to de Graaf, in the UAE business and politics merge, requiring a completely new jargon. "Having business interests are a prerequisite of being a cabinet minister here," he explains. "It's private money doing public mega projects but then again private money isn't private money and public projects are not public projects. It is a very weird hybrid that is fundamentally based on the non-separation of powers whereas our whole culture is the opposite in the context of the separation of powers."
"Waterfront City will sit beyond the elaborate triptych of fantastical luxury residential and resort islands."
Architecture in the Emirate is completely entwined with the Dubai brand says De Graaf. 'Even in the sense that if you propose a deliberate antidote to the Dubai brand you are part of the Dubai brand,' De Graaf thinks that the saturation of iconic architecture throughout the UAE, what he calls the 'monotony of the exceptional', will inspire an anti-movement of design sobriety. OMA are working on designs that are anti-Waterfront City. Dubai renaissance, that removed the OMA signature, and concentrated, on 'invention rather than the necessity to get noticed' by rotating around its own axis in a 24-hour cycle, might have lost out to Zaha Hadid's Dancing Towers project, but still provides a tantalising vision of the future.
With 1.7 billion people living within a four-hour flight radius of the Emirate, Dubai wants to be a global hub after the oil runs out. Waterfront City is tasked with helping achieve that goal. Does De Graaf see Dubai as the architectural utopia it claims to be through its slickly oiled global marketing machine? "In terms of adventurousness and utopian developments, Dubai is phenomenal," he says. "You can actually imagine that places like this are maybe the lands where some of the early 21st-century architectural utopias might actually be realised." Does Dubai make sense? By using oil money to shift its economic base, it does to De Graaf. "Singapore simply planned itself onto the world map," he says "Dubai is just a more extreme version of it."