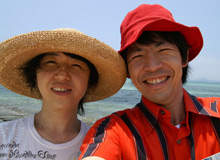 "The gap between use and form is very distinct," explains Yoshiharu Tsukamoto, one half of Japanese practice Atelier Bow-Wow from the firm's office in Shinjuku, Tokyo. "There is a space which opens in at this point, which is always inspiring us."
Atelier Bow-Wow has rapidly built up a name as one of the smartest and most idiosyncratic practices in Japan with their innovative and eccentric house projects. Mini-House in Nerima, Tokyo, which won the Tokyo Architect Society's Gold Prize in 1999, remains an iconic curiosity, while their latest project, Nora House in the countryside outside Sendai is a wildly original re-interpretation of a Japanese farm house.
The Japanese seek to maximise the potential of small spaces to their extreme with the negative effect that the broader picture is sometimes lost. Developers in Japan are incredibly powerful political players and architecture is treated by clients as if it was a product. Buildings with short lifespans are the norm, while there is a constant demand for new housing.
Tsukamoto and his partner Momoyo Kaijima founded Atelier Bow-Wow in 1992, after a chance meeting at the Tokyo Institute of Technology. The practice had a tough beginning, starting out at the beginning of the Japanese financial crisis in the early nineties, which plunged the economy into a recession.
As building projects ground to a halt across Tokyo, Atelier Bow Wow had to approach architecture differently. Rather than wait-out the crisis, they embarked on an investigative project to observe and document the various typologies of the city, and published what they discovered in several books.
Made in Tokyo
Made in Tokyo is a compendium that breaks Tokyo's architecture into orders, with a hobbyist's attention to detail. Tsukamoto is particularly drawn to the hybrid buildings that can be found throughout Tokyo, a city that has surprisingly few high rises. The more eccentric include a taxi office and parking space with a driving range on the roof, a roller coaster on top of a department store and a shop that doubles as a Shinto shrine.
Hybridism has long fascinated the practice. "It is a good way of controlling the egoism of the architect," says Tuskamoto. "For us hybridism is more natural than being just a single pure programme because there is always flexibility relating to a building's neighbours, which become more communicative. You develop something from the environment and from your original plan so your buildings are transformed into hybrids."
"The Japanese seek to maximise the potential of small spaces to their extreme."
Out of the research for Made in Tokyo came the idea for the Pet Architecture Guidebook, which collected together examples of what they interpreted as new types of uniquely Japanese metropolitan vernacular architecture. Micro buildings are squeezed into gaps between larger buildings, or on miniscule plots. These strange curiosities are at once ridiculous and highly functional. This is the forgotten architecture of Japan – an extreme design realisation of the pragmatic
philosophy that underpins popular Japanese design.
Through their design detective work, Tsukamoto discovered buildings throughout the Tokyo metropolitan area from Shinjuku to Ota, where space was tailored by their occupants. There is even a term for it, 'da-me' or 'no good', an ironic classification for an unglamorous, anonymous design path that is far from the cool, steely sobriety of Japan's contemporary star architecture.
Atelier Bow-Wow's investigations into how architecture can be handled in an urban setting was crucial in the evolution of their thinking that has culminated in their striking pocket architecture. These buildings designed for a hyper-condensed urban environment have their roots in Japan's extraordinary success at developing functional product design.
It might not be surprising that Tsukamoto and Kaijima work in a tiny studio with only two windows. Atelier Bow Wow is an anomaly in Japan if you compare it to its peers like Hitoshi Abe, SANAA and Junya Ishigami. In many respects, Atelier Bow Wow is the ultimate realist who has forsaken the clean, but often soulless, design ethic of Japan's star architects.
The practice's architecture engages with what Tsukamoto calls 'lively space'. Rather than trying to control space, Atelier Bow-Wow deliberately seeks to engage with the site and the programme. He quotes the post-modernist thinker Henri Levèbvre's The Production of Space which argued that space is not an inert, pre-existing element, but a perpetual production of spatial relations that encompasses things produced and embraces their inter-relationships.
House adventures
Completed last year, Nora House in the countryside outside the city of Sendai, 190 miles north of Tokyo, does not just utilise traditional Japanese craftsmanship in the design, it also creates a new typology for the mixed agricultural and urban land that is found at the fringes of Japanese cities.
"The practice's architecture engages with what Tsukamoto calls 'lively space'."
Atelier Bow Wow designed the house with student collaborators from the Tokyo Institute of Technology. It was designed for a couple with a young child who moved back from the city. Despite its unusual roof that protects the building, the single-storey Nora House shares many features with Japan's traditional minka farmhouses such as a covered porch, a large fluid interior space and timber construction. It's actually quite a conventional building, with conventional building
elements.
Used to working vertically, Atelier Bow-Wow had to develop the design horizontally in Nora House, which spans a height differential of 9ft. The house is spread out over nine levels yet it is a continuous interior space without many partitions. Short stairs set apart areas without dividing them.
One of the practice's most celebrated designs Mini House (1999) occupies just 84m² on three levels. In terms of scale it is a typical Bow-Wow building. It is simple and pragmatic and employs a succinct use of space for particular functions. Its name refers to a mini skirt in that it provides space underneath it to park a small car. Mini House will have a short life, it was built on land that will eventually be turned into a freeway so uses cheaper materials such as plywood.
Outside of Tokyo, Atelier Bow-Wow's houses are slightly more conventional. While Log Saiko (2002) in Yamanashi, Izu House (2004) in Shizuoka and Black Dog House (2004) in Nagano might not have the spark of their city work, but they are still intriguing examples of space craftsmanship. Atelier Bow-Wow is not overtly pre-occupied with space but more the subtle changes in surface, the morphing of elements and the individual piecing together of a house that gives it expression. Tsukamoto and Kaijima also like to explore complexity.
An extension of a lepidopterist's home with a cocoon-like structure, Moth House (2002), draws on the hobbyist trait in Atelier Bow-Wow's work, a continuum of the specimen collector ethic of their urban investigations for Made in Tokyo. Tsukamoto doesn't have a favourite house project. "I like every house we design," he says, "it's difficult to have a favourite."
"Hybridism has long fascinated Atelier Bow-Wow."
Bigger projects like the Showa Memorial Museum in Tokyo have a real audacity to them, although the Bow-Wow philosophy of linking the building to the environment is more blatant. The museum merges with the landscapes it sits on. You can walk from a hill onto a living roof, planted with trees, and reach the galleries by means of a lift.
What parallels can Atelier Bow-Wow draw from designing for urban and rural environments? "They are different but both are based on observations in behaviour in different dimensions," says Tsukamoto. "Of course in rural areas not just the behaviour of people is different, but also that of light, wind and even the heat." Each project is unique and has its own template. "They are experiments," Tsukamoto says. "We are always trying to design a new generation of
houses in each area.
"Tokyo is formed by different generations of buildings," he adds. "Every generation develops a new direction and looks at a city from a completely different angle. What we are trying to do is propose a new generation of houses."
Tsukamoto and Kaijima like to observe cities and the behaviour of their inhabitants. "It's like biology, observing the relationship between animals and insects and the environment," he explains. In May 2008 at London's Hayward Gallery, Atelier Bow-Wow was one of ten artists to design large-scale installations for 'Psycho Buildings: Artists Take on Architecture'.
Pragmatic future cities
With the recently completed 204m-high Mode Gakuen Cocoon Tower by Tange Associates and Kohn Pedersen Fox Associates' 54-storey tower Roppongi Hills Mori Tower, Tokyo is rapidly evolving from a horizontal city into a vertical one. Atelier Bow-Wow proposes an antidote to the architecture of large, dramatic scale by focusing on more traditional Japanese design gestures such as smallness and detail, which can have an equally large impact. Tsukamoto, whose favourite Tokyo building experience
is the Tsukiji fish market, believes future developers should concentrate more on local developments than large scale anonymous high-rise districts.
"Tsukamoto and Kaijima like to observe cities and the behaviour of their inhabitants."
Tsukamoto believes architects need to have a better understanding of the relationships between a city's buildings and its inhabitants. "If you talk about architecture and its relationship with cities, you need to bring all elements into the discussion, from ecological considerations to low energy emissions," he says.
Atelier Bow-Wow is preoccupied with understanding, articulating and opening up dense urban environments that require an equal understanding of human behaviour and architectural form.
Despite an unpredictable urban vernacular, architecture can give cities a greater coherence and sense of social and cultural responsibility. Tsukamoto wants to push the typology of pragmatism to its limits. For him, architecture should not aspire to be primarily visual but be practical and usable. Atelier Bow-Wow's work recalibrates the ordinary and the everyday to allow for extraordinary and beautiful experiences to emerge.
Atelier Bow-Wow wants to break down the urban structure to expose the framework that holds it together, and reassemble its elements into familiar yet different forms. "What I am interested in is between abstract and figurative," Tsukamoto says. "Or the abstract and concrete."