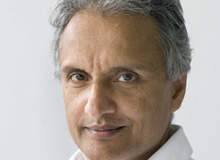 Architecture in Britain is one thing. British architecture is something else. British songwriters have long defined a very particular type of modern pop. You can say that if that exists in one art form is there an architectural equivalent to that?
British architecture tends to achieve what I call an 'all-through' quality very well, which is recognised abroad. Architecture is the integration of a huge number of different things and to release everything that architecture is capable of, you have to be very adept at managing these hugely different currents in the work. The extraordinary architecture being built in Shanghai in part by British architects is a form, an extension of British architecture.
It is particularly interesting that David Chipperfield is seen as having for the first time hit upon a truly German attitude to architecture and design with the Museum of Modern Literature in Marbach am Neckar.
He was able to actually devise an architecture that was meaningful within German architectural culture. I think that comes from a sensitivity and a sensibility about place and local situation which has it roots in British design culture.
Culture of 'safeness'
I think British architecture within Britain is enfeebled. There are always fantastic exceptions to this, but it was noticeable at the World Architecture Festival in 2008, where I chaired a jury, that not a single building in Britain won an award. This was quite extraordinary if you look at how many British entries there were. I put that down to a culture of 'safeness' that has particularly gripped the UK. There is a low-risk mentality that has gripped the public sector, and you might say there are very good reasons why that has happened, but I think it does inhibit experimentation.
British architects abandoned areas of specialism connected with the creation of buildings and aspects such as managing the project and controlling the costs. On the other hand there is a terrible back-watching culture here. On the other hand architects abandoned areas where they should have retained expertise. In too many cases architects deservedly lost the trust but they were complicit in their own downfall.
Politics and patronage problems
With public projects the government had a very crude low-cost mentality which dominated British fiscal policy throughout the Thatcher years. It was not a value mentality, it was a low-cost mentality. So with British patronage, or the lack of it, architecture focused on lowering costs with the expectation that if you let architects have their way it will cost more.
"At the World Architecture Festival in 2008, not a single building in Britain won an award."
If you look at the value that is brought by good architecture you will find that in the long term you are saving money by sometimes spending a bit more. It is a very obvious principle that has escaped British procurement policy until very recently and even though now it is widely acknowledged, it is still not practised because the fiscal instruments in place are too blunt, too crude to factor in long term value brought about by good architecture.
If you look at the private sector, there is more experimentation but it tends to be of the highly commercial, surface-glitz variety. Whereas what is great about British architecture is that it is all true. It's like a stick of rock that doesn't have a surface that is distinct from what is underneath.
Adventure in architecture
I was delighted that Accordia won the Stirling Prize in 2008. The fact that Accordia is a sober building chimes with the current time. It does illustrate the point about risk in British architecture. You have to go back a bit to a time where they were really thought provoking buildings like FOA's Yokohama Ferry Terminal, that were not simply weird or glitzy. There is a lack of that kind of adventure in architecture right now because of the context of what is being encouraged and what is not being encouraged.
There is an element of safety, and that is a critique that could be levelled against Accordia but it would be wrong in this particular case. Sometimes a quiet scheme is the right scheme and its own way can be quite radical. It was the first time a landscape architect was on the podium for a Stirling Prize.
I think the recession ought to concentrate our minds on how we use resources most effectively. There is no magic solution but architects will have to diversify into sectors outside their expertise and abroad. You might think of it as calling the chips in on globalisation. There are other economies in better health so maybe there are opportunities there.
"Modern British architecture is increasingly defining modern Britain."
I hope the kind of architecture that emerges from this is the opposite of an architecture of waste, materials and even talent. British architects, particularly working abroad in places like Dubai are producing meaningless form-making rather than a truly radical architecture exploring the possibilities of technology.
Traditional architecture has always been part of defining Britain. When my parents came to Britain they thought British villages were amongst the most beautiful in the world. Modern British architecture is increasingly defining modern Britain.
I think there has been a definite renaissance in the last decade. The way London sold itself for the 2012 Olympic Games is an absolute paramount example of architecture doing its bit
Florian Beigel might have trained in Germany but with projects like the Half Moon Theatre, his Architecture Research Unit very much represents some of what is best about British architecture in its synthesis of construction, engineering, function and urbanism.