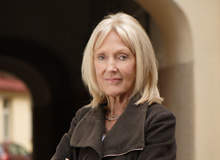 I came to England from Czechoslovakia in 1968. My first encounter with Britishness was hippies and flower power. I couldn't believe that people could joke about national symbols. Living in a communist country it was completely out of the question that you would take off a take a different path than the majority. The rules were set upon you. This freedom generates a freedom of expression not only in literature and also in architecture. I am a foreigner. Britain is still very tolerant compared to most other countries, whether it concerns politics or private life.
All countries have an architectural style. high-tech was my introduction to British architecture. My first experience was through Erno Goldfinger. In 1963 he suddenly started doing those crazy buildings and experimental projects like Trellick Tower in Camden, London, which he took me up in 1969. I was fantastically impressed that he moved in just to prove that people could live there.
At the time I was working with the Greater London Council on these experimental projects and it is still applicable. As a consequence of high-tech / Archigram the generations changed from then.
With the group of Richard Rogers, Nick Grimshaw, Norman Foster and so on, this generation became so strong that it took a long time for the young generation to start making an impact.
While you can see many more young practices having a say, it is not easy for them. There were two generations who have not really had a chance to put themselves on the map. It took time for people to gain sufficient experience to be able to handle big projects. They are now lots of young practices but they are in their 50s. People wait until you are older. I think it will get younger with the generation to come.
British architecture has the freedom to explore, experiment and also attract developers to support the ideas which are not always commercially viable. However, in the Czech Republic, we get big projects without any hesitation. Very often in England we get told we are being eliminated from projects because they say we are too small a practice We have 15 people here in London and 15 at our Czech office. The number of people should not determine what building you can do. It depends on the team. We would never have got the Zlin University project in the UK.
Luck and learning curves
It would have been nice to have done big high-rise projects in the UK. If you do the big projects, the learning curve is much faster. I was lucky. At 30, I was a job architect on the Brighton Marina Project. They sent me to Brighton to pull it together and I had to work with 60 people from Taylor Woodrow to all the project consultants. After two of three meetings I managed to do it. It helped that I had a certain amount of technical background and understanding.
"The number of people should not determine what building you can do. It depends on the team."
I spent six years at the Czech Technical University, Prague. Each year we spent two months on building sites and it was a programme where went from every single trade from bricklaying onwards. You had to watch and participate physically. You learnt how the pipes are fitted and how the air conditioning is done. You had to fill in your log books. In London students come to architectural offices and they have never been to a building site.
It is harder to talk about how architecture is territorial when you are talking about iconic buildings. They are much more artistic buildings, and not concerned with solving logical problems about the site, the climatic conditions and so on. A skyscraper by Zaha Hadid is the same in Abu Dhabi as it is in Washington.
Mirror of the time
Our professors used to say architecture is a mirror of the time. It is a reflection of what is happening in society and politics. When I was younger there was a mainstream and just a few little ripples, like Denys Lasdun and James Stirling, who even then would not break all the boundaries. It was not like now with Rem Koolhaas and Hadid.
There's no normal anymore; everything is fantastic. This is the kind of society we live in. That's why those people are allowed to do anything, with no criticism, because they are put on such high pedestals. I think it helps us push boundaries and question what architecture is for but I don't think it can solve most architectural problems by just having a few iconic buildings. They're not normal because they go completely beyond sensible conceptions of how much you can spend per metre. No journalist is interested in someone who does ordinary buildings. We just have to accept it.
"There is no normal anymore; everything is fantastic."
If I had stayed in Czech I would either have been in prison or selling newspapers because I am a heretic by nature. The Czech authorities asked me to stay in London because they did not want me back. Three months after the invasion in August 1968 I received a letter from the authorities saying my passport had been abolished, my visa cancelled and return to my country no longer required. So they got rid of me. I was gone 22 years.
Today I still find every step we do extremely interesting. I think if you still push that bar that you want to jump higher and higher, you will find the challenges.
I get exited by anything which means an improvement on something which we haven't done. I think the aspect of age has got something do with your optimism or pessimism and in life. I have a great advantage in that my father was a great optimist. My mother was the opposite.
In the UK, architecture is an extremely exciting profession. I still think we have absolutely unlimited boundaries to push and we have to find it. We have to fight for it.