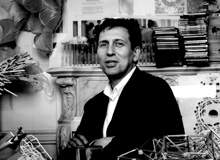 There is a contemporary British architecture but it has very little to do with Britain. This country finds itself in a situation where because of the nature of the globalising forms of practice, it has bred ways of working and thinking and operating that flourish in a global setting. Architects operating out of Britain are incredibly well positioned against those that are in say New York or Europe or Asia.
Centre of the architectural universe
I joke that it is an advantage that we are at the centre of Greenwich Meridian Time. It's no accident that the global operations of the large American offices are being lead by their London offices. I think of my own experience of those offices in New York when it was thought of as the centre of the universe. Just as the art world has re-oriented itself around the UK so too has the architectural world.
"Work is often found in places that are much more receptive to architecture."
In the United States architecture is a much more straight-forward professional enterprise. The culture of ideas and public or private interest aren't really discussed, displayed, exhibited or talked about in the way that is done in Britain. It's almost something you take for granted here.
In terms of the level of debate in this country, I can't imagine another city that comes close to London, not even remotely and that's one of the fascinating things about it – although, being within it is at times not very satisfying. David Chipperfield claimed that Britain doesn't value or take architecture seriously – I think the circumstances here can help account for why talent is exported.
Work is often found in places that are much more receptive to architecture. I have young teachers here at the AA who are winning competitions across the world because those places embrace new ideas and can operate much faster than is often the case here. However it has a beneficial effect in the sense that it has created the conditions where British offices have to think not only in relation to the local economy but also the wider world. This is just not the case in many parts of the world where the balance of work is much more local rather than regional or global. Practices in the UK operate globally but emerged out of an experience in this country over many years.
One of the most interesting things about contemporary British architectural culture is that it really isn't a policy-driven culture, it's something that will flourish with many voices participating together and open competitions with one another. The UK is not famous for its design competitions or for those leading to good results in the end. That's part of the experience of the last decade. It's learning to balance certain policy ambitions which can be interesting, but the design quality must figure in our consideration of these things with a much more brutal reality. That can be achieved by bringing in design talent and the best way to do that is to offer opportunities to compete with one another, rather than choosing architects based on previous experience or an existing portfolio.
"It's no accident that the global operations of the large practices are being lead by their London offices."
Regeneration
Has there been a coherent approach to the regeneration of British cities? I think it is still emerging but it's happening more now than ever before. I can remember design units at the AA working on projects for Manchester, Liverpool, recently as eight to ten years ago when these cities were in unbelievable states of decay.
The biggest challenge facing architecture in the UK and beyond, which is almost self-imposed in architecture and urban cultures today, is the extraordinary pace of urbanisation and development. The world is now driven by an incredible force of deadline and delivery that couldn't have imagined before. Not many years ago, no one quite imagined what the boom would have been like and now we can't imagine it slowing down however difficult the economy gets.
All counties, including Britain, are now smaller parts of a much bigger world, where we can find new ways of how we train and work as architects, how the public thinks about the wealth and speed of growth of cities. I don't think most of us who live in cities are prepared to fully understand what that means, and the lessons are incredible ones right now.