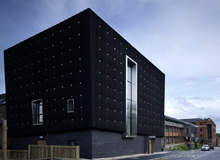 Throughout 2008, the credit crunch and the mounting threat of recession have cast a shadow over the construction industry in Europe, with experts fearing a gloomy year ahead. In April, the Royal Institute of Chartered Surveyors (RICS), warned that workloads had fallen to the lowest rate in more than a decade, while in October, the Construction Employers' Federation (CEF) reported that more than 8,000 jobs have been lost or are under threat, with managing director John Armstrong declaring the situation to be at 'crisis point'.
In November, the Construction Products Association's Trade Survey revealed deterioration in previously buoyant sectors and, in the same month, Swedish company Skanska cut 6% of its workforce in Scandinavia. For an industry that, according to PricewaterhouseCoopers (PWC), accounts for about a tenth of the world's gross domestic product and 7% of employment, this is bad news.
"It is common knowledge that new orders are down by 60% in some areas."
However PWC's 11th Annual CEO Survey 2008 showed that 94% of construction and engineering bosses were confident of achieving revenue growth throughout the year. So is the situation as bad as it seems?
With fewer projects going ahead and more job losses expected, it seems the industry is cautious about 2009, and the full effect of the economic downturn remains to be seen.
"There is only one word to describe the situation, and that is devastating," considers Michael Finn of property consultancy, Vail Williams. "There is lots of activity on building sites, because there is work in the order books, but some of our clients are already mothballing developments. It is common knowledge that new orders are down by 60% in some areas."
Finn, who is also chairman of the government's Building Regulations Advisory Committee and a former president of RICS, believes the industry has been dealt a harsh blow. "This slump has hit harder and faster than any previous recession," he says.
"I think things will stay down for a while." Finn also considers that the way in which the sector is structured could prevent it from making a quick recovery. "The industry is different from how it was in the early 1990s," he says. "It is heavily reliant on specialist subcontractors. Small companies will be hit hard as work tails off, and when things begin to pick up, it will be depleted in terms of resources."
Jim Pinsent, head of construction at the Liverpool office of law firm DLA Piper, agrees that the effects of the downturn can already be felt. Pinsent, who is working on a number of high-profile developments including the new Liverpool stadium and the Mersey Gateway project, also thinks that the year ahead will be difficult for the industry. "In the past five years there have been unprecedented volumes of development work, with a lot of regeneration here, and in other parts of the country," he says.
"However the market started turning 12 months ago and, going forward, there are few projects in the private sector that are not on hold." Pinsent attributes this trend to falling land values and the inability to raise finance.
Success for some
While small businesses will suffer, larger operators believe that they are well equipped to weather the storm. Paul Sheffield, managing director at Kier Group, which employs more than 11,000 people and has annual revenue in excess of £2.4bn, feels the company has enjoyed a successful year.
"With the exception of our housing business, 2008 has been strong for the group, with the construction and support services divisions achieving record results," he says. Work in the private sector has largely dried up but Sheffield feels that public sector projects will continue to offer opportunities in the next 12 months.
"The credit crunch and the mounting threat of recession have cast a shadow over the construction industry in Europe."
"Businesses that have been able to make the switch from private to public in the past two years will be reasonably well-insulated from the worst of the downturn, as long as the government maintains its pledge to keep spending on infrastructure," he continues.
"Our construction division is well positioned and we do not anticipate much of a slowdown in revenue in 2009. However, with the drop in overall work available, margins will be tighter as we move through 2010."
Kier is delivering more than £100m worth of schools in Kent as part of the Building Schools for the Future programme.
Also riding high is the architecture practice Benoy, which recently completed work on Europe's largest shopping centre, Westfield London. Managing director Nick Lamb has witnessed an industry slowdown, but thinks that prospects are still good.
"The global downturn has undoubtedly impacted markets worldwide, and there has been a slowdown in growth throughout Europe. However there is still significant interest in property and we have a number of projects under development and due to open in the next year," he explains.
Lamb concedes that the nature of Benoy's clientele puts it in an advantageous position, however. "Much of our work is carried out internationally, particularly in Asia and the Middle East," he explains.
"This has allowed us to ride out the economic difficulties better than most. However, even in these prime markets, we have started to see the situation tightening up."
Tough times
Jack Kelly, a partner at Deloitte, thinks that the market will be tough in 2009. "The fall in house building has been well documented in the press, and big companies are looking for refinancing," he says.
"In addition, if you're in the design market, then trade has probably fallen off considerably. Across the sector, the unwritten rule is that construction follows GDP. If this goes down then so will construction activity, albeit with a delay depending on how secure your backlog orders are."
Kelly pinpoints a number of public sector areas that will continue to be successful, including schools, hotels, hospitals, affordable housing and prisons.
The downturn will also bring with it new trends. "I think we'll see businesses making more short-term decisions," considers Finn.
"In the past ten years people have been happy to invest long term but this will change. There will also be an emphasis on refurbishment as opposed to rebuilding – it is much cheaper and there are fewer planning delays."
Paul Sheffield is worried about falling tender prices, which he believes could affect the quality of output. "I am increasingly concerned that the decade of learning how to work in partnership with customers, professional teams and contractors – which I believe has delivered value for the customer – will be destroyed by the return to low-cost tendering that we are seeing at the moment," he adds.
The full extent of the economic downturn on the construction industry will only be seen with time, but there is a general air of caution going forward. The sector has changed considerably since the recession of the early 1990s, which makes it difficult to predict the outcome.
"The construction industry has evolved into an enlightened, customer-focused environment since then, and we have not seen it tested in a downturn – it will be interesting to see how it develops," says Jack Kelly.
While it is largely agreed that the public sector will do better than house building and private sector work, it seems there are hard times ahead and, according to Michael Finn, the industry can expect to see four or five lean years.
Across the continent
The global economic downturn has affected the construction sector right across Europe. In a recent statement, Hans-Hartwig Loewenstein, president of the Central Association of German Construction, predicted a flat year ahead for the sector, adding that in spite of positive sales, he expects the market to stagnate, with a drop in employment figures.
"Across the sector, the unwritten rule is that construction follows GDP."
In Spain, problems with construction have been much publicised, and in April, Economy Minister Pedro Solbes slashed the country's economic estimates, predicting that it would take two years to get over the slump.
In Poland, however, a survey by research and consulting specialist PMR revealed that the sector continues to be favourable, with 50% of construction respondents expecting the market to continue at its present high level.
"In the past few years, the UK has created a bubble, encompassing areas such as commercial property, house building and retail, but when growth stops, all areas get hit," considers Michael Finn. "In countries such as Germany and France, the industry is different and could be better equipped to weather the storm. In addition, countries in Eastern Europe are likely to be less affected by the downturn."