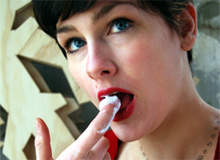 "I use whatever it takes, whatever I need to communicate my ideas about eating," says Marije Vogelzang, artist, product designer, sculptor, party organiser and chef. "I call myself an eating designer," she tells me, explaining why she wants to explore new ways to experience food. "There are so many designers that make clothes to wear, cars to drive, houses to live in and everything," she says. "What is the closest you can get to human beings?" she asks. "Food."
Instead of trying to find out what the 29-year-old is, it's a lot more rewarding to listen to her explain the work she has done. For a recent Droog design collective dinner, she built an abstract edible moonscape of yeast-free pizza dough stretching across a series of bowls on an enormous table. As the meal progressed, the dough was softened with servings of stew so the two could be eaten together.
Vogelzang does not like to just shape food, she creates narratives to explain why a dish tastes how it does, where it comes from, who made it, how it was made and why you are eating it. "Every design eventually gets thrown away but when people eat my food it becomes part of their body," she says. "My designs walk around everywhere inside people," she reveals. "Even when it leaves the body, it remains in the brain as a memory."
The mix of intelligent design, surreal storytelling and delicious food has made Vogelzang very sought after. Her clients range from Hermès to BMW and she has lectured from Tokyo to Beirut.
At her restaurant in Rotterdam and studio in Amsterdam, her company Proef – meaning 'to taste' and 'to test' –creates new culinary concepts.
Tasty design evolution
Vogelzang is not the first designer to be fascinated with food, which is increasingly becoming a tasty element in industrial design's evolution. Food design is also fun. Paolo Ulian's Greediness Measure is a chocolate bar divided into numbered blocks while Kuniko Maeda's Bento Interior is an edible doll's house.
Many designers find food an ideal raw material to create spectacles and narratives. Dutch design collective Droog regularly celebrates the exhibition openings at their Amsterdam gallery by inviting the featured designers to host a dinner party that mixes food, design and social interaction. Melding food, design and social interaction, these meals – or food performances, as they might better be described – provide a new vehicle for designers to explore their creativity.
Proef
The first Proef opened in Rotterdam in 2004. It serves food with a conceptual approach. Vogelzang moved to Amsterdam in 2006 and opened her second Proef, a studio where she works on her projects and occasionally rents it out as a banqueting space. If you visit Proef you can get involved in her eccentric creations and eat salads whose ingredients were grown in the dark.
"Vogelzang does not like to just shape food, she creates narratives to explain why a dish tastes how it does."
Born in Enschede in the eastern Netherlands, Vogelzang was not brought up to be a foodie. She became interested in food as a material while studying industrial design at the Design Academy Eindhoven in 1995. She was taught by Dutch design guru Li Edelkoort who regularly uses food in her work and who has been a big influence on the eating designer scene. "I was doing experiments with lots of materials and new ways of thinking and designing and conceptualising," she says of her time at Eindhoven. "While I was working with ceramics and sometimes hair or plants, I was also spending a lot of my time in my kitchen because I love cooking and so it just came naturally."
Vogelzang is part of a generation of heavily conceptual Dutch designers, such as the Droog collective, who are often described as producing unusable objects. For her final year project, she designed a funeral. Everything was white – from the food of fish, rice, potatoes and almonds, to the clothing. "I just did it because I thought it was fun actually," she says. "I think that food has healing qualities and sharing food brings you together."
The white funeral was an anti-traditional experience that retained the ritual. Vogelzang created a serene, environment, where mourners were encouraged to interact and celebrate a life.
Forgotten vegetables and emotion food
After her graduation, Vogelzang created concepts including a meal comprising 'forgotten vegetables' for a Droog exhibition in Lille and a buffet of 'emotion food', strongly flavoured dishes tattooed with evocative words to provoke particular feelings for the opening of Jongerius Lab's Ideal House at the Cologne Furniture Fair. "I just did what I intuitively thought I had to do," she says but admits she was initially concerned she would be pigeonholed into a niche. "Now I see that I can still make the tables because I need the tables for food and I can make ceramics and anything else," she says. "It has actually made me richer.
"Vogelzang's ability to bring people together has not gone unnoticed in some divided parts of the world."
The emotional associations that food evokes make it an ideal tool for therapy. "Food memories are so strong," she says. "I am really fascinated by what food does to a person not only physically but also emotionally." In a joint project with the Historical Museum of Rotterdam, Vogelzang recreated a meal for World War II veterans that consisted of food that many of the soldiers hadn't eaten since then, complete with ration cards. The emotional attachment to the food was matched by reanimated 1940s attitudes to eating. "It brought back memories from that time when they ate the food," she explains. "It was very painful of course but also really important for me to understand that this is the one material that is the closest to people, much closer than dead material like wood."
Humour is another way to bring people together at the table. At one dinner Vogelzang organised, she cut the plates in half. On some plates she placed two servings of Parma ham, on others two servings of melon. Without instructions she lets the guests discover that if they want to have a full meal, they will have to pass one half of their plate to the others. Vogelzang achieved what she has wanted – everyone eating and interacting together.
Other food concepts reveal intriguing dualities. In order to dispel the negative associations that children might have about healthy food Vogelzang devised an entirely new way for them to relate to eating based around Leonardo da Vinci's colour wheel. Each colour is given a different emotional association. For example orange is happy. Children would pick food of the colour they felt at the time.
The responses from her dinner guests to having their perceptions of food deconstructed have been overwhelmingly positive despite the oft-strange situations Vogelzang puts her them through. "We do serve really well prepared, really fine quality food but I try to find where the edge is," she explains. "I think you have to find a balance between asking a person to step out of their comfort zone and serve them good quality food."
Feeding the world
People are central to Vogelzang's designs, and her ability to bring people together has not gone unnoticed in some divided parts of the world.
"Designers find food an ideal raw material to create spectacles and narratives."
Lebanon is a divided country. The assassination of former Lebanese premier Rafik Hariri in February 2005, and the war between Hezbollah and Israel in 2006 opened up still raw wounds from the days of the civil war. The country is still struggling to regain relative stability.
In February 2008, Kamal Mouzawak, the founder of Souk el Tayeb, Beirut's farmer's market, invited Vogelzang to work on a collaboration project with him.
Mouzawa asked her to devise an experience that would bring divided communities together and encourage locals from all backgrounds to rediscover Lebanon's rich culinary culture. Originally I didn't even dare to talk about it with these people because I feel like I'm just a spoilt girl from Holland who has never been in a war," she explains. "On the other hand if you start to talk about it people are actually very open and then you hear that food has always been such an important thing, either the lack of food or the getting of food or the moment of eating of food in a sad situation and appreciating it."
Instead of devising an experience herself she asked the locals to create their own. In a workshop she asked 100 people what their most precious food memories were and what kind of food made them think of war. They discovered that favourite foods made people think of their childhood, while others like bread were associated with war, despite being a Lebanese staple.
Vogelzang arranged for a 'green line' of edible bread bowls, coloured with parsley juice. During the civil war, the Green Line was a line of demarcation that separated the mainly Muslim factions in West Beirut from the Christian Lebanese Forces in East Beirut. It got is name from the foliage that flourished in the no-man's land in between space. It still has very negative connotations.
25 people from very different backgrounds were brought together to make bowls and were asked to write their personal food story or food memory on them. The bowls were baked and presented at the Saturday market as part of a 10m-long green line, served with fresh white cheese and Cedar honey. The response from market-goers was enthusiastic and barriers were literally eaten away.
"Intelligent design, surreal storytelling and delicious food has made Vogelzang very sought after."
"They put their positive stories and positive memories about food inside those bowls so when others eat them then the story becomes part of their body," she says explaining that even if you do not share the same religion or politics, you can share food. Food can unite us. Vogelzang wants to bring her food diplomacy to the streets of Holland to address problems of integration between Muslims and non-Muslims in cities. She wants to create a long line of tables that weaves its way through divided parts of Amsterdam and serves food from all the different communities.
Vogelzang's belief in the constructive benefits that eating design can bring to society means that her work is now centred on social and educational projects. However what gives her concepts such a spark is the sense that she has touched something special and intangible. Perhaps the Dutch designer is rousing a sixth sense in our appreciation of food. "I really think the person who eats my food is part of the design," she says. "It is not finished when the table is set. It's finished when it is done, when the people eat the food and go home. Maybe then it's not even finished."