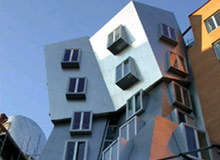 The masterplan has become an increasingly ubiquitous tool used by local authorities, public regeneration bodies and big landowners alike.
But the ever-more extravagant visual imagery presented with these studies into the long-term development aspirations of an area shows how the process has become hijacked in recent years by 'wow factor' architecture that will probably never be built.
Even if it was built, it is likely that it would not be suitable for the communities that are going to live there.
This is the view of Ian Mulcahey, who runs the planning department at multi-disciplinary design firm Gensler. Mulcahey has a rare perspective into the booming masterplanning industry in the British design community having worked on such studies for
the last 20 years.
'SHAPE MAKING' MASTERPLANNING
"A lot of masterplanning is now being done by architecture practices that don't specialise in it and tend to do the projects with just architects," says Mulcahey who himself trained as an urban planner.
"This can lead merely to an exercise in 'shape making' when there is so much more to creating a good masterplan," he adds. "There is a tendency for people to look at the shapes and forms and not have much consideration for the people who will live and
work in these places."
The masterplan has become so popular in recent years because public bodies such as local authorities recognise it as a rich political tool to show how they can make people's lives better. And such ambition if properly channelled can be no bad thing,
believes Mulcahey, because it demonstrates the potential of an area.
LONDON 2012 OLYMPIC MASTERPLAN
"Masterplans can either be very prescriptive and rule-based, working around the problems and constraints of an area or they can be a grand vision from which you then build some momentum behind."
"The masterplan for the London 2012 Olympic site in the Lower Lea Valley is very much about that. It's a starting vision and aspiration that was not getting too bogged down in problems of the site."
"Usually the rules would not have allowed for facilities such as the Olympic Stadium to be built on such a contaminated site but then they won the bid. That should be happening more often in the UK and I hope the Olympic masterplan could be a catalyst
for similar masterplans elsewhere. It's what we are getting overseas."
"Consequently, many UK architecture practices are looking to win masterplanning projects overseas and London could become an international centre for such work," he says.
"Mulcahey has been working in the British design community for the last 20 years."
INTERNATIONAL PROSPECTS
"We are finding internationally there are not that many firms specialising in masterplanning and there are not many practices around that have the necessary expertise," he claims, citing multi-disciplinary firms such as Gensler, EDAW, HOK and BDP as
ones that have the requisite skills on board.
"The planning business worldwide is going to grow quite a lot, there is a lot of demand for our services and I see a lot of that growth being focused on London. It's attractive as an international city so clients want to come here and the language
helps as well."
"We think there will be a lot of masterplanning work around Europe once its economy wakes up. At Gensler we are doing a lot of work in the Middle East, China, Russia and the old Soviet States. Ultimately there is going to be a lot of work in India and
most of the big practices are focusing there at the moment."
CAREER PROGRESSION
Mulcahey's perspective comes from 20 years as a planning specialist first at the London office of US practice SOM where he helped to develop the then innovative concept of a planning group within an architectural studio.
Mulcahey then went on to work for consulting engineer Arup where he worked in its Economics and Planning group for two years looking at the feasibility of massive building and infrastructure projects.
"It was a very interesting time and I probably would have stayed there but I was approached by Gensler to set up their planning group about seven years ago. It has taken a while to get going because of the perception in the market that Gensler is
mainly an interiors firm."
PROJECTS IN PLANNING
Mulcahey's planning group is now thriving with major British projects including a regeneration of a large area of Glasgow's East End. Much of the area is now a wasteland after the population declined from 150,000 in 1950 to 19,000 today.
Gensler's plan for revitalising the area could potentially include the hosting of the 2014 Commonwealth Games and all the facilities to go with it as a catalyst for regeneration.
"Internationally, there are not that many firms specialising in masterplanning."
The firm could also play a key role in masterplanning the site for the UK's first super casino. Eight UK cities are shortlisted for the licence to build the super casino.
Gensler has worked up plans for the front runner, Blackpool, which would also include a convention centre, hotels and other leisure facilities.
Abroad, his planning group is working on a masterplan for an area known as New Amsterdam in the Russian city of St Petersburg. The plan involves reclaiming 250ha of land at the Bay of Finland.
"There is huge pressure for development but it's a heritage site," he says. "So we've come up with an idea for a docklands development on reclaimed land."
HOME OR AWAY?
The overseas work can be a welcome relief from Britain, which can be a frustrating place to work, he says.
"There are too many people chasing not enough work. So many projects get talked about but nobody gets on with them and a lot of practices look overseas for work," he says. "I go to property conventions and the British models being shown are the same
old schemes."
"In Russia, Shanghai or Dubai buildings get finished in the same time it takes to get planning permission in the UK."
STREAMLINING THE SYSTEM
Mulcahey would like to see the British system streamlined because he believes that there are currently too many approval processes to go through. "Why go through a democratic process to gain outline planning permission and then go through it again to
gain full planning approval?" He asks.
"We seem to believe the planning system in the UK is permanent and unchangeable, it isn't."
The real losers, he claims, are the local people that are often missing out on something of benefit to their local community and are growing weary at being consulted all the time.
"We now have become totally obsessed with consultation," he says. "The people we are consulting with in Glasgow are saying we have been talking about this for ten years, nothing ever happens and they're just fed up with it."
"We forget that large parts of Britain, such as Bath, were built without a planning system at all. The system we have in the UK is only 50 years old yet we believe it is permanent and unchangeable. It isn't."