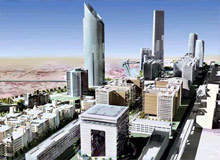 As we descended over the desert into Dubai I strained in my seat to catch the first glimpse of a city I have heard described as 'a Mecca to modernism'.
I'd read of the marvels it contained: Burj Dubai, which when completed in 2008 will restore the honour of the world's tallest structure to the Middle East; the luxury Palm Jumeirah island which has sold allotments to the likes of David Beckham; and the dedicated business cities such as 'Media City', not to mention the construction of the world's biggest airport.
DYNAMIC OR DISAPPOINTING?
"There is plenty to look and marvel at, but it is awkward and fragmented."
As an architect whose line of work tends to be the bolder end of innovative construction, I was expecting to spend a few days marvelling in the exciting architectural advances taking place in this 'Las Vegas' of the East.
My expectations were high. After all, 100,000 Brits live here and a growing number are making it a holiday destination. What a disappointment.
Maybe I am missing a trick here but I found Dubai to be dull, dull, dull. Don't get me wrong, there is plenty to look and marvel at, but it is awkward and fragmented. Its potentially iconic skyscrapers look lonely and adrift as they sit in unsplendid sandy isolation.
LA SYNDROME
The city suffers in that their buildings are too far removed from the essential infrastructure that makes any city work. Its relentless colonisation of the desert has led to 'LA syndrome' where there is so much urban sprawl that the city lacks an urban heart.
It is disconnected, incoherent and lacks that sensation of seamless architectural organisation. Moving around you a get a feeling of utter soullessness: one minute you're next to a towering skyscraper feeling utterly enclosed amongst the opulence of a top-end hotel; the next you're passing through patches of baron desert.
There is only one dual carriageway, no true coast road, and taxi drivers seem sparse.
PROPERTY BOOM
Since Sheik Mohammed bin Rashid al-Maktoum, the emirate's ruler, decreed that foreigners could buy freehold property in designated areas in 2002 the property market has boomed. The consequent boom means that large areas are half built; you feel as though the entire city should have a warning sticker attached to it saying 'work in progress'.
"There is so much urban sprawl that the city lacks an urban heart."
There is a palpable fast buck mentality that only grows as more concrete, investors and poorly paid workers enter the city every day.
There is a real chance of a property crash with all the speculation going on, and investors already face losing millions in the first major property scandal to hit the country known as the "Light House Affair".
ARCHITECTURAL IDENTITY CRISIS
Architecture has always been used by countries to set out a new vision for the future and Dubai's rulers clearly have this aim in mind.
Its developments are so vast, so confident, almost egotistical, that it is quite clear that in its attempt to become the tourism and services capital of the Middle East it wants to change its political and social identity to a fusion of both Western and Arab values.
Don't get me wrong, I'm not advocating the sort of citywide planning that 19th French King, Louis Phillipe forced onto Paris, but this Dubai is chaos and it doesn't work.
Jerry Robinson, the visionary behind the fictional metropolis of Gotham City said he dreamt that his creation would be the ultimate expression of a lack of planning or control. And that's Dubai, but without the density, style or consistency of Batman's home.
"Large areas are half built; the entire city should have a warning sticker attached to it saying 'work in progress'."
A WORK IN PROGRESS
Dubai's fans often shout down these criticisms, crying "It isn't finished yet" and claim that all major cities go through a period of architectural incoherence before they themselves become models for other aspiring cities.
But don't be fooled. Many of the residents I spoke to in Dubai had had enough and were shipping out.
Cities that don't work don't last long and the current furore surrounding Dubai is, i'm afraid, simply another case of the architectural emperor's new clothes.
Maybe Abu Dhabi is the place to go.