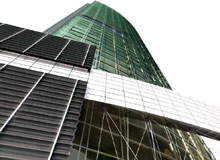 Duncan Pendlebury has worked at US design practice Jung Brannen (JB) since 1984, initially as head of interior design, graphics and landscaping, "and everything else they could throw at me."
He was quickly promoted to principal and rose into his current position as president in 1996. In an age of short-termism and flexible careers, Pendlebury's Massachusetts firm bucks the trend by nurturing talent. Most of JB's 11 principals have been
there through their entire careers.
"That's one of my responsibilities, if not a matter I deal with directly," he explains from his Boston office with views over the city's harbour. "I look at my role as being the enabler. I open the door for everyone and give them a chance to step
through."
KEEPING STAFF LOYAL
Pendlebury helped develop Jung's mentoring program that he sees as key in keeping staff loyal. All principals are involved in the scheme, looking after up to 15 mentees. Their responsibility is to set goals for interns and deal with any issues that
arise.
"Staff need to figure out how best they fit into an assignment. Some people on our intern development programs are on their way to taking exams. There are a lot of ticks they have to cross before they qualify."
"We open the door for everyone and give them a chance to step through."
JB's president is sure the forthcoming merger with local rival The Ritchie Organisation (TRO) will not upset this way of doing things. Pendlebury's practice has grown at a steady 10% per annum since he took the reins, but this year the firm is set to
expand at a much faster pace. The boss can be confident because he has worked on American Institute of Architects local committees with opposite number Robert Hoye.
"We were walking down the street and I said we both had a lot of stuff going on that didn't compete with what the other was doing. So we had a coffee, and then we had lunch. It only took a month to come up with a plan."
SHARING THE WORKLOAD
While JB specialises in commercial and residential developments, TRO has more involvement in healthcare. Moreover, while the former has developed ties in the Middle East, its new partner runs an office in Beijing, China. Naturally, Pendlebury sees
scope for cross fertilisation.
"We have to work hard to ensure the details come out right, but one development at the moment is hotels in hospital developments. We can envisage TRO applying for work in China, and we can work on the residential component."
At least half of JB's business is overseas, a proportion that has grown since the practice won its first commission in the United Arab Emirates back in 1989.
"We started to look at other options, especially the Middle East."
"After the stock market crash of 1987, there was a rolling recession across the States that began in Texas and reached us in late 1990. So we started to look at other options, especially the Mid East where I had already spent time in the 1970s working on
major airports."
ABU DHABI ADMA / OPCO HEADQUARTERS
JB was fortunate in winning the initial design competition for the Abu Dhabi headquarters of Adma / Opco, an operating arm of the national oil company. Such was the success of this development, with its distinctive Tree Of Life motif, that the project
provided a calling card throughout the region.
"It wasn't trying to be something it didn't need to be," Pendlebury says in a swipe at more ostentatious neighbours. "Instead, it is a unique structure with a timeless quality that still stands out on the Corniche. It was the result of the convergence
of a wonderful client and designer."
Jung set up a permanent office there three years ago and is currently working on a couple of projects in the region, the World Trade Centre residence and Al Jaber Tower – the gateway building of Dubai's Media City development. For Pendlebury, it has
been important to maintain good relationships with its best clients by being proactive.
"We promote efficient real estate practices so the client gets a better return. In Dubai, there might be a relationship between net and gross footage of 60%, while in the States we get closer to 90%."
FLEXIBLE WORKING PRACTICES
Through experience, Pendlebury has learnt the importance of flexibility in order to meet budgets and timescales, especially in the reliability of supplies of raw materials.
"We are looking to end up with clients that are friends."
"You have to be prepared to evaluate a number of different systems for a project. Your first choice might be concrete, but if there is a shortage you might have to use steel instead."
Another challenge is retaining your workforce in the face of a shortage of skilled workers.
"Competition is pretty intense with people getting snapped up on short-term contracts that might pay more. All we can do is find people that want to work for Jung Brannen and join in with our adventure."
"We work with clients that we know want quality and exciting architecture that provides more than a real estate solution. To take that on is an exciting responsibility."
CULTURAL SENSITIVITY
Talking of which, Pendlebury is keen for his staff to make a good impression throughout the region, and not just for the effect it has on Jung's bottom line.
"We get our best response from clients when we show sensitivity to the culture of the place and more generally. I tell staff that the client needs to be able to tell the story of a building, explain it to his wife and kids when he gets home."
"If he can do that, then we know we have succeeded. So we make sure that anyone going out there has a good working knowledge of the area. People we work with respect us, because we know how to respect them."
FAMILY VALUES
In this department, Pendlebury takes much inspiration from his father, who himself worked as far afield as South Africa and Japan.
"You have to be prepared to evaluate a number of different systems for a project."
"Even when he turned 90, my father still got cards and gifts from people he knew in those countries. Like him, we are looking to end up with clients that are friends."
Despite his focus on the Middle East, Pendlebury remains intimately attached to his native Boston, where his family raised him after moving from the UK.
"It is a great city. Boston is small enough to walk from one side to another and big enough to be pretty important and have an international flavour."