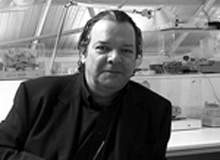 You might think the UK's most outspoken architect would be somewhat chastised after seeing his practice taken over by a larger firm, but then Will Alsop is not called a maverick without good reason.
It is a sign of Alsop's struggle to fit in that his firm went into receivership in 2004 and still failed to keep its head above water. It was bought in March 2006 by the conglomerate SMC Group.
From his Battersea office, Alsop says it is business as usual, with a selection of projects that veer more towards overseas commissions.
CONSTRUCTIVE CRITICISM
Currently the designer is working on a shopping centre for Seoul, South Korea, and a combined apartment block and museum in Yonkers, New York. Alsop has been critical of his profession in the past, calling architects "terrible people – they like rules" but now says his chief bugbear is the UK's planners.
"I think what has happened in the UK is that we have become more risk averse. Architects, particularly when there is public money involved, are dragged through a process that is unnecessarily long, drawn out and expensive."
"There has been a growth in the number of people that advise clients that puts unnecessary noise into the system. I don't have a real beef with Cabe, but they are thinking of having design codes, which is the kiss of death in my view."
"It didn't do much for Essex, which has had a design code for years and years. Show me the good architecture in that county. There is precious little of it."
RISK AVERSION
Alsop also lists as risk-averse advisors to Mayor Of London, Ken Livingstone, and regional development agencies. This means that architects just starting out are at an even greater disadvantage, especially since for many projects they are required to show three years' audited accounts to prove reliability.
"In the UK, architects are dragged through a process that is unnecessarily long, drawn out and expensive."
"One of the effects [of risk aversion] is that younger firms find it difficult to get public work at all," he complains. "Either they don't have those accounts or they are not particularly healthy, so the country is missing out on some potentially good architecture."
"On the other hand, you have people in central government saying the UK, and London in particular, is a hot bed of creative design. And yet we make it bloody difficult to celebrate that. If we are a knowledge-based economy, then we should be doing more to encourage a wider selection of architecture."
In Alsop's view, this is a shame. For employing high-quality architects would negate the need for design codes in the first place.
"You need to have faith in the process. There should be a very straightforward triangle between the client, the architect and the builders."
Unfortunately, Alsop sees no easy route out of this situation.
"No one wants to take responsibility for something that might turn out to be difficult. Well, things do go wrong and not everything runs smoothly. In the end, you don't know who you're working for."
BRITISH ARCHITECTURE: THE ROUTE TO SUCCESS
Alsop always wanted to take up architecture, though his route into the profession seems unfamiliar today. The son of an accountant joined a practice as soon as he left school aged 16, attending night school to take his A-levels.
"Employing high-quality architects would negate the need for design codes."
"This was quite good actually. It taught me a lot of things about brickwork, drainage and manholes; how to measure existing buildings. It demystified the process, but then I wanted to deprogram myself, so I took myself off to art school."
Not that Alsop is snobbish about architects that learn their trade at university, though he does prefer the continental way of doing things, of which he has experience as a visiting professor in Vienna. At this establishment, students start later at 20 and usually qualify aged 30.
"Over that 10 year period they are working and travelling, so by the time they emerge, they are, by and large, useful and well skilled," he explains. "Contrast that with some of the attitudes over here, where some schools are trying to reduce the course from five to four years. It's all about money, not making architects."
Yet it was his stint at art school that left a huge mark on how his career developed.
DESIGN DEVELOPMENT
Alsop admits that many of his distinctive designs begin life as rough, abstract sketches with charcoal or oil paints.
"It was the combination of doing practical things, then going to art school. In art, you can't design a painting, you have to paint it. You just have to start. I'm very suspicious about having an idea about a piece of architecture, but an idea will come out of working on it."
"What we try to do here is not have a particular style. I know it's idiotic to say every job is a new job, because you have a lot of cultural baggage, but we are very open to other suggestions."
This is why Alsop's firm works with members of the public, "give them the pencil", as he puts it, as he did when he was invited to redesign Barnsley, South Yorkshire.
"The son of an accountant, Alsop joined an architecture practice as soon as he left school."
Otherwise, the designer especially enjoys working in the shed he built in the gardens of his country pile in Norfolk.
With a stream flowing by, Alsop lets nature enter his work as he sets to work very loosely.
"Sometimes it is good to get out of the studio and sit with a sketchbook and a glass of wine early in the evening looking at the river. There's no point waiting for inspiration, that comes from doing it."
ARCHITECTS FOR AID
Now he has agreed to donate a piece for charity Architects For Aid. Maxwell Hutchinson, chairman of the charity and an SMC board member, encouraged Alsop to contribute a sketch he has entitled Dreaming Of Yonkers, sold by auction during the London Architecture Biennale.
Playfulness aside, the architect finds this process important in keeping his mind fresh.
"There are people like [Massimiliano] Fuksas and [Jean] Nouvel who I can't predict what they do. Then there are some architects where if I hear someone has got a particular job I could draw out what they will do, 70% right in terms of the basic forms and imagery. I hope I'll never be like that."