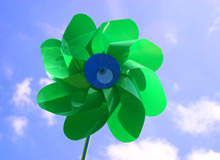 A formidable 'green busting' team has just been unleashed on the design market following the acquisition of integrated control system specialists Engineered Solutions Ltd by green engineering and technology company I2S Group.
Already thriving in a specialist area, they are now perfectly placed to capitalise on a booming market by offering clients a one-stop shop for environmentally friendly and efficient buildings.
Their prime market is 'intelligent' buildings, which aim to improve the well being of the people working or living inside them.
"Intelligent buildings aim to improve the well being of the people working or living inside them."
These buildings also manage natural resources including the sun, temperature, rain and wind to reduce energy consumption, carbon emissions and ultimately running costs.
And, according to the newly merged duo, with good design and procurement intelligent buildings can be just as affordable, if not more so, than traditional systems in the 21st century.
INTELLIGENT BUILDINGS
The companies have recently finished a joint project in London, the new headquarters of The Crown Estate in New Burlington Place, off Regent Street.
The building offers about 42,000ft² of office space, 15,000ft² of retail and a 4,000ft² restaurant.
It has been designed with a commitment to energy efficiency and environmental sustainability and is BREEAM certificated with an environmental performance index of ten – so The Crown Estate can hold its head up high as a responsible landlord.
Its features include 120m² of solar photovoltaic cells, working in conjunction with a micro Combined Heat and Power (CHP) unit.
CHP: COMBINED HEAT AND POWER
CHP produces much less carbon dioxide than other ways of providing heat and power and is seen as playing a crucial role by the Government in meeting the UK's international targets to reduce emissions.
"Changes in the law mean environmental efficiencies are no longer a matter of choice."
In addition, rainwater is harvested and recycled to flush the toilets.
The re-use of this water is expected to save about 150,000l each year – enough to supply water to nearly 1,000 Londoners for a day.
A typical building of the same size as the new Crown Estate building would normally release about 237t of CO2 annually, but the New Burlington Place design is expected to emit no more than 148t.
MANAGING NATURAL RESOURCES
With carbon dioxide emissions high on the political agenda and the South East of England in the grip of a severe drought, there is no better time for these innovations to become marketable.
However, on top of the environmental benefits of I2S's work is the green element of the design, integration and installation of the control systems by ESL.
Kevin Harnett, Managing Director of ESL, says their role is to take the sub-systems such as heating, ventilation, air conditioning, lighting control, access and security and put them together in one network.
In this way they can 'talk' to each other and interact, resulting in greater efficiency and easier management with everything routed through single sensors and one PC.
"Intelligent buildings can be just as affordable, if not more so, than traditional systems."
Mr Harnett says, "The efficiency comes in the fact the systems are driven by demand, so the lights come on when people enter the room and the boilers and chillers are only activated when there is a need with CHPs being the first draw for energy."
However, while The Crown Estate building became 'intelligent' voluntarily, changes in the law mean environmental efficiencies are no longer a matter of choice.
DEMANDING ENVIRONMENTAL TARGETS
Local planning authorities are including requirements for at least 10% of energy in buildings to come from renewable and sustainable sources.
In the Greater London Authority this is led by Mayor of London, Ken Livingstone, who wants to see this rise to 20% – a rigorous and demanding target.
Paul Mason, of I2S Group, says: "Weight has come down from on high for this to happen. A few years ago people were just paying lip service to these issues but now it has become quite real."
LIMITING CARBON EMISSIONS
A directive from Europe has resulted in the Building Regulations 2006, which dictate the amount of carbon emissions a new building can produce.
Designers have to sign up to a carbon limit. After construction the building is tested to ensure it meets this target and the building cannot be occupied until it is proven that the limit is not exceeded.
Mr Harnett says, "The regulations have certainly made a few people sit up and reconsider what we are doing."
The progress in shown in the way architects are more likely to call in design services at the beginning of a project, with a particular emphasis on integrated control systems.
ONE-STOP ENVIRONMENTAL DESIGN SERVICES
Mr Mason explains how the new legislation has created a perfect market for I2S and ESL's combined working.
He says, "In the market place at the moment, a client would have to find individual companies to bring together all the different systems and components and find designers with the necessary know-how."
"Whereas I2S and ESL can manage all these bits and pieces integrated under one roof and offer a one-stop shop service, which is also more efficient in terms of value to the client."
This is backed by the fact that ESL is not tied into a single supplier and can offer a 'best of breed' service for each individual project.
"A greener future for our work, leisure and living spaces."
Mr Harnett says: "In some of the big flagship buildings which become intelligent, the service companies are tied in to use the equipment from one company. It's the equivalent of having the same make of television, radio and music centre, such as
Samsung, in your home."
Mr Mason adds: "We are certainly being a little bit trail blazing, and other companies will follow track."
A GREENER FUTURE
In the immediate future the emerging markets for intelligent buildings are hotels, the technology sector, financial services, government buildings and property development.
And as project managers and architects become more aware of the requirements and the possibilities on offer, so the market will further expand.
So for I2S and ESL the future is looking rosy with an annual turnover of about £15 million and 120 employees in key locations around the UK.
This can only mean a greener future for our work, leisure and living spaces – and for the planet.