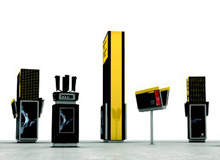 Compared to the colourful interior extravaganzas enjoyed by travellers at new airports such as Beijing and Barajas in Madrid, the newly opened Heathrow terminal 5 is calmer on the eye. The name of the game is simple, loose-fitting, light-filled space facilitated by the vast expanses of glazing and column-free spaces.
KIT OF PARTS
Within these cathedral-like spaces is a 'product family' of non-flashy custom-designed objects such as desks, information beacons, light fittings, litter bins and bollards. And you'd better get used to them because they will be a familiar sight at BAA's other new airport interiors over the next ten years such as Heathrow East.
Creating this 'kit of parts' to create 'complete visual conformity' over the vast interior spaces, BAA handed the reins of responsibility of the interior design to product designer Priestman Goode.
"The T5 product family was agreed quite early on in the process and enshrined into a product guide."
Their brief was to use all their experience in designing products to create enjoyment and pleasure in the little details that passengers touch and see.
The internal environment meetings that PG headed up with main architect Rogers Stirk & Harbour, production architect Pascall & Watson, lighting designer Speirs & Major and others were interesting and often 'quite prickly', says PG's Paul Priestman. But the T5 product family was agreed quite early on in the process and enshrined into a product guide.
The result is a very refined product family that, apart from one or two humorous flourishes, is the result of a mature dialogue. "It doesn't shout out at you because there are other things in the building that need to shout such as the information screens and signage," he adds.
The laid-back approach using a neutral palette of whites, blacks and greys is also far less likely to become dated and the height of the departure lounge means that the attention of passengers is more likely to be diverted to the spectacular views of London when they come through security.
So two months after the building opened and with the dust beginning to settle after the fiasco of the baggage handling malfunction, we asked Priestman to turn a candid eye on what particularly works in the building. He speaks about subtle details that a first-time visitor might miss.
FROM CHECK-IN DESKS TO DECLUTTERING
Among his picks are check-in desks which are designed to help you on your way and not to be a barrier and a walling system that enabled advertisements to be integrated into the white back-painted glass walls and pulled out, keeping the walls clean and advertising less random.
"When you enter an airport you are confronted with a series of obstacles before you can relax. We have designed check-in and gate desks that don't give you the feeling you are speaking to someone stopping you from being where you want to be. It's a subtle difference but it's about making the check-in staff stand with you and help you on your way."
"The new interior includes check-in desks designed to help you on your way and not to be a barrier."
The bumper protection system, required to protect the space from getting bashed about by trolleys and buggies, is integrated with every thing that touches the floor, such as litter bins and bollards. This is another innovation that simplifies and declutters the space, says Priestman.
In one or two areas the many disciplines that go into designing such a space have combined perfectly, as is the case with the ceiling discs which are used instead of traditional suspended ceilings, he adds.
"I love the thinking behind the ceiling discs. They cover only 30% of the ceiling but they look great. It's easy to get to the services underneath for maintenance because each disc hinges down and you could get a cherry picker through it. It's a massive amount of working space. The lights are integrated in the middle of each disc keeping the whole look very simple. It's one of those simple ideas that just works because it's a classic coming together of mass product design, architecture, lighting and M&E services."
SIGNS OF THE TIMES
Wayfinding is made simple in theory because all the passenger has to do is go to one of the 10m-high information beacons placed in each zone. The information screens have a clear hierarchy with customer information at one level and staff information at another. Concentrating the information in one location, the beacons are also integrated with speakers, cameras and other technical equipment to further de-clutter the space.
A marble and resin conglomerate is the standard flooring, apart from some areas in the departure lounge with timber flooring provided by Boen. The marble is a lighter shade in certain areas to indicate to passengers that they have entered a zone where they have to do something such as check in or pick up baggage.
In the past, families who wanted to base themselves at a certain point in the departure lounge were limited to row upon row of square-shaped seating in the middle of the terminal. Now the practice known as 'placing the towel' will be given more variety from among the 9,140 seats provided by Vitra from designers including Norman Foster.
MISSED OPPORTUNITIES?
"Travellers might expect a bit more panache from the interior spaces of a world-class airport."
There is no doubt that the interior works well but critics have pointed to a lack of ambition from BAA amid claims that travellers might expect a bit more panache from the interior spaces of a world-class airport.
Priestman agrees that T5 would have benefited from more humorous and quirky elements in the interior but the client didn't agree. "We wanted to design a restaurant on the roof and had an idea of a bank of ten escalators together like a grand staircase – that would be wonderful and iconic."
Other ideas we had were see-through floors under which passengers could see their luggage on its way to the aircraft – a particularly reassuring thought given the recent debacle – and travelators with sofas on them that would be known as 'sofalators'. They all hit the cutting room floor as did Priestman Goode's aspiration to do away with queue management tape that would have been replaced by an intuitive queue management system. "We had a lot of freedom early on and we thought a little bit of humour would be really good but humour and BAA don't really go together."