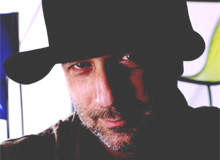 I was born with this inexplicable aversion to convention. Rather than learn the convention, which is what you sometimes do when you are a student, I worked my way around it.
The Architectural Association was a magnet. There was not much building going on at the time in London so it wasn't the study, but the teaching architectural students how to build that made the place exciting – it was about architecture and not about developing. I didn't live in any other time. We definitely had a sense that we had the freedom to do whatever we wanted. And I guess it was maybe a freer time than what followed.
I don't think anyone had a direct influence on me. I had great teachers like Bernard Schumi and Peter Cook. I had people who tolerated what I did, yes, but not mentors. Now in retrospect they all talk about what a funny student I was – which I was.
It didn't take me long to find out that I was not cut out to work for other people. No one was waiting with an opera house for me to design, I started doing things I could do, and it was things that I didn't need anyone to commission me to do – smaller things than buildings, like furniture, but it wasn't a decision to become a furniture designer.
THE DESIGNER-MAKER
When I started out as a designer, there was no manufacturing in London that I knew about, so I had to invent my own profession. At that time there was a term that is not used anymore, 'designer-maker'.
If I grew up in Milan, I would have been sucked by the industry faster and it would mean a different kind of work because there would be a market for what I am doing. The fact that I work without a market makes everything better. Not having to sell anything to anyone, not having to convince anyone, just yourself, is a good experience.
"If you come across a new material and a new process and it inspires you or stimulates you to do something, so be it."
The projects you work on currently are the most exciting ones and they of course influence what happens. When you do something, you sometimes go back to the stuff you didn't do in the first place. You work with temperate steel and then you do it in plastic. It is an ongoing game.
Technology is there to be used. It's a raw material. If you come across a new material and a new process and it inspires you or stimulates you to do something, so be it. At the end of the day, I can get very excited about some technology but the user shouldn't be bothered with how I got there.
The process tends to be over-rated. It is my business and I shouldn't bore you with it.
If you look at the PizzaKobra, there is a lot of technology and engineering inside but the user should be interested in what it does. You get it in a pizza box and it behaves like a cobra. The nice thing about it is that all the technology is hidden. With other things, the technology is expressed. It depends what it is – there are no rules.
There is a lot of craft in mass production and how you make things. Craft is not just carving wood. When you work for big manufacturers the objective is to do things that will work in the market. It's not necessarily a bad thing, it's a good thing and sometimes you do things that don't depend on the market, you do them for a smaller market or you do them for yourself or for their own sake.
DESIGN DEVELOPMENT
Design is not limited by size. It is a continuum from small things to buildings. They develop together and they feed each other. There are a lot of things that are similar in their approach but the mechanism of doing a building is different from the mechanism of doing a chair. I do both quite happily.
I want my buildings to give people pleasure and delight. I draw, I talk and I have ideas, you try them, you test them, you throw them away, you stick to them, you improve them. I have a fantastic team – they are very good at processing and developing and talking.
The Holon Design Museum in Israel is at an advanced stage. They invited me to do this museum. I wanted to do the best museum I could for this place and the brief was: 'Can you do us a museum that you would be happy to put on a postage stamp?' Every city is jealous of Bilbao.
Design is just a small element in a city. It's not the main thing. I wouldn't say the architecture is the most important thing about a city. I like Rio, but not necessarily for the design.
In Italy, all the masters whose names you know were architects, and there were lots of them: Albini, Castiglioni etc. The time when Italy stops producing masters in design is when they start teaching design. At the same time, there are people like Charles Eames who you know for his furniture, but don't know for buildings. He was a great architect as well.
"Design for me is to create things that did not exist before you designed them."
I think you don't restrict yourself to a limited source of influences. You are influenced by everything: by traffic lights, by cars, by the film you saw last night and by some architects. Everything that happened until now has some influence on what we do.
Design for me is to create things that did not exist before you designed them. And for me, there has to be at least one aspect that is totally new about the piece, otherwise there is no point in doing it.
A great number of the upcoming designers are refugees from the RCA course. Our job is to help them get there, help them define themselves, not to mould them into someone else's example. There is no formula, there is no path to go through and there is no desired end result. I claim, half seriously, that they arrive at the RCA perfectly employable and two years later, leave unemployable.