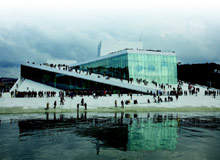 It has been described as a rogue iceberg and a tree embedded in a glacier, but since opening its doors in April, Snøhetta's Oslo Opera House has been drawing gasps of admiration for reasons beyond mere aesthetics. Here we have a €500m public scheme, Norway's largest cultural project since the construction of Nidarosdomen Cathedral in the 14th century, coming in on time and under budget.
And it is public money well spent. Despite the connotations of elitism so often associated with opera, this is a 'public' building in every sense of the word.
"The Oslo Opera House has been described as a rogue iceberg and a tree embedded in a glacier."
Built around the concept of joint ownership, togetherness and accessibility for all, a 20,000m² marble rooftop rises from the fjord on the eastern edge of Oslo harbour, creating a public carpet of horizontal and sloping surfaces.
Total accessibility may however have its own inherent dangers – an early public viewing resulted in a broken arm – but this celebration of freedom from the shackles of EU health and safety regulations has done little to deter visitors. Over 300,000 had used the space within its first three months of opening.
Such success has led to the build being cloaked in such grandiose terms as 'a social democratic monument', although this only accounts for part of its success, "It is a little simple to say that that is all it is," counters Snøhetta founding partner Kjetil Thorsen, "but to some extent it does have definite features of what you might call 'the Nordic model' incorporated directly into its architecture."
THE MARBLE CARPET
The use of La Facciata Italian marble clearly has its benefits in terms of stability, density and longevity, but it also addresses the monumentality that the Norwegian government first called for in inviting international tenders for the commission. "We wanted a hard material," Thorsen explains, "but we also wanted that strange relationship between a non-programmed outdoor space and this hard, urban material."
The marble carpet is only one element of this ambitious build. A self-contained aluminium-clad 'factory' contains the production facilities and the majority of the building's 600 staff, while oak has been used within the main auditorium, which houses a 1,370-seat horseshoe auditorium and a smaller 400-capacity theatre.
Much of the activity going on within the building, ballet rehearsals and workshops, for example, can be witnessed from outside, further emphasising the sense of total transparency. A high glass façade over the foyer also has a dominant role in dictating the views of the building from south, west and north.
"The glass openings not only provide light from outside to in, but also from inside to out," Thorsen explains. "The exterior is lit from inside the building and, without wishing to sound too national-romantic, this is the way in which Norwegian public spaces have traditionally been lit at night. We do not depend on a high degree of outdoor lighting."
"Freedom from the shackles of EU health and safety regulations has done little to deter visitors."
ARCHITECTURAL ART
Another notable feature of Snøhetta's work has been its collaboration with artists, both Norwegian and international, throughout the design process. This includes integrated art on the stone and metal clad surfaces, and Olafur Eliasson's perforated, illuminated cladding housing the public toilets. As showcased through its 2007 Serpentine Gallery Pavilion, this is an ongoing feature of the practice's work.
"We're looking at some sort of borderline of trans-disciplinary ways of working," says Thorsen. "It allows us to position ourselves as architect and artist and helps us and others come to understand the very concept and heart of what we are doing. This process of collaboration becomes an overriding aspect of how to solve the representation of an object or building in the public sphere."
Whether the picnicking hordes and skateboarders appreciate such high-concept is debatable. What is beyond dispute, however, is that Oslo Opera House has made a crucial connection with the very people it was constructed for.