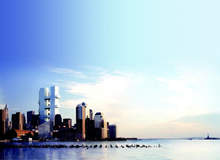 Peter Eisenman remains the provocateur. Opinionated, blunt and not afraid of upsetting the order, if there were an opposite of mediocrity, Eisenman would be it. Speaking from his offices in an industrial loft in Manhattan's antiques district, he is in a reflective mood. "At 75 years old it's not possible to be an enfant terrible," he tells me. "I think you have to always act your age but it's very difficult to understand what that means and still be relevant."
Even in his seventies, Eisenman is as busy as ever, working on projects including the enormous Galicia City of Culture in Spain and two new rail stations for Pompeii. Eisenman currently teaches architecture at Yale and is a celebrated academic. He recently completed an exhaustive study of his favourite architect, Giuseppe Terragni, who worked under the fascist regime of Mussolini and pioneered the Italian modern movement, Giuseppe Terragni, Transformations, Decompositions, Critiques, which he spent 40 years writing.
"If there were an opposite of mediocrity, Eisenman would be it."
Eisenman has been labelled the original deconstructivist architect, whose work champions the emancipation of architecture and has created work that celebrates the freedom of form of all limits of definition. A founding theorist of postmodern architecture, Eisenman is an architect's architect and has plenty of followers, many of whom are some of today's leading lights, including one-time student Daniel Liebskind.
However Eisenman himself does not like labels. He has been highly influential in pushing architecture into the public domain yet can be very critical of the failings of modern architecture.
SIX-POINT PLAN
In May this year, he set out his thoughts on architecture and beyond at RIAS 2008 in Edinburgh. Eisenman's six-point plan bemoaned the passivity he believes has corrupted contemporary architecture, one which reflects sea change in western society. "I think one of the problems of architecture today is that it is a sedative," he says. "Architecture has become the palliative to a society that desires that sort of thing. I think that architecture is one of the disciplines that can reanimate a passive society, create awareness, not be a morphine that sedates them."
His six points included: 'Computers making design standards poorer' and 'today's buildings lacking meaning or reference'. In online blogs it drew a ferocious response – "So everything I have learnt and know is wrong and pointless," wrote one – exactly what Eisenman wanted.
One of Eisenman's most persuasive points was his argument that 'we are in a period of late style'. He argued that we have reached the end of a historical cycle and entered a period of ambivalence and undecidability. "Late style is a moment when people want to be avant garde but there's nothing to be avant garde about," he says.
"In the absence of a new paradigm, architecture is flailing about for its raison d'être."
"In absence of a new paradigm, architecture is flailing about for its raison d'être, so we get this new imagery which is spectacular and consumable but not very substantial in architectural or meaningful terms."
Whether Eisenman likes its or not, in recent years his built projects have moved closer to the heart of contemporary architecture. 9/11 played a part in this when the competition to build the new World Trade Center arose.
Eisenman along with Richard Meier, Charles Gwathmey and Steven Holl bid together with their proposal nicknamed 'Tic Tac Toe'.
Even though they didn't win, it reasserted the influence of the last big architecture of the movement to have come out of New York, the so-called New York Five, of which Eisenman, Meier and Gwathmey were three (the other two being Michael Graves and the late John Hejduk).
THE FORMAL BASIS OF ARCHITECTURE
Ever the thinker as well as the architect, Eisenman recently revisted his 1963 Cambridge University PhD thesis, The Formal Basis of Architecture. It's a thorough stripping apart of the rhetoric of functionalism and filled with his freehand axonmetrics of various buildings by Alvar Aalto and Le Corbusier, on whom he tested his theories.
The thesis has had a profound influence on his design path. When you read the words 'When we perceive a landscape, we notice its deformations' in the introduction it immediately brings to mind his later works such as the Memorial to the Murdered Jews of Europe and more recently, the Galicia City of Culture.
For Eisenman The Formal Basis of Architecture marks the beginning of architectural theory, predating Robert Venturi's seminal Complexity and Contradiction of 1968. There is weight to this. Eisenman's thesis presents a formal analysis of architecture outside the perceptual, metaphorical and subjective realms.
"Eisenman has been labelled the original deconstructivist architect."
FROM THEORY TO PRACTICE
Born in Newark, New Jersey, Eisenman studied at Cornell and Columbia University's Graduate School of Architecture, Planning and Preservation. He came to the UK in 1960 to do a PhD at Cambridge after a professor told him he should 'go to England to become more intelligent'.
He was shortlisted to work on the Liverpool Cathedral competition and became something of a celebrity, also teaching at Cambridge University. Prior to establishing his first practice in 1980, Eisenman was primarily an educator and theorist. In 1967, he founded the Institute for Architecture and Urban Studies (IAUS), an international think tank for architecture, and served as its director until 1982. Eisenman Architects was established in 1988.
The first use of his theories came with a series of houses, known as House I to House X that employed a highly formalist approach to architecture he called 'post functionalism'. For Eisenman, the house is not an object in a traditional sense but a record of the design process. House VI in Cornwall, Connecticut, designed for Richard and Suzanne Frank, is his most well known.
Eisenman turned the social and historic notion of a house inside out with fragmented slabs and columns with no obvious purpose – an exterior column that does not reach the ground, a linear notch in the bedroom floor that prevented the Franks from sleeping in the same bed. Eisenman did permit a handful of compromises such as a bathroom. Suzanne Frank was not impressed and even wrote an essay on it Peter Eisenman's House VI: The Client's Response.
"Eisenman bemoans the passivity he believes has corrupted contemporary architecture."
Eisenman was close friends with the French philosopher Jacques Derrida, who inspired him to apply Deconstructionist ideas to architecture particularly the 'metaphysics of presence', where architecture is a language capable of communicating meaning and receiving treatments by methods of linguistic philosophy.
Dialectics of presence and absence, solid and void occur in much of the Eisenman's work. "My work attempts to be a critique of Derrida's view of architecture as a metaphysical project," he says.
Nevertheless, it was enduring friendship. "He was a wonderful man, very subtle, very soft and very ironic. We had a wonderful working relationship."
WEXNER CENTER FOR THE ARTS
Completed in 1989 the Wexner Center at Ohio State University was the first major built work by Eisenman, and garnered huge public interest at the time as the ultimate example of deconstructivism. Philip Johnson said that with this building Eisenman had 'seized the opportunity to blast the entire architectural scene open'.
Eisenman included a permanent exterior scaffold of a white-painted metal grid that runs the length of the eastern façade, punctuated by brick turrets that pay tribute to a former armoury on the site that burned down in the 1950s. The museum has four oddly angled main galleries with alternating oak and granite floor patterns. There are also narrow back stairways, one leading nowhere. The slanting curtain wall repeats the idea of multiple geometric orders with square glass panels in four shades, from transparent to opaque.
It's been a controversial since opening, not least because of the problems associated with running it from leaking walls and skylights to controlling the temperature. In November 2005, the Wexner Center reopened after a major $10m retrofit by Arup. It has been perhaps best described by The American Institute of Architects, who awarded it the 1993 National Honor Award, and described it as the 'the Lenny Bruce of architecture – bold and brilliant to some and to others irritating and resistant.'
"The first use of Eisenman's theories came with a series of houses, known as House I to House X."
CITY OF CULTURE OF GALICIA
A giant excavation cut into the small hill overlooking the historic pilgrim city of Santiago de Compostela, the Cidade da Cultura (City of Culture) is a new cultural centre for the north-western Spanish province. The 810,000ft² project is Eisenman's secular response to the neighbouring World Heritage Site. His biggest project to date, construction started in 2001 and is scheduled for completion in 2012.
There are six buildings that make up the complex: the Museum of Galician History and the New Technologies Centre, the Music Theatre and Central Services building; and the Galician Library and Galician National Archive, which has recently been completed.
Santiago de Compostela has an immense historical and religious legacy and the project sought to combine both with the contemporary. "There is a latent symbolism in the project which comes directly out of the historical situation," says Eisenman identifying the way city's five pilgrimage routes are replicated in our project by superimposing a Cartesian grid.
The design has interesting origins by the complex superposition of three sets of information: the street plan of the medieval centre of Santiago was overlaid on a topographic map of the hillside site; a modern Cartesian grid was overlaid over these medieval routes and finally the topography of the hillside was allowed to distort the two flat geometries. The result is a topological surface that repositions old and new in a simultaneous matrix. Santiago de Compostela's medieval past has been reborn.
MEMORIAL TO THE MURDERED JEWS OF EUROPE
The huge Memorial to the Murdered Jews of Europe is Eisenman's highest-profile completed public work to date and one that was dogged with controversy. The Berlin memorial consisting of 2,750 concrete monoliths is located on 2,000m² plot just south of the Brandenburg Gate, and is the capital's main monument to the Jews murdered by the Nazis.
Eisenman designed a monument that was deliberately anti-nostalgic. "The nostalgia for the Holocaust is certainly one of the things I can't stand," says Eisenman, who is a fourth-generation German. "What I wanted to do was to neutralise the idea of the Holocaust as a continuing scar on contemporary life."
"We have reached the end of a historical cycle and entered a period of ambivalence and undecidability."
In 1994, Eisenman won the competition for the memorial in collaboration with artist Richard Serra. At the time the project envisaged 4,100 blocks covering an even bigger area, but after the centre-left Government of Gerhard Schroeder was elected in 1998, this was cut.
Despite his experiences Eisenman does not think politics and architecture are a bad mix. "We have very little political process involved in architecture in our country and that's why it's very interesting for us to work in Europe," he tells me.
"I'm far more attuned to being in Europe and working in Europe and my architecture is far more successful in Europe precisely because it's not operating towards developers."
EUROPEAN SUCCESS
Eisenman's Memorial to the Murdered Jews of Europe, side projects like the 2004 Il giardino dei passi perduti (the garden of lost footsteps) in the Museo di Castelvecchio in Verona and currently the City of Culture of Galicia, have only enhanced the standing he has in Europe. His work has been embraced in Europe in a way that never happened in his home country: "my architecture is far more successful here precisely because it's operating both ideologically and politically. Good politics is also good business."
Eisenman has had a remarkably diverse career. Looking back would he change anything? "I probably wouldn't have stayed at the IAUS for 15 years, I would have started my practice earlier," he tells me. "Architecture is an old person's profession, so I don't mind that I only started at 50." Is he satisfied with the work he has done? "Yes," he says. "Do I think history will be kind to me? Yes. If God takes me tomorrow, I would lie at peace." In the years to come does are there any surprises we can expect from Peter Eisenman? "I'm probably not going to do anything startling or new," he says, laughing, "because I've done all the startling new things already."