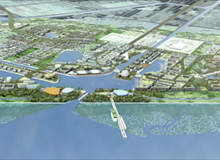 "I am an eternal optimist, I believe in human potential," says Dr Chris Luebkeman. "Humans, when confronted with massive change, typically react first with denial, then acceptance and then there is action."
As director and leader of Arup's global foresight and innovation initiative (Foresight) at architectural engineering consultancy, Ove Arup & Partners, Luebkeman looks into the future and examines how companies can best prepare themselves for it. "I believe that we are at that tipping point of moving from denial to acceptance and that is incredibly encouraging,"' he tells me. "I get very excited by the human mind addressing these issues."
"Humans, when confronted with massive change, typically react first with denial, then acceptance and then there is action."
There isn't a word that adequately describes Luebkeman's job. He refuses to be categorised. Listed, somewhat breathlessly in Wallpaper magazine, as one of the ten futurist speculators and shapers who will change the way we live, Luebkeman's roots are in engineering and building.
While he conceives recyclable buildings and furniture that decomposes, he also anticipates the future. No easy task, unless you are on a hotline to the divine, but there is a sense of zeal to the American's belief in the mission.
"My job is to help people stop and think about their world and what they are doing," Luebkeman explains. "We help them paint their pictures and beliefs about where they are going. I get to share that with many different groups, it's fun."
It must be a hard job convincing a pessimist to become an optimist and incorporate change into their business strategy – "I don't look at my job as trying to convince anybody of anything," Luebkeman tells me. "My job is to make a crack in the sidewalk poke up a little bit so that you stop or you trip, and you think 'Should I be walking so fast? Am I on the right side of the road?'"
How well do you
really

know your competitors?

Access the most comprehensive Company Profiles on the market, powered by GlobalData. Save hours of research. Gain competitive edge.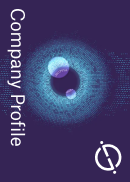 Company Profile – free sample
Thank you!
Your download email will arrive shortly
Not ready to buy yet? Download a free sample
We are confident about the unique quality of our Company Profiles. However, we want you to make the most beneficial decision for your business, so we offer a free sample that you can download by submitting the below form
By GlobalData
A journalist once described him as the 'Willy Wonka of the built environment', conjuring up dreams of a future where we can cure our ills through faith, physics and forethought. But Luebkeman is no conjurer, and he addresses very clear realities and emerging futures. When Luebkeman talks about his work he is passionate, funny and very convincing.
Their offices might be in a leafy, sleepy part of Fitzrovia, but Luebkeman's nine-strong Foresight team are future prospectors in a new age of exploration. Their first project was the Inventorium, a room in which everything was recycled: chairs, tables, shelves and even the decor.
In the flesh Luebkeman evokes an undefinable era – part Buckminster Fuller, part F Scott Fitzgerald, with a Midwest accent straight out of a Robert Altman film – and a uniquely American pioneering spirit. If the future needs a public face, albeit one with a soft spot for large bow ties, then Luebkeman is a great choice.
FORESIGHT
Foresight was established in 2002 to help the firm, and its clients, to better understand the context of tomorrow. Each of the team are experts in their field, ranging from demographics and human behavioural patterns to design, and will get a wide variety of outsiders involved in their research, from hotel porters to nanotechnologists. They put together research, publications, exhibitions, lectures and workshops.
"Luebkeman addresses very clear realities and emerging futures."
Luebkeman likes the future a lot. He once said that it had been oversold and underimagined. "There is always this very human dichotomy of overselling and underimagining because we just can't imagine some things," he effuses. "You go back to the 1940s and read science fiction like HG Wells and look at how they imagined the future to be. In the twenties they dreamt up flying steam ships and never imagined we would have jet turbines."
Zooming ahead to today, Luebkeman raises the irony that the very technologies that bring people together are responsible for so much environmental damage – "There has always been a ying and yang" he says. But is it perhaps the pace of change that people find difficult. As coined by Alvin Toffler – future shock. "We have always had change," he says. "My father was just overwhelmed with the IBM AT when it first came out and he never learnt to type. He just felt that there was too much to learn. Today teenagers can switch between media. They are truly the multi-tasking generation.
"I am a child of the sixties," Luebkeman says. "I decided to be an engineer when we in the United States were constructing dams and roads to build society." After studying geology and structural engineering, Luebkeman had a series of 'moments' that influenced the direction he eventually took. At the Massachusetts Institute of Technology he set up the Intelligent Home of the Future programme, a technological and tectonic exploration of integrating the digital with the physical.
He joined Arup in 1999 to become joint director of research and development, leading a global group of 55 senior engineers, and responsible for a budget of $5m. In 2003 Arup named him the director for global foresight and innovation.
Foresight's work is a fascinating initiative from Arup, but not unusual for such a progressive company. Aside from being behind some of most high-profile construction projects of recent times – including the Sydney Opera House, Pompidou Centre and Swiss Re – Arup is currently working on one of the most ambitious construction projects around, the world's first eco-city, on an island off Shanghai.
"Luebkeman's nine-strong Foresight team at Arup are future prospectors in a new age of exploration."
Dongtan will be a city as close to carbon-neutral as is possible, where housing will be within seven minutes' walk of public transport and food will be produced on the island, all powered by electricity from entirely renewable sources.
FUTURE CITIES
Luebkeman sees our future as being intimately tied to the way cities are created. He says we have to rediscover the systems that allow us to live and thrive in cities and reinterpret how we interface with the hinterlands that support them, the footprints of a metropolis.
"When we think of urban we think of Tokyo and New York but actually there are hundreds of square kilometres dedicated to the urbanites," Luebkeman explains. "It is a network of systems, intertwined and interlayered and we have forgotten that." He calls for a reimagining of these systems that cannot be defined by political boundaries.
Unsurprisingly, responding to environmental changes is a central pillar Foresight's work, and there are certain themes which consistently crop up. The need for drinking water and food is one. "It is of increasing interest to me because you need energy to have an economy but you need food to live. You can have economic chaos with energy chaos, but you have human chaos when you have no food. These are very interesting in terms of potential drivers."
Drivers are important to Luebkeman. He even developed a project around them, 'Drivers of Change', where he embarked on 30 months of global workshops. One result was a boxed card set giving facts and figures on social, technical and economic issues.
Arup has sold thousands of the card sets, which have been used by companies and groups worldwide, ranging from corporate boards of Fortune 100 companies to school sixth forms. The cards cover a wide life scale, ask questions and then identify the leading drivers of change that will affect our future relating to the environment. 'What will our world be like in 2050?' and 'When will buildings have to generate the energy they need?' to the social: 'Who controls your free time? You or your TV?'
"Luebkeman once said that it had been oversold and underimagined."
Foresight is working on projects covering topics from intelligent buildings and airports of the future to very broad issues such as climate change.
For example 'BOP! Making Sense of Space' is a two-year, multi-disciplinary project investigating how pervasive computing can be used to understand the creative workplace.
URBAN INNOVATION
By 2030, 60% of the world's population will be urban dwellers, posing a considerable infrastructure problem, but Luebkeman thinks the change to the way urban systems work will not radically alter how people interact. "The fundamental tenet of the urban environment has always been the provision of the convenient congregation of groups and enterprise for enhanced opportunity," he says. "I don't see radical change in that."
Luebkeman remains an eternal optimist and the mission continues. "I live in beautiful Hertfordshire, in a postcard," he says as the birds sing in the background. "You look around here and think 'The world can't be so resource constrained, its green, it's bucolic', but, you take one flight over Greenland and you see this territory that has never seen the light of day in the last millennium and it becomes very real. This has become part of my boon, my bane and my mandate, to try and help people realise that things are slightly different now."