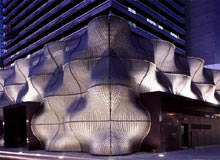 One might dismiss these newfangled façades as superficial gimmicks, equating them with the 'Bilbao Effect' that has led architects into endless one-upmanship in Dubai. But noticeable skins are one thing, and thoughtful intentions are another. A transparent building might highlight the beauty of a nearby lake, while projects featuring double-skin façades can make great advances in sustainable design and other zany exteriors liven up bland spaces.
According to architect Peter Ayres of Heatherwick Studio in London, the building industry has become quite mechanised, particularly when it comes to identical cladding systems, so you often can't tell one commercial building from the next.
"The building industry has become quite mechanised, particularly when it comes to identical cladding systems."
THE GAME OF ATTRACTION
Parisian architect Philippe Chiambaretta comments that noticeable façades are attention-seeking tools for branding. "People no longer invest in construction just because of location," he says. A building also has to be a marketing device and a communication tool.
With the Contemporary Arts Centre in Tours, France, where Philippe Chiambaretta Architects kept the existing building and added a façade, the primary goal was to communicate to passers-by that something special was happening inside.
It seemed fitting to make the arts centre façade an artwork in itself. The double-skin façade, which consists of two rows of backlit plexiglas blades, creates ambiguity, making it unclear whether the illuminated façade is art or architecture.
How well do you really know your competitors?
Access the most comprehensive Company Profiles on the market, powered by GlobalData. Save hours of research. Gain competitive edge.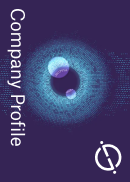 Company Profile – free sample
Thank you!
Your download email will arrive shortly
Not ready to buy yet? Download a free sample
We are confident about the unique quality of our Company Profiles. However, we want you to make the most beneficial decision for your business, so we offer a free sample that you can download by submitting the below form
By GlobalData
The façade provides a playful twist on the idea of a skin. Outer and inner rows of plexiglas blades hang 20cm apart, and superimposed on each other, they create an optical illusion. Just as a body scan consists of hundreds of cross-sections that the eye perceives as a whole, Chiambaretta says that the eye completely reconstitutes the rows of two-dimensional blades as a dynamic three-dimensional surface.
He believes that attention-getting façades and flashiness are the future: For architects, he says, "It's going to be more and more difficult to be out of this system." Even those playing the game stand to lose: as soon as you do something interesting, you can very quickly be swallowed by the next big thing to come along.
SENSUAL, SEXY 3D SKINS
Skins have become three dimensional and have acquired a sex appeal that a flat building cannot have. Heatherwick Studio designed a woven façade for the old boiler room at London's Guy's Hospital. The stainless steel surface is entirely rigid but looks soft and pliable, enticing people to nestle into its contours.
Project architect Tom Chapman-Andrews says, "It's quite friendly, not one of those hostile buildings, the kind with measures to stop people from leaning or sitting on them. It invites you to lean against it. You'll find a bit which curves quite comfortably for you, no matter what height you are."
"Architects can very quickly get swallowed up by the next big thing to come along."
The façade needed to be able to vent boiler house heat. Louvred panels in a solid skin would have created a jumbled appearance, and he preferred a uniform look. Nevertheless, he shied away from anything too uniform, because the boiler house occupies a prominent position on the site, and he wanted to make a landmark structure. He decided that undulating panels of woven stainless steel would fit the bill.
For the material, he chose the highest grade of stainless steel (316), which resists corrosion to a high degree. Not even 1mm in diameter, the pieces are tubes that sometimes sheathe electrical cables, which Chapman-Andrews had ironed flat. A-1 Steel, a specialist subcontractor, hand wove miles of these flattened tubes into braids, then wove the braids into panels that sit in a 316 frame. Something as thin as human hair has thereby turned into a solid-looking surface.
PATTERNS FOR VISUAL INTEREST
In Littlehampton, England, Heatherwick Studio architect Peter Ayres worked with a narrow site for a seaside cafe. A public footpath in front and a car park at the back bounded the property. The East Beach Cafe therefore had to be long and thin, stretching from east to west.
The southern side has large windows overlooking the sea. But the northern wall would have yielded views of the car park, so Ayres made that side windowless. This created a problem. A blank exterior wall is an invitation for graffiti, and if the building had a boring back, it would incur neighbours' resentment, blocking views to the sea without any redeeming features.
The answer lay in the material with which he clad the building: 8mm mild steel. This doubles as the building structure, though there's a slight bit of secondary structure between the windows. Ayres designed a 'terraced jigsaw puzzle', a series of welded ribbons that wrap over the building from front to back, creating a third dimension as they pile on top of each other. He created more detail by having the ribbons split repeatedly as they reach the back. 'It was meant to have a random quality,' he says.
"Something as thin as a human hair can be turned into a solid-looking surface."
ULTRA-THIN, ULTRA-LIGHT MATERIALS
Attempting to push the envelope, some designers are working with skins as thin as envelopes. And just as thin-skinned people wound easily, so might these buildings. To investigate exactly how the surfaces could sustain damage, designers have taken hammers to mock-ups or hurled rocks and bricks at them. Others studied the impact that gunshots and forklift collisions would have on their fragile structures.
Guy's Hospital isn't the only new façade with material as thin as a human hair. Architect John Bilmon of PTW in Sydney claims the same of the Ethylene-Tetrafluoroethylene (ETFE) used to create the exterior and interior of the Watercube, the Olympic swimming centre in Beijing. ETFE is a form of plastic related to Teflon.
For the Watercube, ETFE manufacturers started with a powder, which they moulded into a sheet form and cut into predetermined shapes. They then clamped the shapes together in a framing system and pumped air into the space between them, creating bubbles. ETFE is one-hundredth the weight of glass, and even the largest bubbles are so light that one person could easily lift them. Bilmon notes, "It seems bizarre that we've constructed a building made of the equivalent of clingfilm," but ETFE is extremely strong.
The ETFE Film was supplied to Vector Foiltec, who were responsible for installing it on the Beijing project, by Asahi Glass Co. Ltd (AGC), a leading Japanese manufacturer and supplier of ETFE resin (the raw material of ETFE film) and ETFE film. For the Watercube project alone, AGC shipped and delivered 300,000m² of Fluon ETFE film to Vector Foiltec, who then fabricated cushions out of the EFTE film, which were installed in the Watercube structure.
The Watercube panels are so tough that they can withstand the weight of a small car. AGC also supplied 50,000m² of fluororesin ETFE film for the roof of Beijing's National Stadium.
Each bubble is roughly 7m in diameter, but even those stretching to 9m require no internal framing. The bubbles therefore use little material, reducing the overall building footprint.
DOUBLE-SKIN TRANSPARENT FAÇADES
In green design, says Bilmon, there's increasing interest in ventilated double-skin façades. Today, with the proven advantages of natural ventilation, there's an emphasis on façade systems that humans can control, he says. Such systems use far less energy than air conditioning.
"Attention-getting façades and flashiness are the future."
Studies show that people in naturally ventilated buildings tend to be more productive, as are people who can look outside. When a façade houses technology that impacts the whole building and provides transparency that affects occupants in profound ways, that façade ceases to be just a shallow curtain around a structure.
The Loyola University information commons and digital library in Chicago, Illinois, occupies a formerly vacant site, one yielding spectacular views of Lake Michigan at the eastern edge of campus. To maintain that sense of connection between the campus and lake, architect Devon Patterson of Chicago-based Solomon Cordwell Buenz created a transparent building. "The transparency helps occupants feel connected to the outside, while at the same time drawing students inside," says Patterson.
"People think it's amazing when they enter the building and see the clear view to the lake. Once you're inside, the intensity of the light on the other side of the façade just stands out. It's an almost surreal feeling. It's so transparent to the outside that you feel like you're outside, but you're totally comfortable."
The façade isn't entirely glass; solid precast concrete on the southern side blocks solar radiation. Nevertheless, the significant amount of glass on the eastern and western sides prompted a great need to control day lighting and to cool the building during hotter months.
"Skins and façades have become three dimensional
and have acquired a sex appeal that a flat building cannot have."
Drawing inspiration from the double-skin façade technology prevalent in Germany, Patterson designed a single skin for the eastern side and a double skin for the west. On the eastern wall, windows near the ceiling open to the outside on hot days. Air enters these windows and blows across the room into openings in the innermost western skin. The hot air then rises through the western cavity and out of the building.
Climate control was an essential aspect of the Glass Pavilion by Tokyo-based SANAA. At this all-glass annex in Toledo, Ohio, across the street from the Toledo Museum of Art, all exterior and interior walls are of 1in-thick glass.
Among projects with double-skin, transparent façades, the Toledo museum stands out because the double-wall design continues through the building. That is, double walls of curved glass separate all gallery spaces, giving each room independence from others. A cavity of nearly 1m lies between those layers of glass, though the walls curve in irregular ways for the sake of variety.
The cavity between interior walls acts the same way as the cavity in the building's double-skin façade, collecting any heat that penetrates the glass. The cavity air temperature remains somewhere between that of the exterior and interior. It is invisible insulation and the building requires less air conditioning or heating because of the wall cavities.
The façade differs from the interior walls in one important way. A slightly reflective Verosol curtain inside the exterior wall contains aluminium particles that reflect heat, light and UV light out of the building.
FUTURE FAÇADES
More architectural possibilities develop as materials emerge and as architects dream up innovative applications of materials, but will these materials pop up again on other façades?
Although vandals can easily puncture ETFE with sharp objects, PTW's John Bilmon sees a big market for this material. He believes it would work well on a mall and other structures requiring large spans of lightweight, strong materials. ETFE is also a great choice for seismically active areas, because its plasticity enables it to absorb seismic energy and transfer stresses evenly through structures, he says.
"Attempting to push the envelope, some designers are working with skins as thin as envelopes."
As for the steel in Heatherwick Studio's East Beach Cafe, Peter Ayres reports that many architects have inquired about the material he used. He feels it would suit any façade, especially on a seaside building. But one does need to oil the steel regularly, as with a wok.
The woven steel façade of the boiler house would work best when encasing machinery that needs to breathe, says Tom Chapman-Andrews. The material wouldn't make sense on buildings with many windows. The material choice was situation-specific, as is generally true of Heatherwick Studio's projects.
When projects are special, they might not fit with their surroundings. But that's not necessarily a problem, according to some architects.
Heatherwick Studio's Chapman-Andrews says, "It's nice for cities to be built up from difference, rather than people trying to be the same as each other, or buildings trying to be the same as each other. It's nice to have something which is obviously 'other'."
In Dubai, he notes, "Every architect under the sun is trying to do a tower that's different, and ironically they all end up looking the same. If everyone's trying to be the star of the show, it gets a bit tiring." Guy's Hospital stands amid many ordinary structures. As a result, he says, "We had a lot of straight men to play the funny guy against."