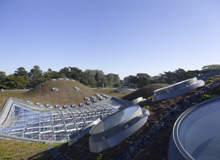 Renzo Piano's latest museum, the California Academy of Sciences, isn't even open yet, but it's already teeming with visitors. Hummingbirds, spiders, lizards and butterflies are flocking to the building's undulating 2.5-acre green roof, attracted to the dozens of species of native plants.
"Now that we've built it, everything's coming – it's a party up there," says Paul Kephart, executive director of Rana Creek, one of many collaborators on the project.
When the building opens in September, people can visit an observation deck that looks out from the roof and the verdant surroundings of San Francisco's Golden Gate Park.
GREEN HILLS
Arching over elements such as a spherical planetarium and a rainforest exhibit, the design's eye-catching hills pay homage to San Francisco's famously curvy topography. The greenery was inspired by the natural beauty of the immediate surroundings: the overall effect is as though a piece of the park had been lifted up, and the museum slid underneath.
As a design concept, it's elegantly simple, but the steep slopes presented some challenges. Landscape contractors from Jensen reportedly had to use rock-climbing gear to work on slopes as steep as 60°.
Concerns about soil erosion required ingenuity from the design team. They ended up devising a grid of rock gabions to prevent erosion and help direct stormwater runoff, explains Kang Kiang, project architect for Stantec, which collaborated with Renzo Piano Building Workshop on the project, along with engineering company Arup, landscape architecture firm SWA, green roof consultant Rana Creek and others.
To contain the roof's 1.7 million native California plants, Kephart designed biodegradable coconut-husk trays, an ecofriendly alternative to plastic. The team chose types of vegetation with a view to creating an entire ecosystem, selecting plants that are hardy, diverse in form and flowering periods, and attractive to local animals, including endangered species of butterflies. "The roof is helping people understand the wonder of just how diverse and how beautiful nature is, even within a densely populated urban environment," Kephart says.
AN EDEN ABOVE
The Eden-like roof is the $488m building's most striking feature, but the interior is marked by Piano's trademarks of transparency and the skilful use of natural light. Glass walls in some areas allow visitors to see straight through the museum from one side to the other, fostering a sense of connection to the park outside.
Round skylights in the domes let in light and assist in the building's natural ventilation system. Cool air enters the building through louvres on the main floor that automatically open when needed; and hot air escapes through the domes' skylights that open to let warm air out.
Around the perimeter of the green roof, a glass canopy has 60,000 embedded photovoltaic cells that will provide up to 10% of the building's electrical energy and cast leaf-like shadows beneath.
"The academy has led the way, and essentially it's teaching people what's possible."
Partially covered by skylights, an airy piazza doubles as an orientation space for visitors. In its former facilities, the museum and research institution was chaotically spread out over 12 buildings around a courtyard; Piano retained the concept of the piazza but consolidated the disparate spaces into one building.
Exhibits such as glass tanks with coral reefs from the Steinhart Aquarium, visible from the piazza, tempt museum-goers inward to explore the museum.
An exhibit titled 'Altered State: Climate Change in California' will showcase the building's green features – including radiant subfloor heating, water reclamation, denim insulation and extensive use of recycled material – which will most likely garner it a Platinum LEED (Leadership in Energy and Environmental Design).
The roof itself will also double as an exhibit. But long before the opening, the green rooftop has already caught the imagination of architects, academics, and laypeople alike. "There are 35 or 40 new living-roof projects in the San Francisco Bay Area alone that have started up since the academy," Kephart says. "The academy has led the way, and essentially it's teaching people what's possible."