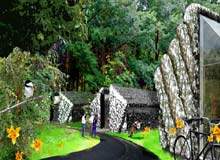 Heatherwick Studio's design for Aberystwyth Arts Centre at the University of Wales Aberystwyth is taking shape as the first of the creative arts business units nears completion.
The original design competition called for architects to design spaces for 16 artists. The structures had to preserve the feel of the surrounding forest.
Feeling that eight small buildings would blend in better than one large imposing one, Heatherwick Studio project architect Ole Smith designed small timber structures – "blocky, funny-looking creatures," he says.
Creative cladding
Wood was the obvious material choice but seemed traditional and unexciting, so he decided to clad and roof the buildings in steel, believing that this would reflect the forest greenery. Thick steel would break the budget, since creating so many structures significantly increased materials costs.
Smith therefore selected an extremely thin bright annealed stainless steel called 316L that doesn't rust. The skins are as delicate as the aluminium in Coke cans. The steel does bend though. "We thought, sooner or later somebody is going to bend it, so we might as well pre-bend it by crinkling it," says Smith. "We realised that it became a bit stronger when we crinkled it."
To crinkle strips of steel systematically, the studio created 'the crinkler'. The height of an average adult male, this machine resembles a torture device, jokes Smith. Wooden points simultaneously bend the steel from above and below as metal passes through the machine.
Every metre, the crinkle pattern repeats. To prevent the mechanically produced pattern from looking repetitive, Smith and his colleagues took the crinkled strip and folded it by hand, creating new crinkles. An origami expert in the studio created four tools to make each corner.
Spraying 1mm to 2mm of glass-reinforced plastic into the cavities reinforced the crinkled, folded steel. Then came a layer of foam to insulate the cavity.
"The creative arts units skins are as delicate as the aluminium in Coke cans."
Smith says that while cladding the model they cut themselves many times: "Once it's clad, though, you can't cut yourself on the material."
In fact, Smith says the silky steel-encased project model compels people to stroke it: "That's the great part about it! I hope people keep doing that when it's built." People will stand right next to the façades of the small, disconnected buildings, which is precisely the reason for their tactility, says Smith.
The Heatherwick intuition
According to Tom Chapman-Andrews, a Heatherwick architect for a decade, creating three-dimensionality is definitely a studio agenda and has always been the strength of founder Thomas Heatherwick, who trained as a designer, not an architect: "His intuition and sensibilities come from the fact that he knows how to turn wood, how to carve wood, how to bend wood.
"He's got this curve intelligence. He'll run his hand over something with his eyes closed and tell you that it isn't right. That's the test. Our buildings need to be stimulating to the senses, not just visually. He places a great deal of trust in what he gets through his fingertips."