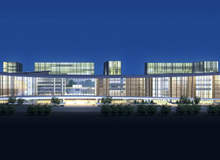 Three years back, UK architectural firm RMJM recorded an operating loss but then young chief executive Peter Morrison stepped in. Penny Jones spoke with the man credited with turning the fortune of the firm around along with its perspective on the global industry.
Penny Jones: Three years ago RMJM recorded an operating loss, what problems plagued the company and how, after taking the helm, did you manage to turn it all around?
Peter Morrison: Before our management buyout the architects were spending far too much time managing the business rather than focusing on doing what they do best which is, of course, designing great buildings.
Architects were managing the finance systems, the HR, the marketing and all other support functions.
In the last four years myself and then group finance director Hugh Mullan (now managing director for our European business) created an operational platform incorporating business processes, management and effective communication that has enabled RMJM designers to win some of the most prestigious projects in the world and has allowed the company to pursue a dynamic acquisition-led growth strategy.
A year ago we merged with HILLIER ARCHITECTURE – one of the leading practices in the US – which has given us the global platform we were looking for with incredible reach. Our US operations – RMJM Hillier – is now headed up by my father (Sir Fraser Morrison – founder of the Morrison Construction Group) and he is applying this same management structure to 'liberate' the architects to focus on national and international projects.
PJ: Do you feel this reflects overall changes in the industry?
PM: We believe that our business model is unique in that the core management team is from a business, not architectural, background.
We also put in place much better cooperation and communication across all the different offices so we are operating as a truly international company, not a series of offices with the same name working in silo. Now we draw on the talents of an international and flexible team of designers, share expertise and help each other to win business across the group.
PJ: You are quite young for a chief executive of an international company – do you think this has helped RMJM approach new markets and challenges?
PM: Our management team in general is youthful. For example, our group finance director Declan Thompson is only 36 years old and I am 34.
"RMJM pursues a dynamic acquisition-led growth strategy."
I believe that we are the youngest executive duo in an architectural company of this scale in the world. This reflects the entrepreneurialism of the company.
Most of our senior people are in their late thirties and early forties and this is a fantastic advantage in an industry where there are number of firms that have very senior management teams.
PJ: As a company, how do you think RMJM has grown and matured in recent years?
PM: The company has a long and illustrious history, having been founded over 50 years ago by Sir Robert Matthew and Stirrat Johnson-Marshall. They were radical modernist thinkers and much of their work is still held in high regard in architectural circles today and stands up to contemporary standards of aesthetics and sustainability.
This slavish devotion to design continues but with an enhanced structure in place which allows us to win some of the biggest and most prestigious projects around the world.
PJ: How crucial are RMJM's worldwide offices to the success of the firm? Do you feel having a presence in a place benefits design and the tender process?
"RMJM's business model is unique in that the core management team is from a business, not architectural, background."
PM: We believe very much in ensuring our architecture is appropriate for its local context and culture. That's why we have a truly international workforce which comprises staff of 46 nationalities and 54 languages across 16 offices. We are international architects but we don't have an obvious 'international style'. We have an interest in the specific – the client, the climate, the culture.
As part of this philosophy we don't believe in flying architects in and out to work on projects. Instead we have established offices in our main markets so we can immerse ourselves in the culture, get to know our clients, understand the building regulations and design something which is truly befitting to its environs.
PJ: What projects would you say have really helped RMJM enter the global market?
PM: We have had offices throughout Asia and the Middle East for many years but our merger with Hillier Architecture in the US positioned us as truly global firm.
Recent wins have included the Beijing Olympic Green Convention Centre; an entertainment and hospitality complex in Macau, China, the headquarters for the China Merchants Bank in Shanghai; a new international airport in Kolkata in India and the 400m Okhta Centre for Gazprom's headquarters in St Petersburg which will become the tallest tower in Europe.
PJ: How do you think the 'credit crunch' is, overall, affecting the European market? Are we seeing a shift in the timeframe of projects or overall funding, and have we seen precautionary changes taking place in firms themselves?
PM: We are undoubtedly seeing projects delayed or cancelled both in the US and the UK as a result of the credit crunch but, as we are a global company, we have been able to redeploy our teams to work on other projects in other parts of the world.
"RMJM has a long and illustrious history, having been founded over 50 years ago."
The current shortage of credit can be positive for the larger architecture businesses such as ourselves that are in a position to attract more sovereign-funded clients who do not rely on bank finance. Additionally, our expertise in the education and healthcare sector provides us further protection in those countries where the economy is slowing – in the USA, for example, the administration will probably invest in public building and infrastructure projects in order to protect jobs.
Our strategy in recent years has been to ensure our business is geographically diversified so that a downturn in any one market does not affect the overall group performance.
PJ: Which architectural markets around the world would you say are 'hot', and why?
PM: There are exciting opportunities opening up everywhere including Eastern Europe, the Middle East and parts of Asia where economies are booming and governments are keen to fast track development to catch up with other parts of the world. In terms of market sectors, we are particularly seeing growth in the education market, which is of course key to a country's development, and biosciences, which are increasingly sustaining cities and even entire countries' economies.
There are always challenges for a UK-based company opening up offices overseas in terms of understanding how business is conducted, its culture, building regulations and so on. But, in terms of Asia, we established our office in Hong Kong over 30 years ago and so are in a better position than most to understand our clients' aspirations and needs and to deliver on time and on budget.
PJ: What other challenges do you think architecture is facing at present?
PM: With increasing economic pressures, there have been changes in the construction industry's supply chain in recent decades. Architects are no longer central to the construction process, the added value they bring is not recognised and, as a result, they are not always being properly rewarded for their work.
"We are international architects but we don't have an obvious 'international style'."
I believe the future of the industry hinges on architects' ability to regain control of the construction process and to empower them to become 'master builders'.
To do that, we have to understand the commercial pressures and imperatives impacting on the industry and manage them to the advantage of our people, our projects and most importantly our clients. To play the pivotal role of trusted advisor to the client, we also have to take into account wider political, economic, environmental and technological drivers.
To rise to this challenge, we recently launched the RMJM programme for research and education in integrated design practice at Harvard's Graduate School of Design. Our aim is to create brilliant designers who are just as comfortable as business leaders – ensuring the quality of work is never compromised, no matter what practical and financial challenges the industry faces.
This programme is about initiating the dawn of a new era for the architectural industry. We need to create value at every level for our clients and we believe this can only be achieved by creating a new generation of not only great designers, but also great design leaders who are equally adept and sophisticated commercially and economically as he or she is architecturally.
PJ: Where do you hope to see RMJM five years from now?
PM: My ambition is to see RMJM become one of the world's leading and most recognised architectural practices, in fact, a 'superbrand' in its own right.