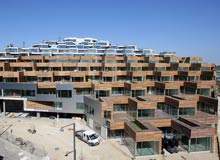 BIG things were expected of Bjarke Ingels when he split from the savvy young Danish design studio PLOT – a collaboration with fellow Copenhagener Julien de Smedt that lasted five years and catapulted both designers into architectural eminence.
The company's acronym promised future projects that would smash boundaries. So when the Bjarke Ingels Group (BIG) released their design manifesto in 2007 one year after the company formed – the media rubbed their hands together in anticipation of what could only be a torrent of new, radical ideas; starkly different from PLOT and weighty enough to spark if not a revolution then at least a rebellious new trend in architecture.
While the BIGamy manifesto didn't start a revolution (nor did it want to), it did deliver some sexily ironic ideas about design that that would elucidate BIG's style as and see Ingels and his Copenhagen-based international team move from local commissions to global project wins.
"It's not like I've profoundly changed my views on architecture in the last few years," says Ingels, trying to talk above the traffic noise in Copenhagen, having just attended the opening of BIG / PLOT's Mountain Dwellings (MD) housing project.
"The media would like to stress this idea that you have these avant-garde, revolutionary ideas and that something completely new is happening. But I'm much more into the idea of evolution."
THE BIGAMY MANIFESTO
Evolution is what the BIGamy manifesto is all about. It proposes an architecture in which 'ideas will evolve through mutation and crossbreeding', taking on qualities from past influences and taking cues from present-day restrictions to form an entirely new architectural species.
The MD project – one of PLOT's final realisations – is the perfect example of it. This 11-storey terraced housing structure atop a car park is the product of Ingels's decade-old ideas about 'programmatic alchemy' – where traditionally separate architectural ingredients are combined to make gold.
"Ideas [like this one] bounce between different projects and gradually something takes shape that's theoretically new, but when you backtrack you find it's actually evolved from a series of past experiments or investigations," he says.
"Paradoxical and complex problems like this one are the very things on which Ingels thrives."
BIG's philosophy of evolution makes their style difficult to pin down aesthetically, but for a peppering of playful elements (they made a model out of Lego for one Copenhagen mixed-use project, and printed a Guinness World Record-sized image of Mount Everest onto MD's façade).
Conceptually, though, it's recognisable as an architecture that doesn't fight against ideas of the past or disagree with societal forces such as space, style, environment and culture in the present, but rather cooperates, evolves with, and allows itself to be guided by these forces.
"I like this idea that as an architect you're a midwife of the city evolving," explains Ingels. "There are all these different parameters and requirements and forces that want to take shape in a city, and as an architect if you try to see what is the potential of these forces, you end up with projects that are infinitely more interesting than if you forced some preconceived shape or idea onto them."
PASSIVE-AGGRESSIVE ARCHITECTURE
With this, BIG steps down from the role of spatial dictator and stylistic rebel to adopt a passive-aggressive role in design: not as a rag doll, but as a facilitator for the surroundings. And while one might imagine that this passive position might at times prevent the designer from really shining, it's actually opened up unanticipated opportunities for BIG every time.
The firm's winning design for the Danish Maritime Museum is proof. The brief for this museum, to be constructed in the town of Helsingor, 45km north of Copenhagen and home to Hamlet's abode – the UNESCO World Heritage-listed Kronborg Castle – called for an underground construction (in order to maintain sight lines to the castle), which would be built in an abandoned 150m-long, 25m-wide, 9m-deep dry dock. The paradox was that this hidden structure also needed to be highly visible.
Instead of demolishing the existing dry dock, BIG decided to use and build around it: effectively wrapping the ship-sized abyss with the museum.
"By leaving it as this big void we combined the need for invisibility with the need for visibility," says Ingels – not only for the site but also for the design.
COMPLEXITY MADE SIMPLE
Paradoxical and complex problems like this one are the very things on which Ingels thrives.
"BIG's philosophy of evolution makes their style difficult to pin down aesthetically."
"The bigger the problem the more potential there is for a solution that goes beyond the ordinary," he reasons. So when Scandinavian hotel chain First Hotels commissioned BIG with the design of a hotel situated between the Arlanda Airport in Stockholm, Sweden, and the city-bound highway, Ingels saw an opportunity for something different.
"One of the problems with the highway typology is that when you're up close there's quality and detailing, but from the highway it just looks like an object," he says.
Their solution was to design a 25,000m² triangular structure, which, up close has traditional Scandinavian detailing, but that when seen from afar bears the faces of Swedish Princesses Victoria and Madeleine and Prince Carl-Philip – like a modern-day monument.
The feature of the structure is its façade. When near to the hotel, the exterior surface is striped with white concrete panels that expand and contract along the width of the building; and when viewed from a distance these strips create the impressions of the three royals. The technique was inspired by a combination of the ancient Asian painting technique of copper etchings and a PhotoShop filter.
"So it has one identity from the highway, and then it has a completely different identity when you're close. As an idea we wanted the project to be a hybrid between Swiss architect Peter Zumthor and Andy Warhol – a mixture between something really traditional and pop. The highway meets the bedroom."
The effect is a work that is incredibly complex, but that appears quite simple. "In software terms, the definition of complexity is to transmit to the maximum amount of information with the minimum amount of data – which is essentially a form of simplicity. That's what we try to do: to create the maximum effect with minimum means."
INFLUENCE OF THE OMA
As an academic descendant of the Generation-X architecture idol Rem Koolhaas, theoretical thinking is in Ingels's blood. He apprenticed under Koolhaas at the Dutch architect's Rotterdam-based firm, the Office for Metropolitan Architecture (OMA), and inherited that same innovativeness and leadership that's branded the styles of other starlet OMA alumni. According to Ingels, Koolhaas has the kind of approach to design that not only attracts, but teaches and breeds talent.
"The bigger the problem the more potential there is for a solution that goes beyond the ordinary."
"Rem will never toss you a sketch and say 'this is how I want it'; he'll demand it from the team to come up with the brilliant ideas. That's definitely a way of working that releases the full potential of the team," says Ingels.
It's a way of working that he and associate partners Andreas Klok Pedersen and David Zahle have adopted at BIG, along with a few of Koolhaas's other talent-releasing tricks, such as maintaining a multicultural office (BIG's 85 architects come from 25 different countries) and knowing how to stay focused when faced with the flash flood of a project brief.
"In most architectural projects the team find themselves drowning in issues like the history of the place, the physical context, the infrastructure, the traffic, the economy, different demands of different users – you can quickly drown in this confusion of multiple inputs.
"Having the ability to keep focused and prioritise the different problems is a major issue. One of Rem's strengths is that he has a really sharp affinity to nail the key issues of any situation in very few words. He helped me learn how to do that, and stay on target."