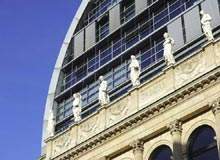 French architect Jean Nouvel, 62, has been named the 2008 Pritzker Architecture Laureate, the world's most prestigious architecture award. Nouvel has been responsible for some of the most imaginative designs of the last 30 years.
A graduate of the École des Beaux-Arts, Nouvel is very much the artist-architect with work characterised by a liberated visual élan that evolves with each new project.
Nouvel often talks of his buildings as fading into their surroundings. Visit his Fondation Cartier in Paris (1994) and you will find a building that is a metropolitan mirage.
Very much the original global architect, Nouvel's work spans the planet from Korea to the USA. However it was in his native France that Nouvel first made his mark at the Institut du Monde Arabe (1987) in Paris.
Nouvel's often very beautiful designs manipulate light and diaphanous layers and can redefine their surroundings. One of President Mitterand's last Grand Projets, the building showcased an extraordinary technical ability while creating a design that effortlessly fused the traditional, the exotic and the contemporary.
Its shimmering light-sensitive façade – a modern interpretation of an Arabic screen – made it an iconic design at the time. Up close it is visually captivating with the mechanical irises that individually open and close to control the sunlight penetrating into the interior.
THE PRITZKER PRIZE
The Pritzker jury, that included architects Shigeru Ban and Renzo Piano, paid tribute to Nouvel's 'persistence, imagination, exuberance and, above all, an insatiable urge for creative experimentation, of the many phrases that might be used to describe the career of architect Jean Nouvel, foremost are those that emphasise his courageous pursuit of new ideas and his challenge of accepted norms in order to stretch the boundaries of the field.
"A graduate of the École des Beaux-Arts, Nouvel is very much the artist-architect."
Key projects that informed the jury's decision included his Torre Agbar (2003), the Cartier Foundation for Contemporary Art in Paris (1994), the Guthrie Theater (2006), the Musée du quai Branly (2006) and the upcoming Philharmonie de Paris to be completed in 2012.
Ateliers Jean Nouvel are currently working on 40 active projects in 13 countries.
Nouvel's output is prolific and his upcoming projects include a new 75-storey tower next to the Museum of Modern Art in midtown Manhattan, New York and the Louvre Abu Dhabi, due for completion in 2012.
Just as intriguing are the designs that were never realised including the Tour Sans Fin (1989). As high as the Eiffel Tower this gentle steel and glass cylindrical design would have brought etherealness to La Défense. The base of the tower was to be very dark, but become clearer as it reached the sky, giving the visual sensation of the tower disappearing.