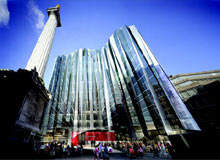 For a man with such a famously low public profile, Ken Shuttleworth's departure from Foster + Partners in 2003 garnered a lot of attention. The fallout from what, despite the protestations of both men, the media portrayed as an acrimonious split, thrust Shuttleworth into the limelight and suggested the arrival of a new 'name' on the architectural scene.
Fast-forward to 2008 and, although he is now running a 130-strong practice with a global portfolio of multi-million pound commissions, the genial, Birmingham-born 55-year-old has slipped back into the shadows. Feted by investors and contemporaries, 'Ken the Pen' continues to enjoy life outside of the media glare.
"I never expected it to be this size, let alone for it to become this size so quickly," he says of Make on the eve of its fourth birthday. "The transition has been a smooth one but, to be perfectly honest, I thought we'd have started with bathroom extensions."
THE MAKING OF MAKE
As recently as 2005, he was insisting the headcount be limited to 60 – 'the maximum size of a practice before it succumbs to corporate bureaucracy and departmental bickering' – Shuttleworth chuckles. "Who could have known!" he cries. "The people that have come from Foster's helped; there's been experience on the ground from the get-go."
Surveying the scene at Make's Fitzrovia offices, the Foster factor couldn't be less in evidence. Shuttleworth's small, energetic team perch on sofas, debating designs and penning sketches. There is none of the clinical, austere atmosphere one so associates with an international practice. Despite Make's rapid growth, there remains a last gang in town dynamic. Nobody, Shuttleworth aside, looks over 35.
This is quite an achievement – especially when one considers that, after 30 years at a single practice, Shuttleworth had only ever seen one way of doing things. "You're welcome to interpret it that way," he smiles. "All I will say is that some firms, and I'm not talking about Norman here, do not treat their people like human beings. I've heard terrible stories."
"Ken Shuttleworth's departure from Foster + Partners in 2003 garnered a lot of attention."
The inclusiveness that Shuttleworth has generated does not stop at him leaving his name off the door – "what would happen if I went under a bus?" There's no hierarchy, everybody enjoys the title of 'partner', and Shuttleworth is keen to see teams grow organically. "Anybody can have an idea and should feel free to express it," he explains.
"The structure of the office is project based. You gather a team around you, depending upon who's available and who will respond best to the challenge at hand, and a guerrilla unit is created.
A leader emerges and, regardless of how many projects we have on the go, nobody is stuck twiddling their thumbs." Partners are further incentivised through an employees' trust; with half of profits being split between the workforce and the rest being pumped back into the business.
This, Shuttleworth admits, is very much at odds with the segregated, linear approach of his previous employers. "I haven't seen it done at an architects before," he says. "The worry might have been that everyone argued and it spun out of control, but the AJ100 cites us as the most efficient office in the country."
In order to make it work, Shuttleworth takes a particularly keen interest in recruitment, conducting virtually all interviews personally. "It's horrendous how many people apply each year," he says, with mock horror. "We probably interview one in 20 and then take on one in 50. I am looking for people who I think might be able to do my job better than me some day. We've had to turn down candidates with all the right credentials because we don't think they're
suited to our way of working. This is not a place for big egos or getting on with work in isolation. You need to be a people's person."
"Shuttleworth's small, energetic team perch on sofas, debating designs and penning sketches."
MODEST DESIGN
The designs coming out of Make belie the unassuming, low-key persona of its founding partner.
Schemes such as the recently approved Monument project, which will see a nine-storey, asymmetric glass-clad building replace the 1968-built Centurion House, are by no means conservative and make no apologies for dramatically altering the surrounding landscape.
It is only when discussing his work that Shuttleworth's voice rises above a gentle murmur. "The façade creates a kind of curtain which reflects the Monument," he says of the project. "It completely changes the view and one's appreciation of it. I'm extremely excited. We're talking about a great symbol for London and the opportunity to play with that."
Of the other projects on his books, Shuttleworth reels off details of the LEAF Award nominated St Paul's Information Centre, the 55 Baker Street scheme, due to open in spring 2008, and the recently commissioned Olympic handball arena. Away from London, he enthuses about the office's plans for the Nottingham University campus – 'one of the buildings looks like a great wedge coming out of the ground; another is the big head with a tail coming out of it that you actually drive under' – and The Cube in Birmingham.
The Cube lies particularly close to Shuttleworth's heart. With a likely completion date of 2010, this 17-storey, £100m mixed-use development, clad in anodised aluminium with a crystalline interior, could not be further removed from the city of his youth. "When I think back to the smoke and chimneys," he says, "the shift is quite remarkable. Manchester has led the way somewhat, leaving Birmingham in its wake. We have tried to reflect the city's heritage in our
design, but it's also a question of helping a city evolve."
LONDON LEGACY
Evolution is a theme that Shuttleworth returns to time and again. One needs not wonder whether he returns to his previous projects, the mark that he and Foster made on his adopted home of London over 30 years must make it more a question of wanting to escape them. Most prominent of these London projects is 30 St Mary Axe, which he, like the rest of the city, refers to simply as 'the Gherkin'.
"There is none of the clinical, austere atmosphere one so associates with an international practice."
"One never stops learning and that does mean that what one missed tends to stand out more," he says. "The Gherkin was designed under ten years ago and I wouldn't even contemplate putting glass the entire way round now; I would use wrapping to keep the solar gain down. Just think, I have to look at that building every day and that's what hits me!"
Small regrets aside, the project is one that Shuttleworth remains fiercely proud of. "I believe it showed London that modern architecture can be beautiful," he says. "It's upped the ante and other towers need to beat it."
Of the buildings set to jostle for space on the London skyline, Shuttleworth outs himself as a fan of Rafael Vinoly's 'Walkie-Talkie' and says Renzo Piano's 'Shard' looks phenomenal, 'so long as they are able to build the top'. One does detect a steely competitiveness beneath the rather more affable demeanour, but it is difficult to draw anything but praise for his contemporaries. The closest Shuttleworth gets to criticism is in his finding Frank Gehry's
move into jewellery 'rather strange'.
When asked who he currently admires, however, he becomes far more forthcoming. "Every project Herzog & de Meuron have undertaken," he begins, "I just say, 'Wow, I wish I'd thought of that'. It's constantly outside the envelope and completely indefinable. They're the people to beat."
In just four years, Shuttleworth has established a practice that looks capable of competing at that level. "Have I changed?" he asks rhetorically. "The buck now stops with me and that does make you more driven. Perhaps my outlook has become slightly more commercial. But, fundamentally, I'm still the same person."
Four years on and it would appear that nice guys do also finish first.