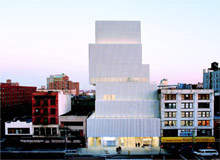 With a sleek but unpretentious façade and a set of masses that appear so casually arranged that they could tumble over in a high wind, the newest component of New York's cultural infrastructure has added a distinct and defiant profile to the downtown skyline.
The New Museum of Contemporary Art, designed by Tokyo's Sejima and Nishizawa and Associates (SANAA), manages to combine the circumspect minimalism associated with the firm's prior projects and a rugged, no-nonsense materiality. It succeeds as both a vehicle for experimental art and an intervention into a part of the city undergoing some sobering transitions.
"The New Museum is located on the Bowery, once America's most notorious skid row."
That pun is difficult to avoid, because the New Museum is located on the Bowery, once America's most notorious skid row. Generations of Yanks have heard Charles Hoyt's lyrics from a long-forgotten 1890s Broadway musical and envisioned block after block of ill-smelling dens of iniquity:
"They say such things,
And they do strange things,
On the Bow'ry, the Bow'ry,
I'll never go there any more!"
Today's Bowery, however, is home to nary a 'Bowery bum'. With lower Manhattan's real-estate values soaring, the Bowery has sprouted posh hotels and velvet-roped nightclubs. Too many, say long-time East-villagers and lower East-siders, many of whom find the hyper-privileged crowd insufferable. Despite a few bastions of bohemia like the Bowery Poetry Club, the consensus is that skid row has been losing its grit and its soul.
Into this moving milieu comes the New Museum of Contemporary Art, long associated with populism and provocation. Founded in 1977 by former Whitney curator Marcia Tucker, the museum outgrew its previous SoHo space years ago.
In 2002, current curator Lisa Phillips announced plans to move a few blocks east to a new site where Prince Street dead-ends into the Bowery, doubling exhibit capacity and embracing the rough neighbourhood slightly before gentrification caught up with it. New York's large and loud arts community has watched the building's construction with mounting interest, blending enthusiasm over early Photoshop images of the building with apprehension over whether the museum would accelerate downtown's embourgeoisement, temper it, or complicate it.
AN EXISTENTIALIST ART HOME
SANAA's design, six irregularly stacked boxes atop a largely transparent entry floor, responds to the tensions between the museum's programme and the site's limitations. "The programme is what drives the design," says chief project architect Florian Idenburg. "Some architects like to make a form and try to fit the programme in, or generate a form based on their own fascinations. But we need requirements and restrictions in order to start thinking about how to
organise space."
"SANAA's design responds to the tensions between the museum's programme and the site's limitations."
Since the New Museum has no permanent collection, its programme differs from those of other museums, requiring a 'design for art that doesn't exist yet… which often leads to a big black box that awaits future subdivision'. Spatial constraints offered further helpful restrictions.
Considering the tight footprint (22m x 34m) and the legally buildable zoning envelope, a vertical scheme was mandatory and museum officials wanted to maximise floor-area ratio, following what Idenburg calls 'a very New York way of thinking: whatever you can build, build'.
FLEXIBLE GALLERIES
Instead, he says, SANAA deliberately refrained from using all available volume and aimed for flexibility, placing three differently proportioned galleries at the heart of the design, the second through fourth floors (respectively, 465m² in area, 5.5m in height; 372m², 5.8m; and 279m², 7.3m).
The staggered sizes and informal placement of the boxes – including a mildly alarming cantilever at the fifth floor – allow for natural lighting from above on the peripheries of the galleries, a seventh-floor terrace with striking views to the south and east, and a wry visual commentary on New York's orthogonal corporate modernism and the traditional pre-war skyscraper profile, defined by setbacks.
"We didn't want to make a kind of office building," SANAA principal Kazuyo Sejima observes. "The New Museum is a more complex space, there's a communication between the building itself and the city."
The arrangement gives the building a memorable profile from the street view, something Idenburg describes as both an exercise in restraint and a proof-of-concept experiment. "It became iconic because it's different," he says; "it doesn't fit the standard straight-up setback, the ziggurat. I hope this building can show in New York that you can maybe add value by not maximising the building envelope."
With their subtle variations in floorplans and heights, the interiors are both quirky and practical.
"The New Museum of Contemporary Art has been long associated with populism and provocation."
An off-centre elevator core and a column-free design create space for large-scale works on each main gallery floor, with further display space on the narrower northern side of each floorplate.
Between the third and fourth floors stretches a wildly idiosyncratic staircase: extraordinarily long and barely wide enough for two people to pass, brightly lit by fluorescents and a rare side window – and, on media-preview day, with a well-amplified, emotionally harrowing spoken-word installation by conceptual artist Sharon Hayes tucked into a resonant 11m-tall vertical concave spanning both storeys (known as The Shaft), acoustically impressive.
IMMERSIVE ART
Except for this staircase and the fifth floor, holding the education centre and a 'Museum as Hub' international collaborative installation, the exhibition spaces have no external views, increasing the immersive quality of the visitor's experience – and adding drama at the moment one reaches the top floor's bright, expansive event space.
Ceilings throughout the galleries are open, not dropped, with structural beams visible, occasionally used to suspend artworks overhead; Sejima calls the effect 'rough but somehow controlled'. On the ground floor, a light mesh ceiling scrim likewise keeps mechanical elements visible while echoing the building's unique cladding, adding form and continuity to the space without compromising the frank industrial ambience.
"SANAA deliberately refrained from using all available volume and aimed for flexibility."
That first floor, open to the ticketless public, presents broad expanses of glass to demarcate three zones of transition: the entry from the Bowery, a separate day-lit gallery beyond a bookstore near the café at the rear, and an elegant staircase to the basement, where there is a multipurpose theatre and a wallpaper installation by Jeffrey Inaba. Donor Hall raises bite-the-hands-that-feed-us questions about the actions and motives of cultural philanthropists worldwide, from magnates and foundations to Hezbollah and Halliburton.
Idenburg describes the ground floor as an inward extension of the street, an attempt to expand the neighbourhood's public territory in structured ways, complemented by energetic programming of lectures, performances, and social events. In a city where pseudo-public corporate spaces like Starbucks and Whole Foods have been encroaching on the historical public sphere, the museum's efforts at counter-colonisation seem commendable.
AT HOME WITH CONTRADICTIONS
The building is starkly handsome from all angles and breathtakingly graceful from some, but its detailing isn't flawless. Circulation may become troublesome during popular exhibitions: the main and auxiliary elevators are both agonisingly slow, a contractor-related problem that Idenburg acknowledges and says is being investigated (in the meantime, two back staircases will not remain an insider's secret for long).
The feature with the widest gap between theoretical promise and practical effect is the use of natural light; on an overcast day, except for the rear first-floor gallery, the skylights admitted too little daylight to compete with the wide-spectrum fluorescents that punctuate the ceilings like Morse-code dashes.
The polished industrial-concrete flooring, poured with no expansion joints, already shows cracks; intentional or not, this effect adds an organic variability to spaces otherwise defined by clean, crisp geometries.
"The staggered sizes and informal placement of the boxes allow for natural lighting from above."
The most striking feature, the aluminium-mesh cladding, implies that the museum considers its outward appearance (and, by inference, its relations to the community) as important as visitors' experiences inside. Developed in England by engineers James & Taylor of Surrey and fabricators Expanded Metal Co. of Hartlepool, the cladding is a technical and aesthetic marvel, combining porosity with a subtly varied, shimmering surface.
It is actually a scaled-up version of a material that's been in use for a century in road construction and for plaster laths.
SANAA project architect Toshihiro Oki explains that after an exhaustive investigation, Expanded Metal were the world's only suppliers able to meet the quarter-inch tolerance necessary to align the diamond forms of the mesh accurately at joints between panels.
Idenburg adds that manufacturing the mesh involves basically zero material loss, because the aluminium is simply cut and stretched by 60%, not perforated. The museum is not designed explicitly for sustainability, but the mesh and the limited fenestration make it highly efficient at reducing heat loads.
Whether the museum can realise its institutional aim of reanimating a cynical downtown art scene by offering space for oppositional culture – a mission fraught with potential contradictions, of which it appears well aware – depends to a great extent on programming decisions.
The opening exhibition 'Unmonumental', an assemblage of found-object collages imbued with critiques of artistic permanence, iconicity and seriousness, evokes less ardour than the building itself, being an uneven mix of powerful statements and near-student-level work; still, one hesitates to over-critique the more indulgent pieces, recognising that some degree of indulgence toward scattershot experiments is rightly inseparable from the New Museum's declared mission.
A BUILDING FOR THE COMMUNITY
In the meantime, optimism pervades the design, construction, and curatorial teams and may well catch on more generally.
"The New Museum of Contemporary Art is starkly handsome from all angles and breathtakingly graceful from some."
Kristian Gregerson, a project architect at Gensler, which served as executive architect on the museum, has high praise for SANAA's on-site collaborations and collegial informality. Great finesse was required, he says, in 'translating their construction intent, which is very precise and clean and minimal, to the New York construction market, which is a different animal'.
Sejima, Ryue Nishizawa and their colleagues have navigated New York's complex environment skilfully, made a debut that augurs well for future work here, and given the city a building whose exterior draws attention powerfully, but whose interior discreetly refrains from overwhelming the works within.
It is not showy, but it takes risks; it offers its community some real opportunities and alternatives. An architecture of risk to answer the numbing, trivial risklessness of flaunted privilege is something many of us in New York are ready to welcome fairly heartily.