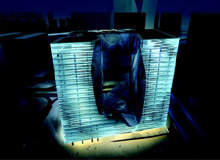 As architectural terminology goes, 'city within a city' is one of the most overused phrases when describing progressive megalopolis concepts.
There is an inherent suggestion in its use that operating on the global architectural stage in the 21st century can't merely be an integration within an existing urban landscape or the fashioning of a structure that has a dialogue with its surroundings, you must in fact reinvent the very idea of what a building is. It must be pure statement. This is nothing new of course; architects have long dreamt of a future in which structures were space-age self sufficient – a fantasy infused with equal parts paranoia and ego.
"Architects have long dreamt of a future in which structures were space-age self sufficient."
In Beijing and Dubai, where these elements are fuelled by limitless budgets and an urge to create bigger, bigger and even bigger still, with a view to transcending world city status, these ideas are running riot. Though they share a parallel direction, their backgrounds are polar opposites, and the final results will be dictated by differences rather than similarities.
BEIJING – THE OLYMPIC CITY
Where Dubai started out as a parched, blank canvas, Beijing has made its Olympic strides from a historic background, steeped in the ancient. "Unlike Shanghai it had Chinese characteristics," says Zhang Kaiji, who worked with the Communist Party in the 60s on the ten 'Grand Projects' to commemorate the anniversary of the establishment of the People's Republic. "Beijing was one of the most beautiful cities in the world, but over time it did not become more beautiful,
it became uglier."
Beijing has jettisoned most concerns about heritage as it runs away with itself. Norman Foster's new terminal at Beijing airport, terminal three, is the largest covered structure ever built and was created with 40,000 workers on site, working eight-hour shifts around the clock.
"To get an idea of the scale," explains Foster, "imagine Heathrow's five terminals together under one roof and then add an extra 17% of floor space. It has taken 50 years for Heathrow to grow to its present scale. In Beijing the process will have been completed in less than five."
The shiny new 100,000-seater, $500m Herzog & de Meuron Olympic Stadium is as attention grabbing a structure as you could imagine. Rather than merely inflating its scale to outdo other cities, the stadium keeps the essential tiering and oval shape but reworks the concept as something sculptural, with each part remaining functional: stairways are built into the elegant concrete ribbons and gaps between the concrete structure are filled with 'inflatable cushions' which regulate
atmospheric conditions.
"Beijing has made its Olympic strides from a historic background, steeped in the ancient."
Exactly what constitutes 'society' in Beijing is a key question. Of course the Olympics have created a focal point for the new wave of architecture, and the likes of Rem Koolhaas's colossal CCTV building are emblems of a new city in which, as Koolhaas says, "architecture has turned into spectacle. You cannot," he continues, "completely avoid this landmark character with large buildings such as these. But the city itself is also gigantic. Working on this project at this location and for these people gives the building a powerful sense of content and, as a result, a great deal of seriousness."
While the CCTV building is essentially the heart of a showcase media village, Steven Holl's Linked Hybrid, which broke ground at the end of 2005, is a collection of residential towers linked on the 20th floor with a 'sky ring'. It is both a statement about, and a blueprint for, the way we live today.
"The intention is to create something utopian," explains Holl. "There is a core urbanism, a little bit like where I live in Greenwich Village, New York." Holl's utopia, whilst undoubtedly beautiful in its way, particularly in its use of wild colour along its sky ring (inspired by Buddhist temples and chosen by shaking the I Ching) and in the use of interior hinged panels that double as doors and can open up and transform living spaces, is totally introspective.
Linked Hybrid, like Neville Mars's BBT development in the city, scheduled for 2020 completion and which will house 12,500, could be said to embody the architecture of paranoia and ego, and are the total inverse of Holl's beloved Greenwich Village, which is entirely about the 'outside', and has little to do with the homogenous environment of an architect-designed city within a city.
DUBAI – A DESERT OASIS
The concerns of the 'outside' in Dubai are entirely different of course.
"Dubai was a fishing village 50 years ago, now it is a brash, filmset-like landscape."
Few people would argue with the reality of creating controlled environments in the middle of the desert, a place where the aggressive environment should have prohibited its development as a residential hub.
While Beijing looks at ways to house its 15 million residents and circumnavigate or trample history, Dubai is investing in culture and spectacle for a population one-tenth of that size, and starting from scratch.
The Jean Nouvel opera house is still only at the rendering stage. To distance itself from the scores of other 'new tallest' follies being erected in the city, Nouvel has released only drawings of the partially domed structure and some prose to accompany the images: "The emblematic city of the explosion of the 21st century must build itself a new planetary icon. Its scale is such that we cannot confuse it with a vulgar hotel or an office building: It is proud, sure of its aura
across the land."
Make no mistake, this is intended to be 'high culture' and a stab at fashioning authenticity, regardless of its position in the middle of what many consider to be the most inauthentic environment in the world. Dubai hasn't so much learnt from Las Vegas as reinvented it.
The most interesting project in Dubai at the moment is Zaha Hadid's Opus building, which is shamelessly 'landmark' in nature, as Rem Koolhaas would say, but which takes the cityscape around it as its starting and finishing point: Opus is essentially a vast glass cube that has had its core melted away, creating a void, and which appears to hover above the ground. The stunt here is transparency and reflection – you can see the surrounding buildings both through it, and
reflected in it.
"Few people would argue with the reality of creating controlled environments in the middle of the desert."
While in the 1930s Manhattan saw the world's industrialists commission architects to produce the highest building of the moment, in Dubai and Beijing in the 21st century, scale is just one facet of the competition. It has to be the most fashionable architect and the most exotic, impossible concept.
Both have become forums for some brave and exciting work, but where will they both end up? Will they still function as cities in the traditional sense? For Beijing, the new wave of building may be little more than just another phase in its development, and it is unlikely that the old ways of living will disappear entirely.
As Vicky Richardson, editor of Blueprint says "it is harder to talk about context in Dubai. It was a fishing village 50 years ago. Now it is a brash, filmset-like landscape where nothing is shocking anymore." History will, of course be the final judge, and Dubai, born entirely out of an era of paranoia and ego, may be judged far more harshly than the ancient city of Beijing, but only time will tell.