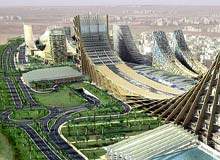 Ben van Berkel, UN Studio
Founders:
Ben van Berkel, 50, Caroline Bos, 48
Current projects:
Theatre Agora, Lelystad, Netherlands; Arnhem Central, Arnhem,Netherlands; Music Theatre, Graz, Austria; Realization Jewish Historical Museum, Amsterdam, Netherlands
Website:
www.UNStudio.com
"My role is to enrich the profession, to see what qualities we are lacking, and where we could improve and renew the profession with contemporary ideas.
"I like to come up with ideas that you wouldn't expect, like the double helix inside the Mercedes Benz Museum – wherever you walk, the spaces follow you.
"I am interested in the works of fashion designers and trendsetters – these people inspire me. And nature – particularly where it is something unexpected, like unusual patterns in trees and volcanic landscapes.
"A recent project is the Theatre Agora, an orange building with a multifaceted façade in yellow, pink and blue. It reflects the nature of the theatre and its many realities.
"Sometimes I'm more sober, sometimes more expressive. I'm interested in how people move and how architects can create different forms of mobility.
"I think architects are a bit like surgeons; we have a lot of work to do and have to juggle a lot of detail, but we love it."
Julien de Smedt, JDS / Julien de Smedt Architects
Founder and director:
Julien de Smedt, 31
Current projects:
Dublin Swimming Pool, Dublin, Ireland; Montreal Harbour Development, Montreal, Canada; three building residential/commercial development, China
Website:
www.jdsarchitects.com
"For me, the amazing thing about being an architect is the diversity and the combination of professions, from detailed drawings to lecturing to presenting to a mayor.
"I do nearly 20 jobs in one day and wearing these different hats excites me. I was a skateboarder before and spent a lot of time in the city, destroying its materials, so in a way now I'm rebuilding it. And I really understand how those materials react, and practise this every day as an architect.
"My speciality is to work on a variety of projects, from media installations to one million square meter developments in China, rather than on any one thing.
"Size is important because it allows you to manipulate volume – the greater the mass, the more you can manipulate it – and you have more complexity and diversity when you have more to play with.
"Alternatively, I'm working on some media installations in Brazil where the scale is so controlled it's really all in the details – and it's nice to work in those terms too. Our aim is to take a fresh look at things using a wide frame of reference."
Alan Pert, NORD Architects
Founders:
Alan Pert, 35, Robin Lee, 40
Current projects:
Public regeneration project, Glasgow, UK; Govanhill Pool project, Glasgow, UK
Website:
www.nordarchitecture.com
"Architecture should be about collective and social values. We think architects should intervene to counter the domination of urban development, with its tendency to privatize everything public.
"Our inspiration comes from the ideas of Cedric Price. NORD's work identifies and examines critical issues by asking new questions, encouraging architectural debate, promoting experimentation and encouraging development.
"When NORD first started out in 2002, it aimed to combine design work with research – research into the innovative use of existing materials, the development of new products and the social role of the architect.
"Current projects include PUBLIC, which focuses on regenerating an urban backdrop littered with redundant 19th century spaces and re-examines the concepts of the public amenity and public space.
"A good example of our commitment to innovation is the Govanhill Pool project, following a five-year community campaign to re-open the Glasgow pool, which had been closed by the council. NORD is adding a mixed-use healthy living centre with 24 housing units and a new range of facilities, including an asthma clinic, dance studio and garden.
"At a time when 'ideology' is a dirty word, NORD fuses materiality, technology and public engagement in a clearly articulated agenda."
Martin Rein-Cano, Topotek 1
Founders:
Martin Rein-Cano, 39, and Lorenz Dexler, 39
Current projects:
San Juan Waterfront, Puerto Rico; Market Square and parking project, Berlin, Germany; Porte de Montreuil Multipleuse Cityplace, Paris, France
Website:
www.topotek1.de
"I am a landscape architect and our work does not have a clear function; it's more metaphysical, like art. We are like the Sunday to the city's weekdays.
"Making landscapes is closely related to making buildings and cities; it is rebuilding with a different content.
"I became fascinated by landscape design while studying art history. Until then I had taken 'green' for granted and just thought trees happened to be there, rather than being planned.
"History is a major source of inspiration and the rest comes from fashion, music, art and architecture. I like my designs to be in their own time.
"Our next project is in San Juan in Puerto Rico, where a new district is being developed on the waterfront. Usually, we get to design one square or one garden, but this is more interwoven.
"l'm currently working on car parks in a tourist area in Berlin, which the municipality wanted to improve. The idea is to interchange the car parks with a market square and playgrounds, changing its function between the week and the weekend. An 18m-diameter umbrella will cover each of the two squares and indicate its function by either being opened or closed."
James Thomas, Make
Partner:
James Thomas, 38
Current projects:
Walpole House, London, UK; Khabary Future City, Kuwait (masterplan); office building, London, UK; extension to Camden Markets, London, UK; 60k House competition scheme, Aylesbury, UK
Website:
www.makearchitects.com
"For me, architecture offers the most incredible opportunity to improve people's lives and lift their spirits. I see my architecture as an exploration of geometry, renewable energy and the relationship of dynamic new buildings to historic settings.
"When I was15 I visited Venice and was amazed that such a beautiful city was man-made. I sat in St Mark's Square sketching and realised I could happily spend the rest of my life creating extraordinary buildings and spaces like this. I love to visit a new site with a sketchbook and camera as soon as possible, to try to soak up the setting, the surroundings and the feel of the place. I experience the site at different times of the day, and that's when ideas start pouring out.
"I'm currently working on an extension to a Grade 1 listed Nash Regency house, a ten million square foot masterplan in Kuwait, an office building with the largest accessible green roof in the City of London and the winning 60k House competition scheme for Aylesbury. Each one poses a different challenge, and it's that constant variety that helps me stay enthusiastic.
"Sustainability is another thing I'm passionate about – it's integral to the way we work at Make, both in the way we design buildings and the way our practice operates."