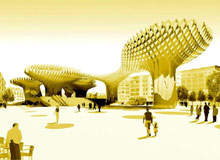 "Looking back over the last ten years of production, it's on the kind of scale you would have on a stereo, from silent to super-loud. We have gone from very rectangular to very organic."
From his office in Charlottenburg in Berlin, Jürgen Mayer reflects on his recently completed project, a canteen for Karlsruhe University. "We wanted to look at the spatial possibilities," he explains. "We want to offer something extra that people can use."
Mayer's practice, Jürgen Mayer H, creates designs for living while demonstrating an almost surreal anonymity. Tellingly, Mayer starts each sentence with 'We' rather than 'I'.
"We try to create a certain curiosity so that people take a second look," says Mayer, who is nevertheless reluctant to define his firm's style and would rather it were left open to interpretation. "In that second look, people can start to understand what's going on, so it becomes more their own than just another building."
"We try to create a certain curiosity so that people take a second look."
The project that brought Mayer to international prominence was the Scharnhauser Park Town Hall in Ostfildern in Germany. The concrete prismed building, with its vaulted interior, was many people's first encounter with Mayer's trademark obtuse designs, prompting comparisons to the work of Zaha Hadid and receiving the Emerging Architect Special Mention at the Mies van der Rohe Awards in 2003.
Over the years Mayer's designs have become more playful, colourful and organic, with a dash of sci-fi kookiness. (His favourite piece of product design is the Gummy Bear.) Mayer's public commissions include the Mensa Karlsruhe in Germany, completed in late 2006, and the Metropol Parasol in the Plaza de la Encarnación in Seville. For the latter, a single gargantuan canopy will emerge from six enormous mushrooms.
Just as ambitious but not quite as large are two buildings completed this summer for the Danfoss engineering company in Denmark. The Curiosity Center, Danfoss Interactive in Nordborg is a physics museum for children that resembles a freakishly over-sized protozoan cell – the microscopic magnified. "We had to come up with an iconographic building that was site-specific for Danfoss Universe, so it becomes memorable. The question we asked was, 'What is the activating quality of architecture?'"
When pressed, Mayer says he sees his work as much in terms of creating stronger relationships as evolving new design styles. "It is not that we are becoming more elaborate in terms of creating forms. We have a very sculptural approach that tries to blur issues of scale – maybe even issues of direct programmatic relationships."
"We have become more complex in our geometries," adds Mayer. "We use things we find on site as a reference and an anchor. In Seville it was the reference to the huge old trees you find in the squares and to the wonderful undulating stone roof of the cathedral."
GRAND PLAZA
The Metropol Parasol in Seville is the practice's largest project to date and scheduled to be completed by 2008. Mayer's brief to reinvent a large city square is certainly ambitious, particularly since it came with significant limitations. Funded through a public private partnership, the building is a public space that also has to make money. Its character derives from the relationship between the commercial and the social.
"We have two audiences, each of which has different agendas," he says. "It involves politics as much as design and engineering. Seville has the largest medieval town centre in Europe. There is an archaeology we need to be conscious of in terms of how we place our foundations, and that guided our design."
The Seville structure consists of six giant parasols, each morphing into one another. The project has gone smoothly so far – the biggest challenge being the structural engineering of the parasols.
"Buildings should provoke and participate in certain moments of communal life."
The parasol stands on a plinth, which also features an archaeological museum covering the history of Seville. At ground level the plaza creates a vibrant public space, while atop the parasol sits a restaurant. Above the museum will be a food market. Unlike other plazas, Mayer did not want to create perfect facades. "We reacted by bringing some kind of object that holds the space together rather than defining the square by the facades."
Reaction is a word that crops up a lot when describing Mayer's work. Asked what sets his work apart, Mayer says he wants to reinterpret the urban environment with designs that invite curiosity, to produce architecture that communicates directly with people and brings them out of their passivity.
HALL OF PLENTY
Mayer's last completed project, the Mensa Karlsruhe Dining Hall, certainly invites curiosity. The glowing, almost unearthly green exterior coated with polyurethane looks designed to disorientate. The sloping block shape conceals an interior made up of a mass of columns at many different angles. Despite an almost prehistoric sense of scale, the building is very much a practical space – a canteen used by hundreds of students a day – and intelligently designed to incorporate extensive catering facilities.
Mayer's design DNA also, intriguingly, reveals classical strands. "We try to create a certain relevance to a site but reinterpret it by updating certain references to the 21st century and projecting it into a new future," he adds.
Entered through colonnades leading into an impressive dining hall with vaulted ceiling, the dining hall is indebted to Karl-Friedrich Schinkel's Altes Museum, a Teutonic totem of classical colonnades and dramatic staircases. "In the Altes Museum you are standing in a gallery looking down the stairs and into the city landscape," explains Mayer. "That was an image that came back to me." Indeed, ascending the Karlsruhe's staircase brings you to a terrace with a grandstand view of the playing field.
ACTIVATING THE IMAGINATION
Mayer is interested in how his architecture can animate its surrounding environment through 'activators'. This originally referred to technology that could encourage new interpretations and even create new relationships. "Buildings should provoke and participate in certain moments of communal life," adds Mayer.
"Mayer says he wants to reinterpret the urban environment with designs that invite curiosity."
One of the most striking examples of this was Pitterpatterns at Scharnhauser Town Hall in Ostfildern, which completely revitalised this public space.
A system of water nozzles in the building's roof, which can be synchronised to release streams of water to create patterns or even spell out words, Pitterpatterns has proved a major success. "The town hall became a place where kids hung out, people smoked and the elderly walked their dogs," says Mayer.
Other Mayer-endorsed examples of socially interactive technology include lighting installations where light becomes a moving element. "They are basically catalysts for the imagination," he explains. "You can use them, occupy them, appropriate them and make them your own."
Mayer is applying his 'activator' theory even more ambitiously in the Metropol Parasol in Seville, putting his ideas of creating public spaces on a grand scale to the test. Seville is an ideal place for Mayer to experiment. "The city is very public; it's busier at two in the morning than two in the afternoon."
Mayer's work redefines how public spaces are created and how they interact with the people that use them. His designs may look like they have fallen to earth, but there is a humanity and boldness that unifies them. "Boldness defines a place and creates a space," he concludes. "It is strong enough to be occupied, appropriated and modified, yet it still remains 'in the mothership'."