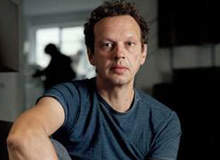 Tom Dixon has enjoyed a remarkable career since a freak motorcycle accident in his early twenties forced him to quit art school and transfer his talents to the world of design. He created his first objects at the age of 25, becoming one of the most talked-about avant-garde designers in the world.
He has produced many famous products, including the S-bend chair, the mirrorball light and the soft system couch. He has also designed interiors for Terence Conran, Jean-Paul Gaultier and Vivienne Westwood. In 1998 he was appointed head of design at Habitat and is currently the creative director of Artek, the Finnish furniture manufacturer, as well as running his own design company, Tom Dixon Ltd, based in Clerkenwell, London.
CK: Did you always want to be a designer?
TD: I never wanted to be a designer – it came purely by accident. I didn't study. I don't have any certificates. I'm an amateur really.
CK: Do you think that not having any formal training has given you an advantage as a creative designer?
TD: It might have put me off if I had studied design. If you've got some kind of creative bent, you can probably apply it to many, many trades, and sometimes schools knock that creativity out of you. I did a six-month foundation course and the people that continued went on to do all kinds of stuff, but not what they were studying.
CK: Did your experience playing in a band [Dixon was the bass player in a band called Funkapolitan] help you creatively?
TD: Music formed my opinion that you can tackle anything as an amateur. You press your own records and print your own flyers. When I started making furniture it was obvious I would do just that.
CK: How is your work as creative director at Artek going?
"I never wanted to be a designer – it came purely by accident. I didn't study. I don't have any certificates."
TD: It's been challenging to say the least, as we had no idea that we weren't dealing with a furniture maker but with a national icon. It was tough to start with, but now we have decided what it is and which way it is going it has worked really well.
The concept behind Artek when it was new in 1935 was that of an innovative company working in wood technology. It was trying to make modernist furniture out of an old-fashioned material. It is the way we want to go and it fits in nicely with the whole sustainability agenda.Although I don't really want to talk about 'the S word', this is a company that is interested in natural materials and not just crafting them in a classical manner.
CK: Other than Aalto, are there any other designers who have been an influence on your own practice?
TD: Hundreds. They tend to be more engineering types. Interestingly, Aaalto was involved in the actual construction of every bit of a building. The obvious names are people like Buckminster Fuller or Isambard Kingdom Brunel, people who developed new ways of making things.
CK: Is design architecture in miniature?
No. The thing about design is that is has become such an all encompassing word that it is quite hard to treat it as a single subject isn't it. From fashion design to graphic design to architecture, all of these things are legitimate descriptions of a very broad trade which is really a means of improving things.
CK: Out of all the projects you've worked on, what was the most influential in your development as a designer?
TD: I don't see it in those kinds of terms. I look back at the day I took my first welding lesson rather than specific objects that were seminal or life changing. I am extremely self-critical – I tend to see the flaws in my previous work rather than the beauty – and that's what keeps me thinking what my next object might be.
CK: How did your experience of working at Habitat as a non-executive director affect your approach to design?
TD: For me, it was a window onto another world, which I had previously viewed in a very naïve way. It had all kind of constraints, but I woke up to what people really buy and for how much, how you ship stuff across the world, and so on and so forth. It was a great experience and a unique job that you don't really see much in that trade.
CK: Why did you decide to set up Tom Dixon Ltd?
"My approach is to grow an object from its bones outwards."
TD: I believe designers do themselves a disservice by being a service industry for other brands. Design should be at the centre of things.
My idea was to get to the point where design is completely intrinsic. You can do that as an employee, but you will always be down the pecking order, or you can be a service provider, but you will never control how the thing is marketed. What I am trying to do is have a degree of control through ownership.
CK: How do you approach interior design?
TD: You have to spend a lot of time lobbying. The projects are often very personal to the client. It's not a clean slate at all. You need to challenge existing ways of selling and lighting things. It's a diplomatic post rather than a design job. I'm a beginner in architecture. I've only been doing it for a couple of years. I recently completed the interior of Shoreditch House and at the moment I'm busy working on a water tower, a conversion of an
industrial building.
CK: You have been described as 'a vertebrate designer'. What does that mean?
TD: My approach is to grow an object from its bones outwards, and that will then define its shape. A lot of people are concerned about what the outside looks like before deciding how to make the thing. That's increasingly the case in a computer world – you decide the skin of an object and then how it is manufactured. I tend to make the skeleton of a thing first and then cover it or adorn it. Structure first and then shape afterwards.
CK: It could be said that your career has been steered by motorcycles. You got into design while recovering from one of your eight motorcycle accidents in 30 years! What's their appeal?
TD: It's a mode of transport that is very attractive to look at. The fascination is that it's also a vehicle that you can take apart and put back together. It has a basic functionality that I find very appealing.
CK: Would you like to design one?
TD: Yes please. Are you offering?