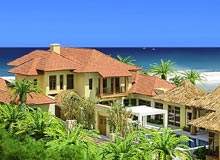 A long-haired 44-year-old who calls himself 'the maverick daredevil real estate entrepreneur', Frank McKinney has spent two decades creating 20,000ft² oceanfront mansions on speculation. The title of his first best-selling book, Make It Big!, encapsulates his dual philosophy: earn a fortune by developing enormous houses.
Though he plans to keep developing mega-mansions in Manalapan, Florida (Palm Beach County), McKinney has transformed his approach. He aims to make his newest project, and all future mansions, environmentally friendly.
"Every 14 days enough greywater will be collected to fill the average swimming pool."
Having broken ground on a 14,270ft², three-storey house that will cost buyers $25m, he's going all out to attain LEED-for-Homes® certification from the US Green Building Council (USGBC).
To qualify, the house must be eco-friendly in various categories. Out of 69 possible points, 26 points grant basic certification, 33 earn silver-level certification, 39 wins gold-level certification and 52 achieves platinum-level certification.
McKinney's house won't lack energy efficiency. When he theatrically unveils the finished product on New Year's Eve, there will be enough solar panels on the roof to cover a regulation-size basketball court, says McKinney, further noting that a conditioned roof and concrete preformed walls will provide about five times as much insulation as Florida homes typically have.
Gary Shlifer, a LEED-accredited professional serving as McKinney's green consultant, sings the praises of the lighting system, which uses compact fluorescent bulbs, LEDs and low-powered metal halides, not incandescent lights. Motion detectors and timers will automatically snap off lights in unoccupied rooms. All these aspects, says Shlifer, will slash monthly electric bills to $500, whereas they might have been $2,000.
GOLD-LEVEL LEED CERTIFICATION
McKinney believes gold-level certification should be a slam-dunk, but he's struggling to be certified at all. Because his eight-bedroom mansion is so large, he must earn 26 extra points to achieve the same certification as an average-size house with a typical square-foot-to-bedroom ratio.
A USGBC document explains the rationale: 'As home size increases, so do both material consumption and energy consumption'.
"McKinney seized this chance to approach luxury construction in an environmentally responsible way."
McKinney won't know his total score until the 'green police' determine whether the completed house qualifies. Calling the 26 points a 'huge deterrent', McKinney wonders, "Why are you penalising someone who wants to go green? I guarantee we're going to work to change that for future builders."
INDIGENOUS DESIGN
When McKinney started planning this mansion, he didn't intend to make it eco-friendly. Instead, he sought a refreshing alternative to upscale local architecture, which tends toward Mediterranean revival, French provincial, Italian country style or Key West style.
Gazing at thatched, pagoda-like indigenous structures while in Tahiti, Bali, Fiji and Hawaii, he and his associates found their new look. (McKinney then needed to 'Floridise' the design for American tastes, also ensuring that windows and barrel roof tiles could withstand a Category 5 hurricane).
Knowing that a Pacific Island-style mansion would attract media attention – in fact, Tennessee-based River Media is making a documentary exclusively about the building of this mansion – McKinney seized the chance to approach luxury construction in an environmentally responsible way.
GREEN LUXURY
'Luxury' is certainly apt, given the two lifts, two wine cellars (for red and white), a cavernous movie theatre, a marble garage, an aquarium arching over a wet bar, 24ft-tall water walls and 11 bathrooms. The master bedroom alone is a 2,180ft² oceanfront suite with 60ft-tall windows.
As many of McKinney's properties have done, this one sits on 1.5 acres of Atlantic coastline, stretching west to the Intercoastal Waterway. Nevertheless, he made the house 25% smaller than his usual homes, opting instead to develop island-style exterior amenities: swimmable water gardens, tropical reflecting pools, a wooden bridge, waterfalls, gazebos and guesthouses.
"The eco-mansion's master bedroom alone is a 2,180ft² oceanfront suite with 60ft-tall windows."
McKinney, who says he 'put every decision through a green filter', makes the following claims. The house will contain abundant reclaimed wood and rapidly renewable resources, such as bamboo for floors and ceilings. About 340,000lb of construction waste (perhaps 80% of the total generated) will be diverted from landfills.
Every 14 days, enough 'greywater' will be collected to fill the average swimming pool. Nearly two-thirds of roof water will feed into water gardens. Collectively, the water features will lower the site temperature by two or three degrees, reducing cooling costs.
Similar to wide overhangs on Pacific island homes, 4ft eaves will cut the light and heat entering the house. Even the light the glassy house emits at night has been taken into account. Tinted windows will be installed to help prevent sea turtles exiting the water from being disorientated. The turtles' experience notwithstanding, most of the environmental benefits can be quantified, and a home automation system will do so, providing data about the solar energy harnessed, the air quality, and so forth.
THE FUTURE – ECO-FRIENDLINESS
This eco-friendly house is a far cry from McKinney's earlier mansions. He says that although they were well insulated, many elements were far from eco-friendly. "We knew of no other way. There was no solar power, no water reclamation and no thought given to renewable material use. In past years, the coconuts, palms and bamboos that we're using in this house would have been Brazilian cherries or mahoganies. It takes 50 years for those woods to renew themselves, whereas coconuts and the others I referenced take three years."
McKinney marvels at how insensitive one can be when uneducated about the environmental impact of one's profession. He's glad he learned a better way and says it's never too late to do so: "Either I sit back and continue to do things the way I did – or see the green light."
"If anybody sees greening as a trend they probably thought the internet was going to go away soon."
PASSING ON THE KNOWLEDGE
The new way hasn't come easily to McKinney or to general contractor Timothy Dale, another green-building novice. Although eco-friendly products have been surprisingly available, it's been hard to educate Florida subcontractors about making conscious choices at every level, from the big-picture items down to the non-toxic glue connecting plumbing pipe joints. However, Dale says, the project has generated so much excitement that most subcontractors haven't resisted the change.
But will buyers be able to resist? McKinney can't be sure that the ultra-wealthy will embrace an eco-friendly house that stylistically deviates from the norm: "I have to believe in my heart that it's going to work and that buyers are absolutely going to do backflips over this property. But if I'm wrong, I could be in big trouble."
The house must appeal primarily on an aesthetic level: "You won't know it's green. It's just going to be stunning." After wowing prospective buyers with dramatic features (e.g. a mosaic beneath an acrylic floor that makes it seem that one is walking on water), he'll inform them, "Oh by the way, it's green. Here's the certificate from the USGBC. Let me tell you how much energy we're saving, what our carbon footprint is."
McKinney initially wrestled with whether the greenness might deter house hunters but he couldn't imagine such a scenario: "I think we'll have a line snaking around the corner." Noting that environmentally responsible practices will continue for generations, he says, "if anybody sees greening as a trend, they probably thought the internet was going to go away soon."