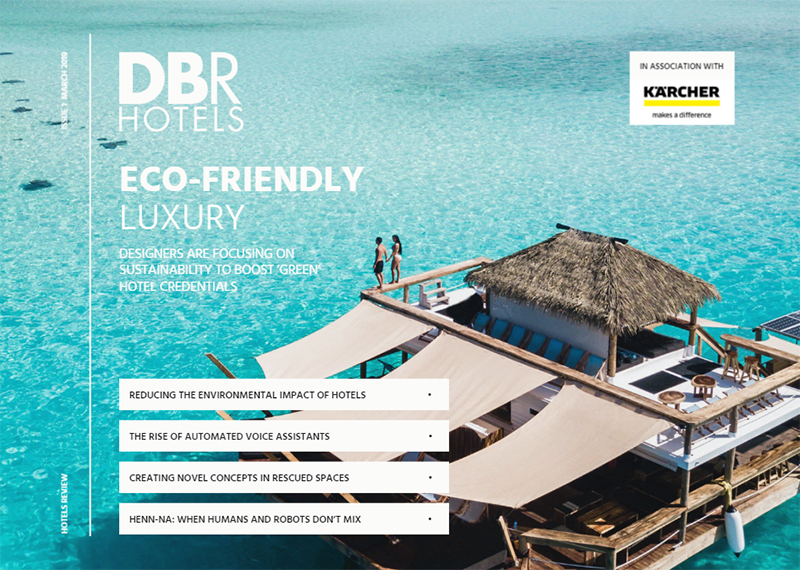 Welcome to the first issue of Design & Build Review Hotels, a new digital magazine dedicated to the design and development of hotels around the world.
In this issue, we take a look at the issues that pushed Japan's Henn-na hotel to lay off a large percentage of its robot staff in favour of human workers, examine the meat-free alternatives used to furnish the plant-based Vegan suite at Hilton London Bankside, and find out about the guest-focused development of Form Hotel Dubai, which incorporates novel features that allow visitors to customise their stay.
Plus, we profile prominent hotels that are working to reduce their environmental impact by integrating sustainable features into their designs, find out if hoteliers are ready to bet on voice assistants, round up exciting designs that turn outdated spaces into novel hotel concepts, and take a look at the latest luxury offering in Beijing.
Whether you are on an iPad, desktop, smartphone or other device, you can read the magazine for free online.
In this issue
Rage against the machine: lessons from the world's first robot hotel
When Japan's Henn-na "strange hotel" opened in 2015 it drew headlines by replacing human workers with robots. But with tales of malfunctions and general ineptitude, many of the droids have been given the boot. Ross Davies takes a look at what went wrong for the hotel.
Read more.
Animal alternatives: the plant-based textiles enhancing green credentials 
Instagram-friendly design solutions are all the rage in luxury hotels, particularly those looking to ramp up the desirability of exclusive guest experiences. In London, food design studio Bompas & Parr has found a way to weave a key consumer trend into the hotel space, creating the 'world's first' vegan guest suite that is decked out exclusively in plant-based materials. We find out more about the textiles used to furnish the suite.
Read more.
Form and function: Dubai's guest-focused development
Dubai is known for its extravagant and luxurious hotel designs, but a new concept in the city's Al Jadaf neighbourhood is making headway for its novel features that allow guests to personalise their stay. We find out more about the guest-friendly design of Form Hotel Dubai.
Read more.
Eco-friendly design: the rise of self-sustainability in hotels 
Reducing the environmental impact of hotels is a key issue, particularly for the growing number of eco-conscious consumers who are willing to fork out for a guest experience that ticks both ethical and luxury boxes. Patrick Kingsland profiles six hotels and brands integrating sustainable features into their designs.
Read more.
The smart move: are hoteliers ready to bet on voice assistants?
Just as they sit in many modern households, voice assistants, such as Alexa and Google Assistant, could soon be a commonplace feature in hotel rooms. The benefits for guests and hoteliers are clear, but questions over privacy remain, as Ross Davies reports.
Read more.
Recycled spaces: breathing new life into outdated structures
Sustainability in design is not limited to the eco-consciousness of the materials used in construction, but also includes the space that the structure is erected upon. As guests seek out increasingly novel hotel experiences to enhance their stay, we take a look at some of the striking hotel designs that repurpose existing spaces to create innovative guest experiences.
Read more.
The Puxuan hotel and spa: inside Beijing's latest luxury offering 
Designed by Ole Scheeren, the Puxuan hotel and spa is the latest luxury offering from urban resort concepts located just a stone's throw away from the Forbidden City. We take a look inside the eye-catching design of this unusual concept.
Read more.
Next issue – June 2019
In the next issue of Design & Build Review Hotels, out in June, we take a look at the rising demand for 'authenticity' in contemporary hotel designs, explore Damien Hirst's $100,000-per-night Las Vegas Suite, and find out how motels in the UK are revamping the roadside guest experience with luxury designs for budget prices.
Also, we examine Woods Bagot's winning design for Sydney's first luxury hotel in 20 years, profile notable ways that hotels are using interior design to target well-being trends, and review Peter Pichler's designs for Tree House hotel rooms in the Italian Dolomites.
Plus, we take a look back at some of the most iconic hotel foyers throughout history and find out how the 'home away from home' trend is influencing the design of modern hotels.