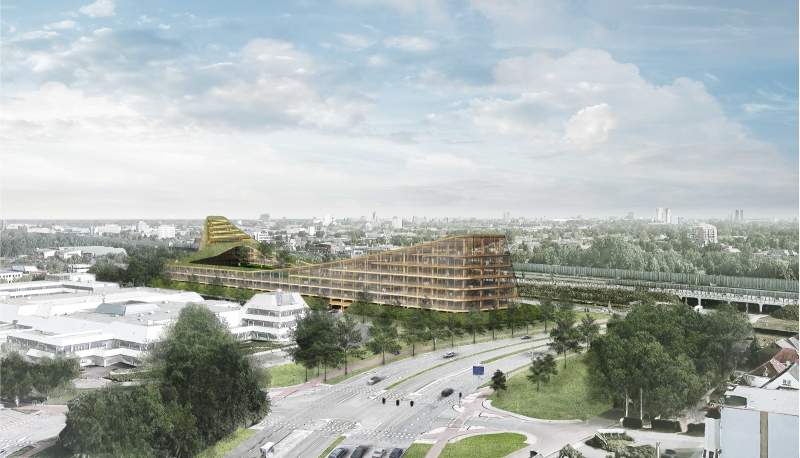 In and around the Dutch city of Eindhoven, there's no shortage of big brains. Home to dozens of smart tech companies, the region has been branded as 'Brainport' for its extensive knowledge-based economy, which has also seen it referred to as 'the smartest region in the world'. Much like California's Silicon Valley, the growth of the local tech sector and the need to attract top talent has helped drive demand for cutting-edge sustainable building design.
One of the most ambitious plans currently on the drawing board is the Dutch Mountains project. Designed by Studio Marco Vermeulen and being developed by a large consortium of partners including creative development agency BLOC, zoning specialist Urban Xchange and regional development firm Brainport Development, Dutch Mountains is on the brink of a final investment decision.
If it gets the green light, the project will begin preliminary design and engineering work – Arup has joined the team to carry out the engineering – before starting construction in late 2019 for a targeted completion by the end of 2020.
The Dutch Mountains concept
The 88,000ft² building, whose name is slightly tongue-in-cheek – mountains are in short supply in one of the flattest countries on Earth, so why not let sustainable architecture fill the void? – will house innovative Brainport companies as well as a hotel and short-term accommodation. The structure is being designed to be a paragon of sustainability and the circular economy.
Clad in a shell of cross-laminated timber (CLT), the gently sloped Dutch Mountains structure will become the largest wooden building in the world once complete. Other sustainable features include a large surrounding park and green roof to provide rainwater buffering, air purification and indoor temperature regulation. The building's façade, which is planned to be made out of local recycled aluminium, will be able to produce energy via power-generating glass panels. The Dutch Mountains' circular design intends to create closed cycles for energy, water, waste and materials, making the building self-sufficient and minimising waste.
Perhaps even more ambitious is the fact that the project is being designed as a 'total service system' in which both digital and physical components will be delivered by suppliers as a service, allowing for outdated systems and even structural components to be replaced individually over time.
How well do you
really

know your competitors?

Access the most comprehensive Company Profiles on the market, powered by GlobalData. Save hours of research. Gain competitive edge.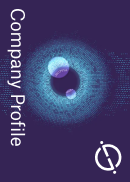 Company Profile – free sample
Thank you!
Your download email will arrive shortly
Not ready to buy yet? Download a free sample
We are confident about the unique quality of our Company Profiles. However, we want you to make the most beneficial decision for your business, so we offer a free sample that you can download by submitting the below form
By GlobalData
"We knew there must be a development path in which you can pluck out the old façade and bring in a new one, with new technologies," says BLOC founding partner Lennart Graaff. "But for that, you have to think in terms of services, not real estate."
Moving mountains
The Dutch Mountains trace their origins back to 2011, when Studio Marco Vermeulen first attempted to get the project off the ground. The looming housing crash put paid to that plan. "For that reason it didn't work out," says the studio's founder and principal architect Marco Vermeulen. "Nothing really happened because of the crisis – there were developers, but it was impossible to realise it."
It was in 2016 that BLOC re-energised the flagging Dutch Mountains project, combining Vermeulen's sustainable design with the developer's own circular ideas. What was it that drew BLOC to push the Dutch Mountains forward?
"For starters, a fantastic design and a fantastic architect that I've worked with a lot," Graaff says.
"I know Marco is a very systematic architect, so he's thinking about systems and not about buildings. I thought it was a great opportunity to start an experiment – what will happen if you bring tech companies and service providers together and create a sort of service-based environment, and design a building to embrace that environment?"
Is the Dutch Mountain concept viable?
Over the last 18 months, the project has built a large and varied team of partner manufacturers and service providers – from IT specialist Dell Technologies to systems integrator Beveco and French construction firm SPIE – to develop ideas and investigate the viability of the project. This process established its basic feasibility, and including suppliers at a much earlier stage gave the team a chance to get the partners on the same page from the start for what will be a complex undertaking.
"That was very important because then you start moving in the same direction," says Vermeulen. "For some partners it's second nature, they can easily fit their team in, and for others they really have to reinvent their own organisation."
Financing has been a challenge, as it's difficult to put an exact value on the project's pioneering sustainability and circular features. "To make a building completely out of wood is of course fantastic, but it's not exactly clear what somebody who wants to rent space in the building is willing to pay for it," Vermeulen says. "That also makes it difficult to finance. It means that for future renters, you really have to select those that really relate to the ambition."
"I think the challenge is to think in a value case, not a business case," Graaff adds. "Financially you have to think further [ahead] than you normally would. A wooden structure is more expensive than bricks and mortar, but if you think in terms of value, it's also more valuable than bricks and mortar. But it's an unusual proposition.
"We were approached by the National Green Fund, an investor in forests and nature, and they were pretty excited about this concept, and they are willing to finance the wooden structure and the park. They normally don't invest in cities, so getting a new vision also invites new investors, and that's been a good insight for us."
A new scale of wooden construction
The Dutch Mountains would certainly be a step forward for large-scale timber construction in the 21st century. Innovations in cross-laminated timber have made wood increasingly compelling as a primary building material, but the Dutch Mountains project is aiming to prove that the concept works, and brings significant benefits, in large builds.
"With multiplex wood, you have different layers of wood glued together in different directions," Vermeulen says. "Normally you only have that on a small scale, but now in the last 10 years, there is a new technology that can also do that on a large scale, which means you can construct complete floors with low-quality wood, which means fast-growing wood. If you mount it together in different directions, then you have a perfect construction material with which you can make floors, beams – everything. You can also completely pre-fabricate the building."
Building with wood supports the project's sustainability goals, from a reduced carbon footprint in production to the material's ability to sequester and store CO2 – the latter of which could provide long-term value as European carbon pricing mechanisms develop in the future.
Vermeulen also favours the material for the aesthetics of the project, which aims to be an analogue house for digital innovation. "The texture, the tactility of the material is very nice to work in," he says. "Even just looking at wood makes you feel more healthy. I think it's a high-tech/low-tech combination. We'll have people working there on very innovative projects, fixated on their screens. With that, I think it's very nice to work in very tactile, natural-based environment."
The benefits of circular thinking
As well as providing a template for timber-based construction at a new scale, the Dutch Mountains team is hoping the project will serve as a white label of sorts for circular building design and the building-as-a-service model. As suppliers are being consulted at the earliest design stages, their products will be provided as a service, allowing for extensive upgrades to building components as more advanced alternatives become available.
"It should be easy to dismount parts of the building," Vermeulen says. "In the normal building process using concrete and steel, everything is linked together and it's very difficult to dismount it, so you have to demolish it. By demolishing, you just create waste. But by dismounting or disassembling, you actually get new building materials that you can relatively easily reuse.
"The easy example is the façade; it must be very easy, let's say in five to 10 years, to change the first generation of powerglass into a new generation of powerglass, because this is a clear example of technology that is very rapidly evolving at the moment."
With CLT a potential sustainable source of supply to meet sky-high housing demand in many countries and circular innovations becoming increasingly prevalent in cutting-edge building design, the type of structure exemplified by the Dutch Mountains is likely to move into the mainstream, and the project partners are hoping to be at the forefront of the transition.
"We've done this not only for the Eindhoven region, we've done this to provide a new vision on construction and eco-construction," says Graaff. "And that's our vision for buildings and for eco-systems worldwide, not only in Eindhoven. So I hope this will be the first of many."