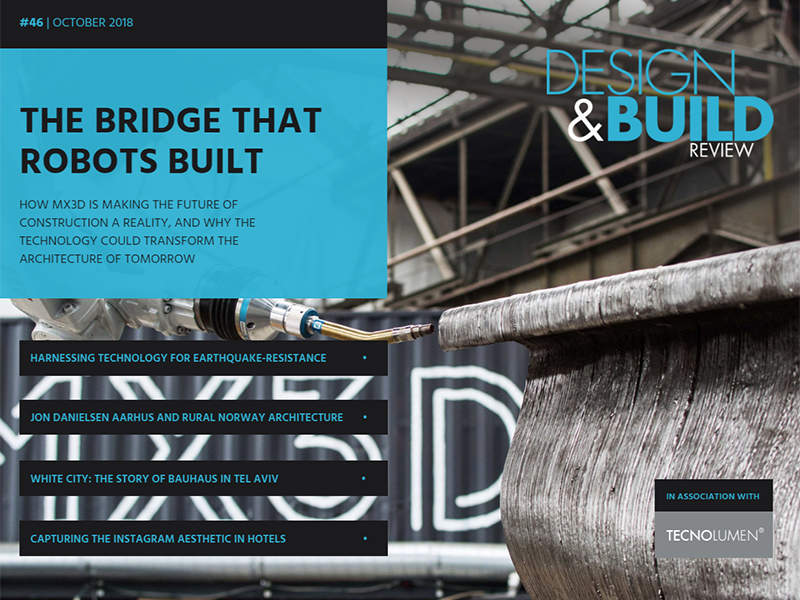 Design & Build Review is back for another issue packed with insightful architecture and thought-provoking design. And in this issue, we're looking at some the innovative people and technologies driving change in the field, as well as kicking off our season of Bauhaus-related content and launching our supplement dedicated to hotel design.
Whether you are on an iPad, desktop, smartphone or other device, you can read the magazine for free online.
In this issue
The Bridge that Robots Built: An Interview with MX3D
3D printing has been proposed as a future construction tool for several years, but now it's becoming a reality, with MX3D using robots to 3D print a functional bridge in Amsterdam.
Read more.
Jon Danielsen Aarhus and the Architecture of Rural Norway
We speak to the Oslo-based rising architectural star Jon Danielsen Aarhus about his traditional-looking rural cabins and views on the rapidly developing Norwegian capital.
Read more.
White City: The Story of Bauhaus in Tel Aviv
In the first of a season of articles celebrating 100 years of Bauhaus, we look at Tel Aviv's White City – a collection of some 4,000 Bauhaus and International style buildings.
Read more.
DBR Hotels: Dedicated Hotel Design Supplement
We launch our dedicated supplement on hotel design, and in this issue we're looking at smart technologies and the role of Instagram.
Read more.
And much more architecture news, insight and analysis in the latest completely free issue of Design & Build Review, available to read on all devices.
Next Issue
In the next issue of Design & Build Review, out in December, we'll look at at how advances in engineering and design technology are driving revolutions in stadium design, and find out how new materials and changing trends are shaping the latest in bathroom designs.
We'll also be continuing our Bauhaus season, which celebrates 100 years of the design school, with a look at the changing role photography has played in shaping our perceptions, interpretations and references to the design aesthetic.
Plus in our continuing hotel design supplement, we'll look at how wellness trends are defining new developments within the eco-resort, where sustainable design and hotels meet.