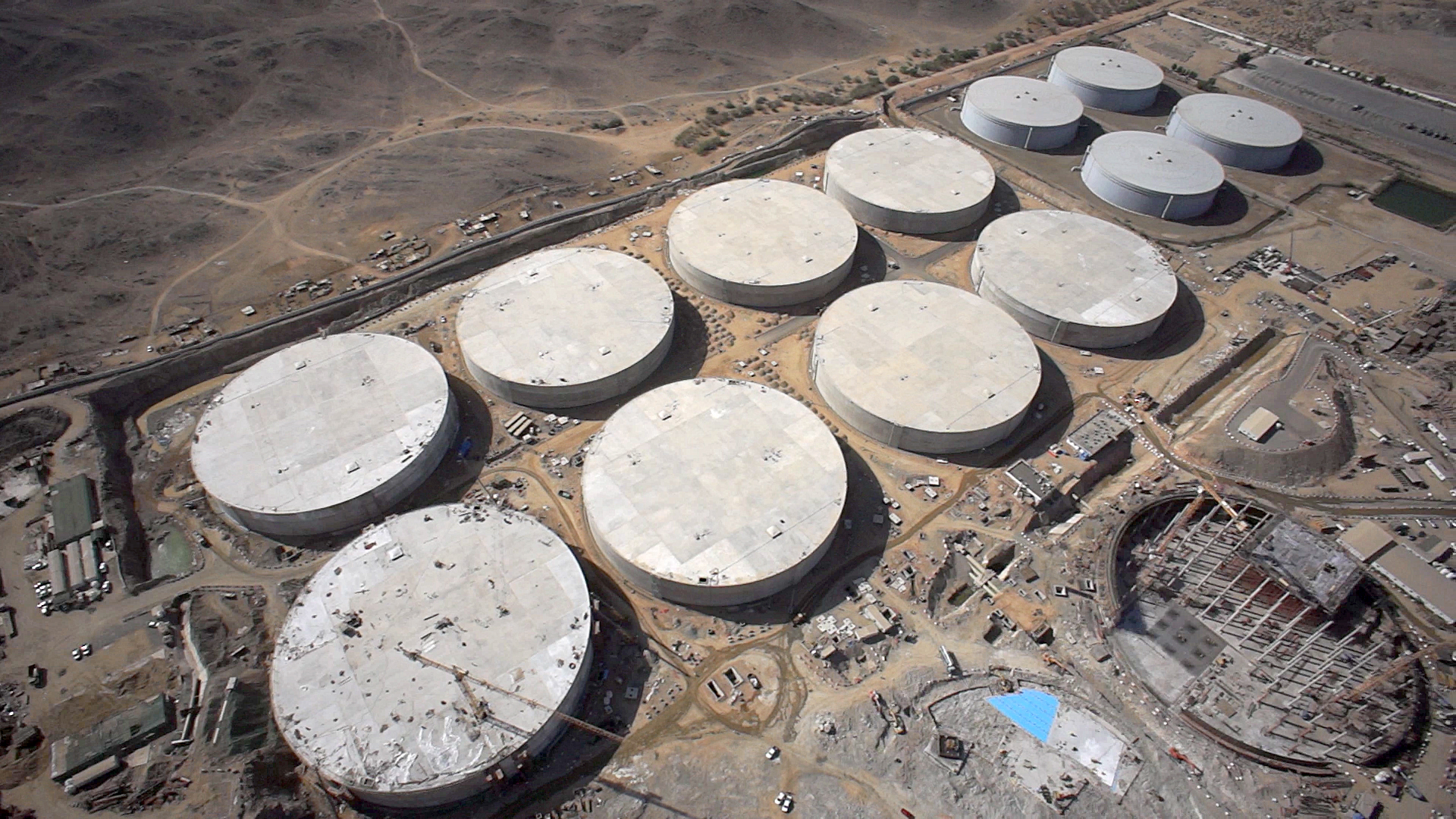 The Briman Strategic Water Reservoir in Jeddah, Saudi Arabia, is currently the world's largest drinking water storage facility, says Simon White, Atkins' technical director and the project's design manager.
The project, which had a cost of approximately $200M, was entered in the Guinness World Records in November 2014 — it has also received a Highly Commended award for Outstanding International Design project at the British Expertise International Awards 2015 and the National Water Company Saudi Arabia key project award in 2016.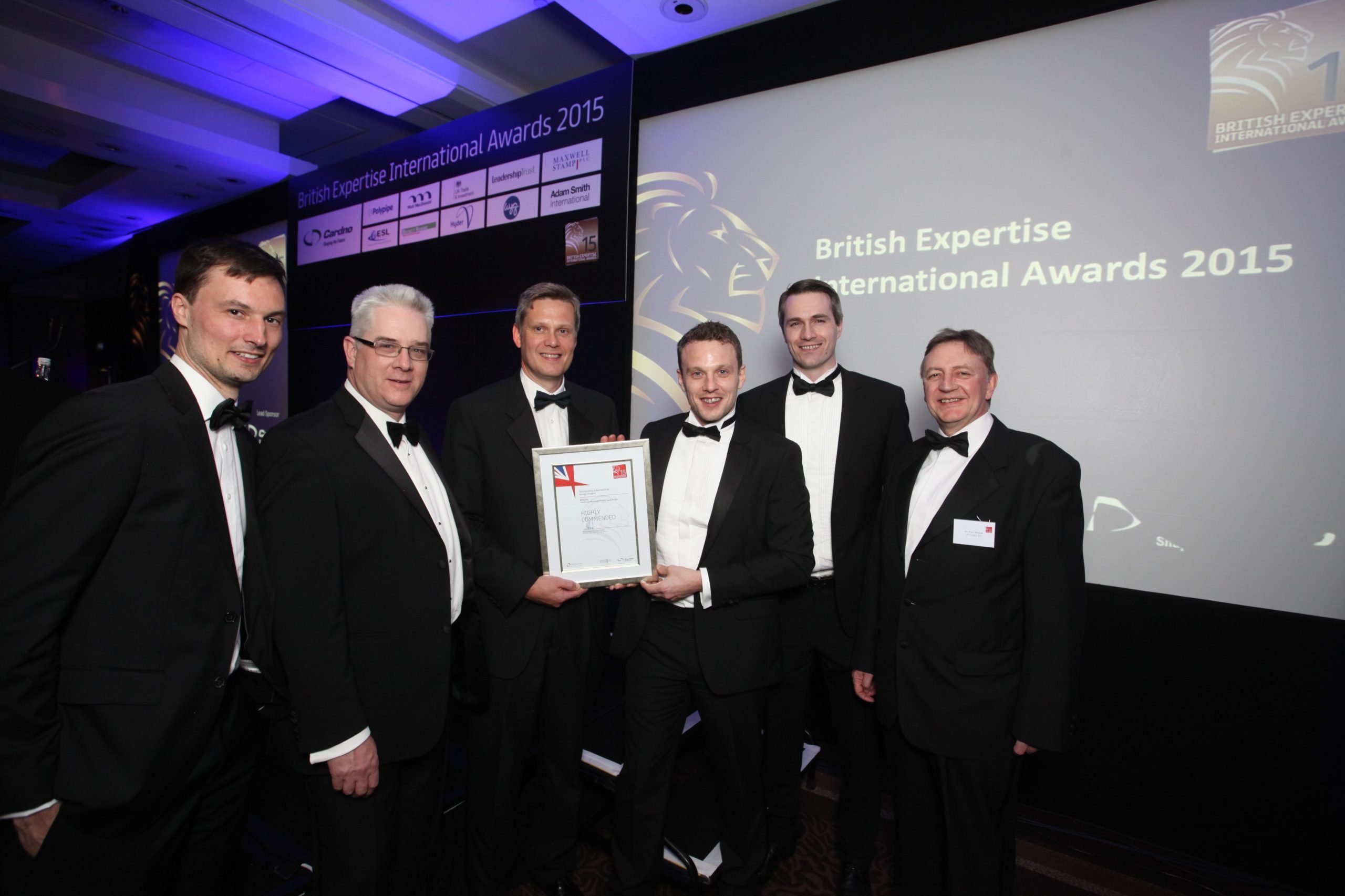 Atkins' team receiving the Highly Commended award.
The scheme comprises 11 circular tanks, each being 120m in diameter and 18m in height, hydraulically linked providing a storage volume of over 2.06M cubic metres of drinking water — the equivalent to 800 Olympic-sized swimming pools.
White says: "If you imagine one of our reservoirs, it's the equivalent to two Boeing 747 aircrafts end to end and four double-decker London buses on top of each other. They are quite phenomenal and we don't just have one, we have 11 reservoirs all on one site."
The National Water Company (NWC) was committed to the project, as the city of Jeddah was in need of a more strategic source of drinking water due to its growing population. This growth has been reported by the Arab News in 2013. It stated that the population rose from 1M in 1970 to 1.4M in 1986, passed the 2M mark in 1993 and dramatically increased to 3.2M in 2010, and it is expected to continue rising.
The King Abdulaziz International Airport is also carrying out an expansion project to expand its capacity to 80M passengers a year by 2035.
A consortium of Al Muhaidib Contracting and Vinci Construction UK delivered the scheme, which was completed in 2015. Atkins was the multi-discipline detailed designer, completing the civil, structural, architectural, geotechnical, hydraulic, mechanical, electrical, and the process design.
The strategic reservoir, part of the first phase of a programme of work commissioned by NWC, has been providing drinking water to the people of Jeddah for nearly two years now — and everything is running smoothly.
"Everything is working as the design is intended, which is a reflection of the successful partnership of all the different companies that worked on the project," says White.
As NWC was looking to store as much water as possible on site, the consortium and Atkins had to develop an innovative design, which was quite different to more traditional approaches used to construct reservoirs.
White says: "The job was first tendered in 2011 using a conventional design with rectangular concrete tanks of a conventional height. They were 300m by 200m in dimension and would have used all of the site's area that the client wanted to use for future phases.
"We subsequently came up with an innovative alternative design that used post-tensioned engineering and allowed us to increase the height of the water we were going to store on site. Instead of storing 8m height of water on site, we are storing 18m of water."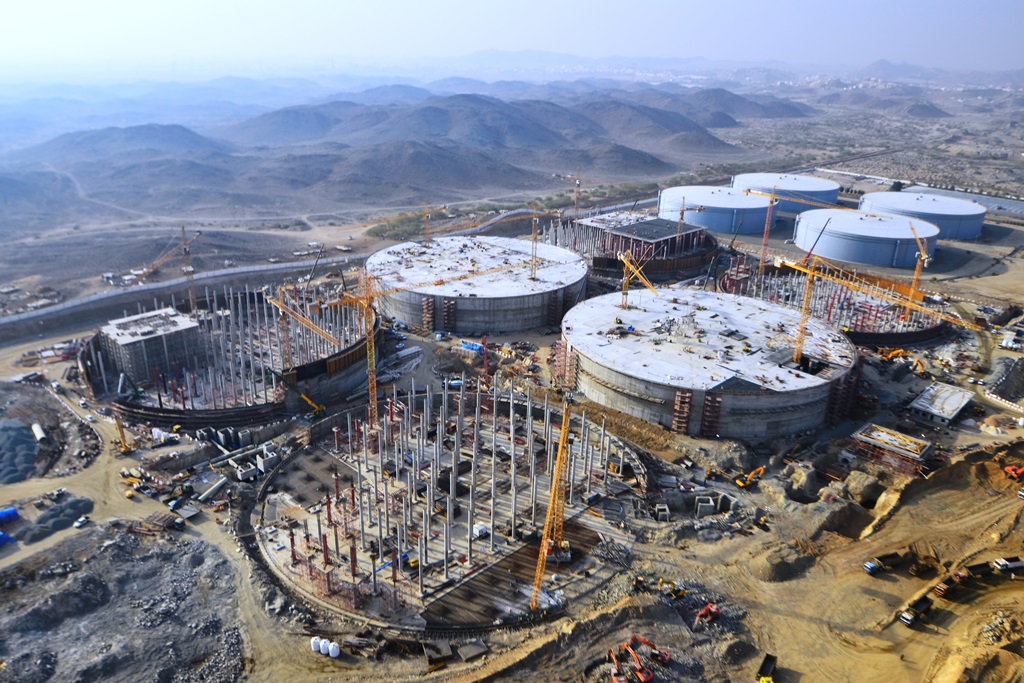 The strategic reservoir was built using post-tensioning technology.
The post-tensioned circular concrete tanks, according to White, "have ducts inside the concrete structure that contain cables that are pulled together tightly, compressing the concrete to close cracks and make it watertight".
"To go to the heights that we were talking about, it was impossible to use conventional technology. If we used normal reinforced concrete you just couldn't get above 10m of water height without it becoming very expensive and to be honest this was not suitable for the type of structure that we were designing," says White.
According to the Post-Tensioning Association, post-tensioning involves stressing the tendons after the concrete has been placed and cured. The tendons are cast into ducts or sleeves to allow the strand to slide through the hardened concrete. Corrosion protection is normally provided by injecting cement grout or grease.
The technology is commonly used in the construction of bridges, floor slabs and silos, however it was the first time that it was used in a project of this dimension.
White says: "It's not the first time that this type of technology has been used in a water reservoir in Saudi Arabia or in the world, but it was used at smaller scales. It's the first time in Saudi Arabia that it was used in such a large and strategic reservoir."
The scheme was carried out in a busy environment, where at times there would be around 17 different nationalities working on the fast moving project. In order to minimise communication difficulties and, therefore, mistakes, virtual reality was used.
"We developed all of our design and drawings in 3 dimensions, driving a digital agenda. We actually used 3D printing to create images of the site and then we linked augmented reality to those 3D images," says White.
He adds: "We developed our own software to view our 3 dimensional design using an iPhone or smartphone. The phone would be inserted into a virtual reality handset and then we were able to send anyone involved in the project the design information for the job."
And that was useful when dealing with complex works: "When we were discussing very complex technical issues, it was very important to simplify those issues and we best did this through images. We created a portal into Atkins design world that could be used by everyone working on the project."
According to White, the walk-through technology was specifically created for this project to allow anyone working on it to have access to the design and ultimately be able to walk and stand in the middle of the reservoir.
"We created a fully immersive virtual reality experience for the project. We wanted to create something that would allow the users to have the freedom to walk around the site, but also to have a guided walk through.
"Within 10 or 15 minutes of following the guided tour, they would have a good understanding of the reason, complexity and scale of the project as they were viewing it in a first person mode," he says.
The walk-through technology has already been used in several projects.
As any project that is developed in Saudi Arabia, the hot weather is always a challenge. The only solution for the issue was to have flexible working hours.
White says: "When the temperature was too hot we would work at night. Staff would start at 6 o'clock in the morning and work until 11, take the middle of the day off when it was too hot and then start on site again later on."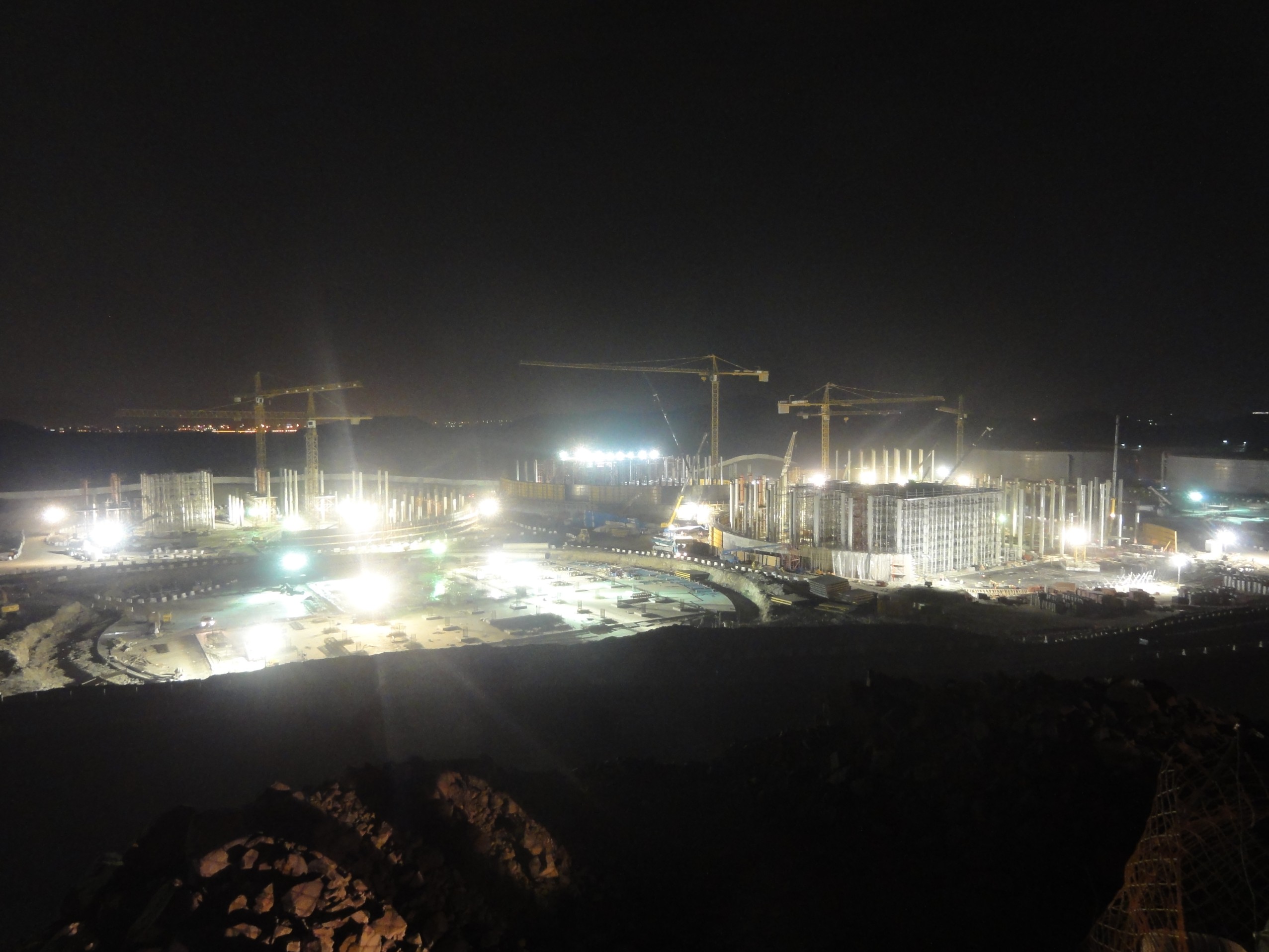 The construction team worked on the project during the night.
Besides this, there weren't any major difficulties. "For a project of this size, it is a real achievement that were really no major challenges during the construction. Using technologies such as augmented reality in the design stage, we could ensure accuracy during the construction phase."
Even though the project has claimed the Guinness World Record for being the world's largest drinking water facility, that's not the most important thing for White. "[The strategic reservoir] is going to provide secure water for emergencies and unpredictable situations to the population of Jeddah from many years to come and that's something that myself and Atkins are really proud of."
<iframe src="https://tds.gd/c/TJRFVE9/chart/" style="width:500px;height:350px;border:0;" frameborder="0″ scrolling="no"></iframe>
* Data provided by Timetric's Construction Intelligence Center.