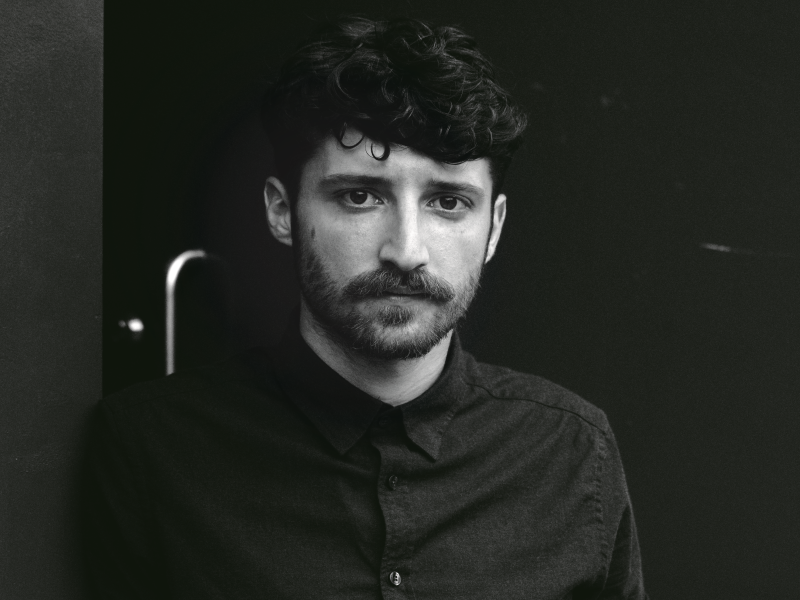 He has delivered set designs and installations for catwalks and fashion shows; is building an extension at a pre-school nursery in the north of England; and has recently converted a primary school in Spain that he once studied at as a child.
The sheer variety of work produced by Benni Allan – a young, London-based emerging architect – is certainly striking. But for those who knew the 29-year-old when he was growing up, it probably won't come as a surprise.
Allan – who runs his own three-person studio called EBBA ARCHITECTS – was born in a small town called Alfaz del Pi, on the eastern coast of Spain, roughly an hour's drive from Alicante.
During his youth, he remembers building treehouses, a mini skatepark in his garden and helping paint and knock down walls at the local school his father owns and manages.
"A desire to make things is always something I have had," he says. "I grew up with a family who tried to do everything themselves."
Back to school
It is perhaps fitting then, that last year Allan returned to Alfaz del Pi to help convert the school he studied at – a prefabricated building established by his father in 1973 that the architect affectionately refers to as "a glorified shipping container".
The project involved re-cladding the facade with brightly coloured, corrugated panels normally used for agricultural buildings and warehouses. It was constructed by Allan, his younger brother and a group of students from the University of Greenwich in just three and half days and delivered for the meagre sum of £1,000.
"It has had such an amazing impact on the children of the school and even the town," Allan says. "To be able to return to a school that was so important to me and give something back has been one of the most rewarding projects I have done."
Allan is now working on a project to extend and remodel a nursery in Manchester. The building used to be a security gatehouse for the city's biggest children's hospital, which was sold off in 2012. The form of the new structure is an attempt at tying the project to the character of the site, Allan says, which is dominated by semi-detached pitched roof houses.
"The brief was to create one large preschool room which would be used by a whole new set of children," he says. "Within that larger space we have created a plan which will allow smaller spaces to be set up – nooks and niches where children can find spaces to play, spaces for discovery."
"Open-ended architecture"
The idea of allowing children to create their own environments echoes Allan's wider interest in what he calls "open-ended architecture" – a way of designing spaces that reflects how everybody uses them differently.
"It all stems from an idea that we have as a practice that you shouldn't be too prescriptive about how spaces should be used," Allan explains. "Everybody has a very different sense of what a good space is. And so with all of our projects we try to leave things open-ended and allow spaces to be transformed."
One of Allan's most recent projects was to design Stockton, a new venue in Deptford, south London, which functions as a relaxed cafe during the day and a cocktail bar at night.
"The aim of that project was to produce almost a blank canvas where the client and the people who use the space can end up deciding how it gets developed, and how it might be finished," says Allan.
This approach and Allan's other forward-thinking projects have helped attract considerable attention since he graduated from UCL's Bartlett School of Architecture.
The architect, who previously worked for Níall Mclaughlin and has also spent time in China, was listed as 'One to Watch' by the British Design Council in 2015 and received a shortlist nomination for RIBA's Rising Stars Award in 2017.
"Functional but beautiful"
Though Allan's studio has had a steady stream of work since setting up in mid-2017, he admits starting a practice can be difficult, with clients becoming increasingly risk-averse and worried about projects running over budget and deadline.
"We have got the resources to deliver but there is often a perception that you need to have a big enough team and a big enough turn-over to be able to take on a project," he says. "There should be more trust that practices can deliver."
Nonetheless, the young architect remains optimistic going forward, with his studio involved in a range of new projects from cultural work with galleries and research into virtual reality, to new renovations, extensions and a building for a photographer's studio.
While these projects might sound disparate, Allan says a common thread runs through all of them.
"We like to make functional but beautiful things," he says. "That can be anything from a small-scale project which might involve just a piece of joinery or an object of some sort, through to much larger projects like the children's nursery and the school. We try to insert that kind of quality into all of these projects."