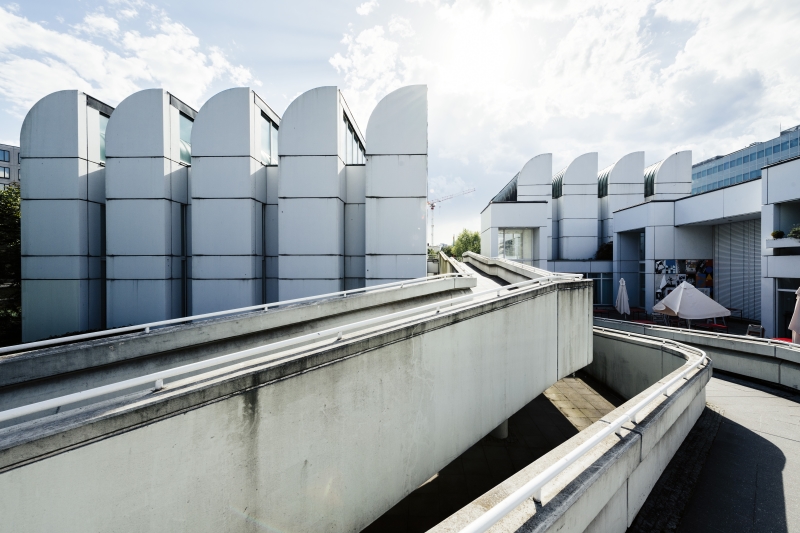 On 1 April, the world marked 100 years since the founding of the Bauhaus – the German-born movement that laid the foundations of modern architecture, and whose influence can still be found on everything from Apple iPhones to Ikea's folding chairs.
To date the centenary was celebrated with a flurry of events. The Bauhaus Imaginista programme, for example, explored the movement's global legacy in nine cities around the world including New Delhi, São Paulo and Lagos.
The movement has also been celebrated with new spaces to admire its adherents' work. A new Bauhaus museum will also open in Weimar, the birthplace and one-time home of the legendary school.
While the centenary offers an important opportunity to look back and reflect, it also provides a chance to look forward; to ask whether a movement which hoped to forge a new world order could feasibly happen again.
In an era currently marked by crisis – economic, political and environmental – could a new architectural language emerge in the spirit of the Bauhaus, and come to dominate as it once did?
The birth and collapse of Bauhaus
To answer that question requires understanding something of the circumstances under which the Bauhaus began. It was founded in 1919 by German architect Walter Gropius, a college dropout who would become one of the finest architects of his generation.
The school sought to combine fine arts, craft and design into one total work of art, known in German as Gesamtkunstwerk. Its agenda was nothing short of revolutionary – the creation of a new aesthetic for modern industrial society following the devastation of the First World War.
"The Bauhaus came about during a period of fundamental social change in Germany after the First World War – from a strongly hierarchical empire into a democratic republic," says architecture historian Arne Winkelmann.
The founding of both the new democratic republic and the Bauhaus took place in the same small, but culturally important city of Weimar – the isolation of the province proving the perfect place for both to focus on a new beginning according to Winkelmann.
"The solitariness of Weimar ensured that the students weren't distracted by the needs and entertainment of a metropolis like Berlin and could fully concentrate on their studies," he says.
But the movement also faced relentless opposition from conservative politicians who loathed both its principles and its international composition. A third of the school's professors and a quarter of its students came from abroad.
"Because of this enmity the Bauhaus had to leave Weimar and also Dessau and finally had to close in Berlin," says Winkelmann. "Its logical end came a few weeks after the takeover of the Nazis. Birth-and-death dates of democratic Germany and the Bauhaus are same: 1919 to 1933."
A new Bauhaus
If a new movement was to have an impact on contemporary design and architecture as deep and lasting as the Bauhaus it would require a similarly revolutionary change in society – "a fundamental social shift", according to Winkelmann.
Just as Bauhaus was forged in crisis, Winkelmann believes a new school would also most likely be born out of catastrophe or conflict – of which there is no shortage of modern contenders. From climate change and natural resource depletion to rising nationalism, the world faces converging crises that require urgent action.
And just as Bauhaus once acted as a de-facto face of the young democrat Germany, this new movement would also support the new social, economic, or more importantly ecological aims and targets of society, says Winkelmann.
"We would become useful advisers in designing everyday things and buildings that could change habits and conventions in our daily life," he says.
Of course, building a movement that could change design and life as comprehensively as Bauhaus did would not be easy. Winkelmann admits his "imagination isn't strong enough to anticipate or picture a phenomenon like that".
Perhaps the only recent movement which has come close, at least in terms of scale, is parametricism. Associated most commonly with Patrik Schumacher, who now heads Zaha Hadid Architects, the concept involved using computer-based technology to generate extravagant and exotic new shapes and structures.
But while parametricism proved extremely popular in the first decade of the century –  Schumacher calls the movement "the dominant, single style for avant-garde practice today" – the flashy, radical shapes its proponents created can hardly be thought of as an answer to today's political and environmental challenges.
An enduring legacy
If the Bauhaus movement can point a way forward it will be less through the so-called Bauhaus style (which is hard to define) or designs (which have been "explored to their end" according to Winkelmann) and more in the teaching model the movement advanced.
"It is a particular design strategy rather than any specific vocabulary or Bauhaus style that made the movement so influential and successful," says Winkelmann. "It embraced a way of thinking about a design task, working out what is essential and necessary and leaving out the superfluous and purely decorative elements.
"I don't think that the Bauhaus design would be useful but the Bauhaus pedagogics – the education – would be. A fundamentally different way of teaching architecture, arts and crafts could be a strategy to deal with new challenges."
What is clear is that despite adversity these ideas have proved extremely hard to extinguish over the years. Even when the school was closed in 1933 it survived through emigrating professors and students who spread its ideas internationally and turned the movement into a kind of diaspora.
And even today, "in a time and age of fast-moving trends and fashions, where interests and styles change weekly or even daily," interest in the Bauhaus remains strong, Winkelmann says, and this year's centenary celebrations are yet another indication.
"After 100 years we have retained our interest in the modernist movement," Winkelmann says. "It is astonishing."