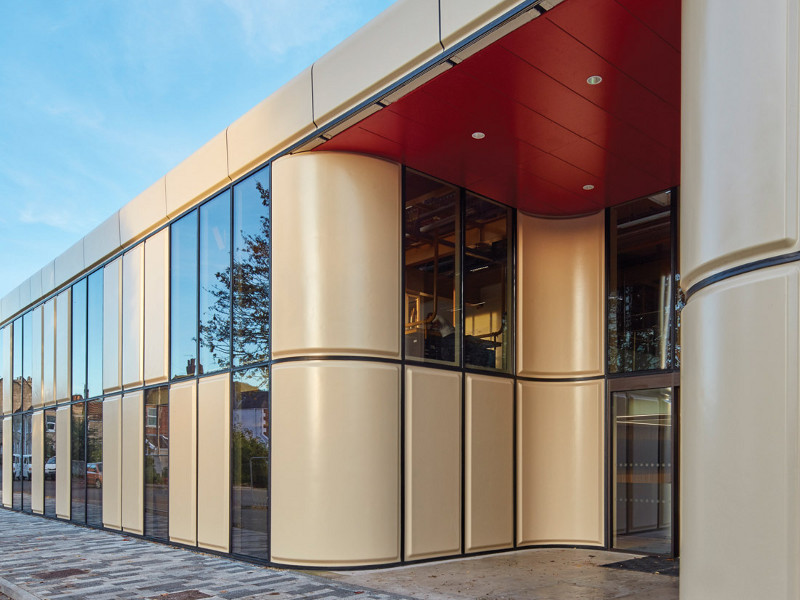 Words by Corinne Julius
Photography by Paul Raftery
Arriving at Bath Spa University School of Art and Design is like travelling in a Tardis and arriving in the 1970s. Curved cream GRP panel walls, in a bronzed frame with bronze windows sit, as if just landed, in a rather tatty industrial estate next to the Avon. This is the Action Factory, so called by its architect Nicholas Grimshaw who designed it for client Herman Miller. Designed as the ultimate flexible space, Grimshaw claimed in 1978: 'One should envisage even the possibility of turning the whole building over to offices.' In 2016, 40 years after its completion, Grimshaw's practice was asked to undertake its conversion from manufacturing facility to educational establishment.
The new Bath Spa University reception seen from ground level and looking down through the mezzanine
To turn a factory into a university is no easy task, but then 'flexibility' has been the Grimshaw mantra, since Nick Grimshaw was a student at the AA, under tutor Peter Cook. After graduating in 1965, he set up Farrell/Grimshaw with Terry Farrell; their projects were a byword for flexibility and the ethos of the plug-in city.
In 1967, they converted six nineteenth-century terraced houses into student accommodation, with Grimshaw creating a then 'space-age' central spine; a spiral tower of plug-in plastic bathrooms that were made by a company manufacturing such facilities for boats and caravans. It was swiftly followed by the Park Road Apartments that used commercial building practices such as industrial cladding and a central services core to ensure the interiors offered maximum flexibility. Farrell and Grimshaw parted, but Grimshaw has continued to believe in flexibility, so the proof of the pudding is in the eating, in this case their last joint big project, the Herman Miller factory in Bath, completed in 1976.
The new Bath Spa University reception seen from ground level and looking down through the mezzanine
'We wanted to call it Action Factory,' says principal architect on the conversion, Ben Heath. 'It was where Herman Miller fabricated its innovative Action Office modular system.' Fortunately wiser counsels prevailed. Higher education, especially art and design faculties these days, are all too often perceived by both disillusioned staff and students as production lines; happily, despite its genesis as a factory, the new Art and Design School takes a very different pedagogic view, putting experimentation at its core.
The rooftop extension is set back to avoid being obtrusive
The university recently reorganised its structure to create two separate new schools, one of art and one of design. Kerry Curtis, head of the latter, says: 'We were blown away by the original brief from Herman Miller. It really aligned with our values and suited our needs perfectly.' Dan Allen, head of the art school, concurs: 'Taking on that brief was a mandate to teach differently. In the past we had to adapt our practices to suit the building, but now we have a building that doesn't dictate, but informs how we teach differently. It's very exciting for academics.'
The orginal steelwork, in yellow, was retained
The original brief for the building — of which Nick Grimshaw said in 1976 was 'so short it was practically a poem' — was followed closely by the university. It aimed to create an environment that 'encourages an open community and fortuitous encounters, welcomes all, is kind to the user, changes with grace, is person-scaled, is subservient to human activity and forgives mistakes in planning'. In addition it was to enable this community to 'continually reach towards its potential', be a contribution to the landscape 'as an aesthetic and human value', meet the needs identified, be 'open to surprise' and 'comfortable with conflict', have flexibility and be 'non-precious and nonmonumental'. It recognised that 'planning our needs will change, the scale of the operation will change, things about us will change and we will change.'
The original modular panelling system allowed for GRP and glass sections to be interchangeable
One of the first changes was that the building was Grade II listed in 2013, with English Heritage describing the factory as 'an important early work by one of Britain's foremost contemporary architects, [it] expresses many of the key features of the British High Tech Movement'. Somewhat ironically for a flexible building, each change had to be negotiated. 'There was some nervousness about setting the precedent of a living architect changing their listed building,' says Heath. Considerable time was spent trawling the archives for physical evidence, to prove that Grimshaw's initial statements on flexibility were not post-hoc expressions of a current desired change.
The original steel work, the slabs, foundations, the parapet panels and all the frame, except for the bottom transoms, have been retained in the 6m-high building. Surprisingly as the country's oldest GRP building, most of the completely demountable cladding of GRP, louvres and glazing were in a reasonable state, with some condensation damage at the bottom of the transom. Some 90% of the panels have been retained, the replacements being largely where corner panels had been removed by Herman Miller. All, prior to the conversion, have been repaired and given a new gloss coat on the factory floor. A strange, doubleskinned cavity detail was discovered in the cladding, but unable to discover its function, the architects faithfully reproduced it in the new panels.
Grimshaw collaborated heavily with the university's staff to create a new space that would meet the new building's pedagogical needs
Perished rubber gaskets had to be removed and replaced with a neoprene-rubber compound, and an alteration made to the glazing system to allow double glazing. A later mezzanine and plasterboard were stripped out. The major hiccup, apart from the need to regulate costs, was the requirement to control the light spill by installing louvres along the river frontage in order not to disturb the bat super highway along the Avon.
'When the bones of a building are really good, you listen to it and start responding to what it's telling you. It was an absolute dream to work on,' says Heath. In order to achieve the transformation, Heath worked to certain design principles in part derived from Grimshaw's original design and evolved through conversations with the academic and technical staff. 'The principle of the plan arrangement is to place making at the heart of the building, in the Making Spine, whilst maintaining openness between spaces. In this way the ambition is that the building creates an environment that encourages chance encounters between disciplines, as well as inspiring the imagination through the experience of seeing others work: seeing what is possible.'
The original brief called for a non-monumental building that could adapt to change, producing a highly flexible structure able to move from factory to university
The heaviest workshop environments, that are both noisy and hazardous, utilise the full 6m clear height of the building, but are placed centrally and acoustically isolated. 'What makes a building flexible is that some things aren't flexible,' says Heath. 'By putting the heavy-duty workshops in a big controlled acoustic box, it allows everything else the freedom to flex and change.' They are arranged around two shared making spaces where students can assemble and prepare work in a communal, quieter environment. This is the making heart of the building. No workshop is the prerogative of students from any one course, but are collaboratively operated.
The new interior pays homage to its industrial pedigree
The spaces that encircle this core are the lighter, open spaces, visually connected to each other. A mezzanine of studio spaces wraps the facade of the building on three sides, benefiting from high-quality natural daylight from new rooflights, as well as increased clear height given by a new area of raised roof. Below this mezzanine, workshops and studios that do not require the additional clear height are accommodated. All the mezzanine space is completely tuneable, to make open or enclosed spaces.
The new roof was contentious. The old metal tin roof was replaced and an additional third storey added; a glass box, set back 1.5m on the south side of the roof, to be out of sight from the perimeter. Vierendeel trusses take the load off existing beams, which had been at their limit, making it possible to bear the additional load of compliant roof insulation.
Making has been put at the heart of the building — centrally placed and sound-insulated
'We thought about using GRP panels, with rounded corners, but it looked like a pastiche,' says Heath. The original building also had issues with lack of light at the centre. The new Okalux clerestory windows and rooflights allow north light to permeate the southern run of the building. This new roof pavilion provides staff accommodation, lecture areas and a business engagement centre as well as adding additional height for the mezzanine studios and creating a clear services zone above the yellow, heritage, structural beams. Each has a service line so that power and lights can be plugged in at will; a plug and play system.
Following the approach of other creative arts buildings such as Central St Martins, the community centres around The Big Street, 10m wide and 65m long, in a building 65m wide and 85m long. It creates a flexible, shared space at the heart of the building where students, visitors and staff mix on a day to day basis. It is a primary circulation area, containing the lifts and main stairs to the mezzanine, as well as two staff and student entrances. The cafe and breakout spaces also spill into the Street, creating a vibrant and busy social space for the building's community.
Grimshaw considered using GRP for the third-storey extension on top of the building, but in the end felt that would be a pastiche
The final build area is 8,480 sq m, with the original factory being 5,200 sq m, representing a 60% uplift in accommodation. The total project cost of buying, renovating and fitting out the Locksbrook Campus was around £36m (including VAT) which compares favourably with similar art and design facilities at other universities.
Few would immediately call the building sustainable, given its high tech credentials. 'Steel, glass and plastic doesn't sound very sustainable,' says Heath, 'but after 40 years it's lasted better than most. The lightweight cladding means you use less steel. If a building can last 40 years and can adapt to changing circumstances, that's really as sustainable as you can get. We didn't go for BREEAM in the end, because when we investigated, we would have got a higher BREEAM scoring by knocking the building down and building a new building. It's got recycled water, retains all existing structure, and PV that powers the building on the roof. I think the model of building buildings that can last forever has got to be the way forward.'
Louvres had to be added to the building to avoid lightspill at night, as the river is a corridor for bat activity
'The collaboration with the university has been huge. They had some real decision makers,' says Heath. Grimshaw architects canvassed opinion and were delighted with the responses, such as when the furniture technician came up with a wooden model of the planning of his workshop. The net result is airy, acoustically remarkable and flexible. What's more, even after just a few weeks of occupation, it seems to be encouraging students and even more impressively staff, to collaborate across disciplines. 'For the conversion of a listed building, it's gone pretty smoothly,' sighs Heath contentedly.
The acoustics are impressive; the place has a quiet hum of focused activity, and all the academic staff, technicians, administrators and students seem delighted. Vice presidents of the Student Union, Megan Roberson and Cen Bailey, both agree: 'It works really well, there's good interaction. It's a genuinely nice environment, everyone now talks to everyone. It's much more collaborative than our previous campus. It helps provide a spark of creativity.'
Indeed everyone was unnaturally positive. 'We can already see students working and talking across disciplines,' enthuses Kerry Curtis. As one senior academic put it: 'It's like we've been sacked by Ford and found ourselves working in a new job for Rolls Royce. We're working for a different business.'
Blueprint editor Johnny Tucker interviews Nicholas Grimshaw at Minotti, November 2019
Nicholas Grimshaw photographed earlier this year by Blueprint after the announcement he had been awarded the 2019 RIBA Royal Gold Medal. Image credit: Ivan Jones
What was the brief?
Some people referred to the brief as a poem, you know: we want the building to be eternally flexible, we want people to feel natural light and we want people to work together and understand what each other are doing. They sort of tried to get the atmosphere of the company and I thought that was very important — they wanted us to understand what they were doing.
You were very taken with the flexibility side of the brief, weren't you?
Yes, there was some question about who was pushing it — Herman Miller or us. But the general atmosphere was one of trying to make it a pretty democratic and interchangeable kind of atmosphere. It was quite new, that the whole company should be democratic.
You were also very interested in the Action Office idea, weren't you?
Yes, it started off with the whole idea that somehow they could all join in. In a way they set the whole thing up, in the way they worked together. It was a kind of complete philosophy really. The idea that if you had to, if you wanted to, you could shuffle your entire workplace over a weekend and be back working in it on Monday.
When we first started with Herman Miller, I was quite keen on developing a brand called Action Factory where they made the components and then they reversed roles and made the parts in the first place from a drawing, and then manufactured pieces, and then they made the system so they could sort of develop it as we were building it which was quite an interesting concept. We certainly saw several of the components actually developed while we were putting the building up.
How did you go about creating this building and the ideas of flexibility — what was your design process?
There was a lot of trial and error in the whole process. We thought that the first thing is you've got to have flexibility to develop it as you go, to some degree. We had a lot of prototyping and people would knock up a bit of an arm of a thing overnight and then say, oh yeah, that's much better. Guidance from management pushed you in one way and you soon gathered from them what they didn't like and what they did like. It is sort of learning, which people seemed to do quite quickly, what didn't work and what did work.
The first thing was to make it as flexible as you possibly can, so you can divide it up into areas where people were specially doing something, or it can be swept away overnight. All the servicing was from the top down; they kept what was going on on the floor and the prototyping and all that kind of thing completely separate from the servicing, which was coming from the eave, from above.
If you wanted to carry the flexibility idea through, you had to make everything fit and match and the joints system; once you'd got that, joining panels together at 60 degrees or whatever, you can't suddenly change. The grid was, I suppose, the first thing you started off with. We spent quite a lot of time on the geometry of the joints and the things fitting together.
The hinge was absolutely critical and the more vertical joints you've got, the closer the panels got in slices and so you then had to set limits. You can divide a piece of cheese into 16 but you can't go much further than that and they started off with a point of a three-way joint and then it sort of developed from there.
When originally opened, the building very deliberately made the most of its riverfront situation specifically for the staff
How did you decide on the materials? You used a lot of glass panels on the river facade.
Well the environment was very important and being able to see out over the river, which was very impressive — everyone loved that. You could see colour from a daylight point of view and that was thought to be very, very important. It was a time of strong primary colours — bright yellow, orange and red and brown fabric seating — which everyone thought was completely mad for the time, but it worked.
How did you decide on fibreglass and what was it like using it?
Well I knew it for boats, but it turned out to be slightly different using it outside and using it inside. It's a very mouldable material and we probably had more experience than anybody else doing that, right back from the old days when we were casting bathrooms complete for the students' hostel in west London [the Student Hostel Service Tower, 1967] and they were just craned into position.
It was only the beginnings of people thinking you could actually replace steel with a lighter material. One of the things that led us towards fibreglass was because it's a directable material — you make casts, you develop the shapes and you can change them again too if it doesn't work properly from a planning point of view. The idea was to actually explain to [Herman Miller] what the material could do and sort of coax them towards using fibreglass as an overall material. Funnily enough, people liked the logic — it was like having Lego on your kitchen table, everybody trying a bit.
A wonderful aspect of fibreglass was you can make prototypes and develop the successes, going in the right direction so to speak. It's like doing boats really, you have lots of attempts at it but to get it really fast, you've got to develop the curves and then you've got a prototype and then you can refine it. It was the beginning of a sort of flexible design. I suppose you could say it's the start of where Zaha [Hadid] started — she wouldn't be anywhere without fibreglass for the curves, there's no other way of doing curves.
I think people are much more ruthless now, they want to find a form and they want to find it fast and start using it. The sort of prototype to end product period is crunching down closer and closer and a lot of things are being assumed without actually being developed at all really — and we had to see if they worked.
Lightness and the the mouldable qualities of GRP were key factors in its use and stemmed from Nicholas Grimshaw's love of sailing. Image credit: Grimshaw
What are you most proud of from the Herman Miller Factory project?
I think inevitably, the fact that it worked. That was a certain sort of feeling of achievement because you were dealing with something that actually did go together and fit. The irony is, these things don't happen overnight. It took several years to basically see the fact that actually, it is working, and that joint we thought was going to be absolute hell to engineer has worked and we've got a system that hangs together.
And now the 1976 Herman Miller factory has become Bath Spa University.
It's something I'm very proud of, that we made happen. We adapted it and bolted things on to it and gradually allowed it to emerge from being a factory to being a university, which is quite a big change really.
We found just by making some changes in levels of working, just tuning it up, we managed to turn it round from a component factory to a university. How can you change a building into a sort of friendly industrial environment? There's certain things about universities, about trying to integrate subjects together which seem to make it possible.
Probably some people think it's rather a lot of extra work to make it work, but it's an attractive centrepiece that's sort of becoming a bit of a magnet in changing the direction of the university. Everyone seems to be very happy about it at the moment. It's very interesting how psychology plays such a role: they think they accepted the fact that you could turn a factory building into a university as a general view, but then all the things that you had to do to it to make it work meant it got more and more compromised with people saying why are we doing this, why aren't we building it in Bath stone and all the rest of it. It leads you to the fact of sustainability: it's much better to try and make what's there work than to try and reinvent the wheel in a way.
This article was originally published in Blueprint issue 367. You can buy a copy here, or subscribe to Blueprint