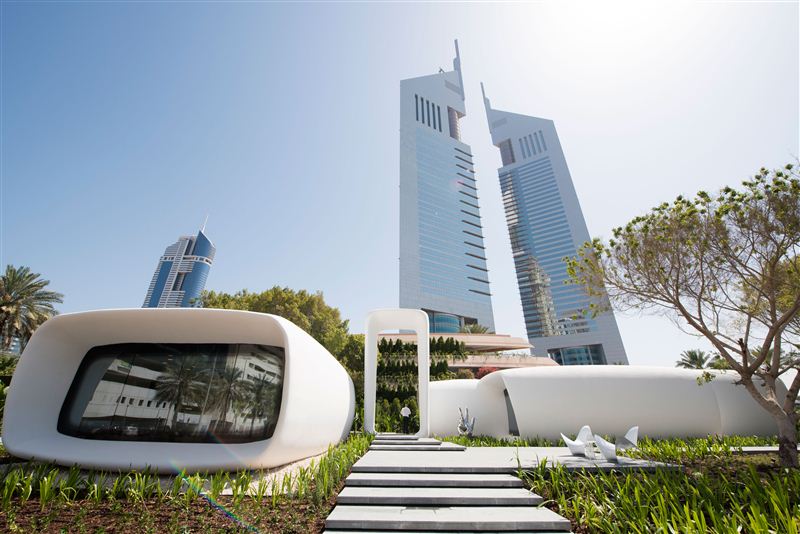 What links novelty personalised figurines, prosthetic body parts, components for cars and fighter jets, jewellery, guitars — and now, houses?
They're all on the list of objects that have been created using 3D printing technology. And while some of those projects will probably prove to be passing fads — feel free to take a moment at this stage to Google the inexplicable Japanese trend of printing models of Hollywood actor Keanu Reeves looking sad, if you really must — the use of 3D printing to produce entire buildings is gathering momentum.
A few years ago, 3D printing or additive manufacturing (AM) was used in the construction sector mainly to produce construction components and niche parts, such as interior-decorating features, lighting effects and furniture.
In recent years construction companies and national governments raised the bar with ambitious projects to 3D-print bigger and bigger structures. The goal was set: 3D print entire buildings. The challenge was laid down and the industry could only wait for the first buildings to rise.
And they did. In several countries 3D-printed projects have been initiated, and in some they have now been finished. That is the case in Dubai, where the world's first 3D-printed office building has recently opened its doors.
The 250sq m single-storey building has been built in just 17 days using a 20ft tall 3D printer and a special mix of concrete — fibre-reinforced plastic and glass fibre-reinforced gypsum.
The gigantic printer was 120ft long and 40ft wide and 'worked' almost alone, as it only needed one staffer to make sure it was functioning properly. The rest of the 18-person construction crew consisted of installers, electricians and mechanical engineers who completed the project for just a mere $140,000 in construction and labour costs, about half price of a comparable structure built using conventional methods.
The building is set to have a practical use as the temporary headquarters for the Dubai Future Foundation, becoming home of Dubai's Museum of the Future next year.
The opening follows the launch of the 'Dubai 3D Printing Strategy' and the forecast that a quarter of buildings in Dubai will have 3D-printed elements by 2030.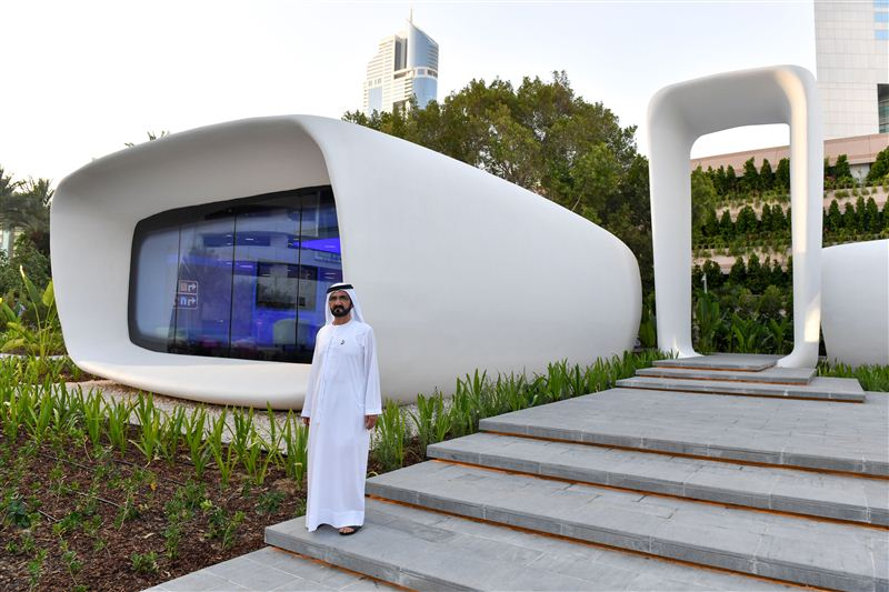 Sheikh Mohammed bin Rashid Al Maktoum inaugurates the world's first 3D-printed office building.
How it works
The process of 3D printing is computer-controlled and consists in the creation of three-dimensional solid objects from a digital file.
It involves the creation of a 3D model of what the operator wants to build, using computer aided design (CAD) or a 3D scanner. The 3D printer then reads the design and lays down successive layers of printing medium joined or fused to create the item.
Some methods involve melting or softening material to produce the layers. Selective laser sintering (SLS) and fused deposition modelling (FDM) are the most common techniques used in 3D printing.
Many future construction projects are set to use the new method in some way, with independent research and advisory firm Lux Research forecasting that the total 3D printing market will nearly quadruple to $12bn by 2025.
Additionally, Royal BAM Group has unveiled, last week, what the company says will be the world's first autonomous robot 3D printer.
The robot, developed in cooperation with Eindhoven robotics company Acotech, can move around a building site on its own and print stone or concrete buildings.
The machine is currently being used on the FabCity project in Amsterdam, where it is building the 'Landscape House' — a 3D-printed concept house — designed by Rotterdam-based practice Universe Architecture.
Janjaap Ruijssenaars, founder of Universe Architecture, said: "It's fantastic that we have jointly conceived a machine that can make something new. This was much more commonplace for architects during the Renaissance."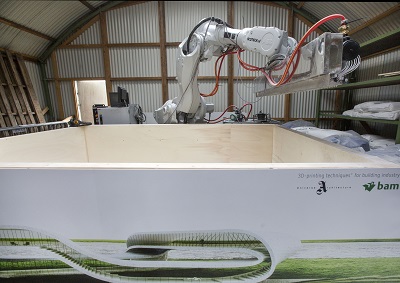 The robot 3D printer is building the the 'Landscape House' in Amsterdam.
Projects in the pipeline
Future plans using 3D printing include the construction of 3D-printed laboratories at Mohammed Bin Rashid Al Maktoum Solar Park in Dubai, and 3D-printed homes in Singapore.
The Dubai Electricity and Water Authority (DEWA) has released an Expression of Interest (EOI) for the construction of four labs— an electronics laboratory, software laboratory, mechanical laboratory, and prototype laboratory —using the innovative technology and an outdoor testing facility at the Mohammed Bin Rashid Al Maktoum Solar Park.
The labs will facilitate research on drones and 3D-printing technology to support DEWA's on-going projects.
HE Saeed Mohammed Al Tayer, managing director and CEO of DEWA, said: "The Dubai 3D Printing Strategy is a unique global initiative to use technology for the service of humanity and promote the status of the UAE and Dubai as a leading hub of 3D printing technology by 2030. ? ?"DEWA's Innovation Centre includes a number of clean energy R&D laboratories for solar power, smart grids, energy efficiency research, drone research, and solar-powered desalination. The total investment on the centre will be AED500M ($136M)."
House building made child's play
Singapore will be also employing the technology, but this time in the construction of public residential developments.
To address the housing demand in the country the novel method of construction is on the table, as 80% of the country's residents live in government-owned buildings.
Plans are being made with the Singapore Centre for 3D Printing to test the feasibility of 3D printing public units storey-by-storey, off-site, before assembling them at their destination.
Professor Chua Chee Kai, executive director of the Singapore Centre for 3D Printing, told GovInsider: "The idea is to print them maybe a unit at a time. So if you have a 10-storey building, you will probably do one storey at a time. These will be transported to the construction site where they will be stacked up like Lego."
The centre has plans to build a test-bed prototype in three years' time using concrete 3D printers. With the country's construction industry still very dependent on traditional methods and on foreign labour, this type of technology is still in its beginning stages in the country and because of that, said Chua Chee Kai, they have to develop 3D printers and printable concrete from scratch.
The country seems to be moving forward in that direction with the recent opening of a new 3D Printing Centre by Nanyang technological University (NTU).
NTU's president, professor Bertil Anderson said: "At NTU, we have some of the world's leading scientists and engineers in this field to research, develop and facilitate industry adoption of 3D printing applications to strengthen Singapore's economy and better the lives of people.
"We aim to groom the next generation of 3D printing engineers so as to grow the much needed manpower for this rapidly developing sector."
Projects being developed at the moment in the Centre include the 3D printing of customised concrete structures for buildings, such as rooms, beams and pillars, and the automate production of a fibre-reinforced construction material where concrete is sprayed into a surface with supporting wire mesh.
The Centre has attracted $41M in additional funds from the industry and various government agencies, and will partner with Emerson Process Management in the creation of a joint laboratory and an additive manufacturing centre at their facility, along with two joint research projects focused in 3D printing methods to design and produce complex engineering parts.
European progress
In Europe, companies are still opening up to the opportunities and possibilities 3D printing has to offer.
Amsterdam is home to a 3D-printed canal house project which was initiated by DUS architects in 2014.
The Canal House is a research project, a three-year publically accessible 'Research & Design by Doing' project with the goal of revolutionising the building industry.
It addresses the question of how digital production techniques can offer affordable housing solutions worldwide, for example in slums or in disaster areas, as well as looking at how digital designs can be shared and modified via the internet and new online networks.
Hedwig Heinsman, founding partner of DUS Architects, said: "Over here it's all happening at the same time, we are still in the research phase but we are also in the construction phase."
According to Heinsman, the building site is "an on-going living lab where everyday new prints are made" and the design, research and construction are happening simultaneously.
"[The site] is about 4,000sq m and you can see two large 3D printers. There is a really big shredder where we shred the plastics that we don't need anymore and we can directly reprint it again.
"There are two temporary offices where our architectural firm has its office and also all our print people, and then there are a lot of 3D printed building elements standing around," explains Heinsman.
Even though the final house is not yet printed, parts of the house can already be seen on the building site, which is open to the public upon request. The public's feedback generates input for research and market explorations.
The Canal House is using newly developed materials derived from bio-based raw materials that are printed with the KamerMaker, a giant FDM printer developed by DUS that can print elements of 2m x 2m x 3.5m high.
The project has been growing and transforming over time, says Heinsman: "Firstly, it would only be a temporary house, but now it's really transforming into a permanent showcase of 3D printing for the building industry. We will have offices, a café, workshop areas and very large areas where you can see large 3D printers at work, so really a mixture of working and construction and living.
"The construction is continuing after the three-year time frame, because we've moved now to a larger site where we can stay indefinitely, on the contrary to our previous location where we had a temporary agreement.
"[The project] part of the 3D Print Canal House research is continued into a new company named Actual, that it's really going to bring 3D printed building products to the market," said Heinsman.
Developed by several partners, the project's entire site was named a 'free zone' by the government, giving them the freedom to do more innovation, testing and printing.
<iframe src="//players.brightcove.net/2534274892001/default_default/index.html?videoId=5000597096001″ height="470px" width="470px" allowfullscreen
webkitallowfullscreen
mozallowfullscreen></iframe>
Learning process
The uses of 3D printing in the construction industry have come a long way since Arup Group created a redesign of a steel node for a lightweight structure using additive manufacturing in 2014, in Amsterdam.
At that time the research that led to the steel node's printing had a main goal: to find out whether direct printing in metal would be feasible for structural elements.
Salomé Galjaard, senior designer and responsible for the set up of digital fabrication service at Arup, said: "There is some work to be done, but we think we've proven that in some cases that it is possible and that it can also be of added value to specific projects."
The production process, from the design through to the end product, was a learning process, says Galjaard: "We just learned along the way how best to design for additive manufacturing, which tools we needed and which designs to take into account.
"We didn't know [about the process] and there was nothing to be found on the internet. It was a lot of trial and error and we really learned along the way."
Despite the method becoming more and more widespread and available, it would be naive to think that there aren't still struggles in the building process.
According to Galjaard, who admitted to be a little sceptical about the method at the beginning of the research, the team's biggest challenge was to stop thinking in a traditional way.
"It's very hard to all of a sudden allow your mind to think into organic shapes, so we found ourselves a couple of times coming up with solutions where afterwards we would say: 'No, wait a minute that's not right. We can really go on a different route, this was traditional thinking that we applied and that's not necessary with these techniques'.
"So actually giving ourselves the freedom to design, to really design for additive manufacturing with all the design freedom it provides, that was the hardest thing to do," said Galjaard.
The transition from traditional construction methods to a cost-effective and time-saving one, especially in Asia and Middle East, is what drives most of the companies to adopt 3D printing in their projects.
Galjaard stresses that at a first sight the production of the steel node was more expensive than a traditional one, but by looking at the bigger picture it actually had positive cost implications.
"Our metal node is a lot more expensive than the traditional one, but then again we use 75% less material per node, and it's half the size.
"That means that in our case all the other elements in the structure could also become lighter only by reducing the weight of the nodes. So the structure as a whole becomes 50% lighter."
Other projects using printed steel include the construction of a steel bridge, set to be the first in the world, in Amsterdam by Dutch company MX3D.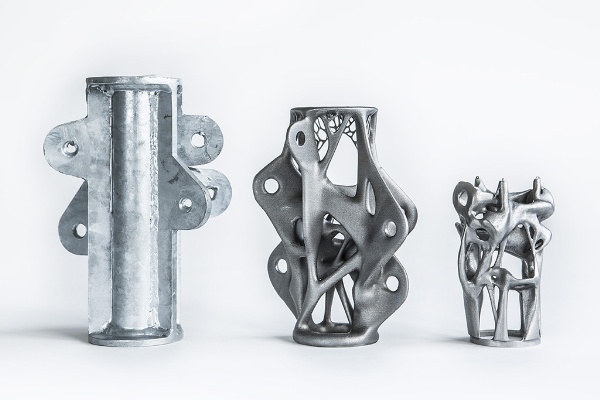 Arup created a redesign of a steel node for a lightweight structure using additive manufacturing.
Established in Asia
In China, 3D printing technology has been successfully handled since 2014, it seems. Chinese materials firm WinSun claimed to have printed ten houses in just 24 hours using construction waste in that year. In 2015 the company printed the world's tallest 3D- printed apartment block and a 1,100sq m mansion.
Now Shining 3D has opened a 3D Printing Innovation Centre, to be used as the company's headquarters, in Hangzhou, Zheijiang province.
The 25,000sq m facility is one of the biggest of its kind in the world and will focus on manufacturing, research and development, and costumer service.
Some believe that 3D printing will be referred as the 'next industrial revolution', with successful projects such as WinSun's providing evidence that it can be used commercially — while others are more sceptical. Either way, we have still only seen the tip of the iceberg of opportunities and possibilities.
As Luo Jun, secretary general of China's 3D Printing Technology Industry Alliance, said: "In terms of the global 3D printing industry, the competitive landscape is still evolving.
"So who will become the real 3D printing giant in the future? It's an open and exciting market."