The construction industry continues to be a hotbed of innovation, with activity driven by an increased focus on circular construction, environmental sustainability and workplace safety, and the growing importance of technologies such as robotics and the Internet of Things (IoT). In the last three years alone, there have been over 248,000 patents filed and granted in the construction industry, according to GlobalData's report on Innovation in Construction: Recycled waste cement additives.
However, not all innovations are equal and nor do they follow a constant upward trend. Instead, their evolution takes the form of an S-shaped curve that reflects their typical lifecycle from early emergence to accelerating adoption, before finally stabilising and reaching maturity.
Identifying where a particular innovation is on this journey, especially those that are in the emerging and accelerating stages, is essential for understanding their current level of adoption and the likely future trajectory and impact they will have.
80+ innovations will shape the construction industry
According to GlobalData's Technology Foresights, which plots the S-curve for the construction industry using innovation intensity models built on over 179,000 patents, there are 80+ innovation areas that will shape the future of the industry.
Within the emerging innovation stage, mullion-transom curtain walls are a disruptive technology that is in the early stages of application and should be tracked closely. Heat-insulated glazing panels, drainage gully grating, and acoustic ceiling panels are some of the accelerating innovation areas, where adoption has been steadily increasing. Among maturing innovation areas are abrasion-resistant decorative flooring and road construction milling tool, which are now well established in the industry.
Innovation S-curve for the construction industry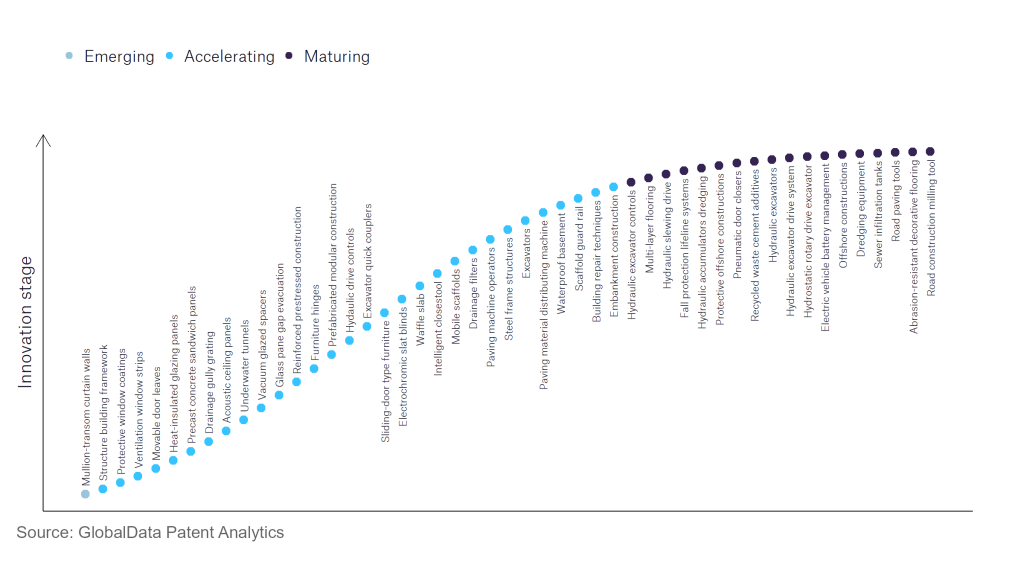 Recycled waste cement additives are a key innovation area in construction
With environmental sustainability growing in importance within the construction industry, there is an increased focus on methods to reduce the carbon footprint of building materials. Given the cement industry produces between 4% and 8% of global CO2 emissions, efforts to reduce the carbon intensity of cement are a key component of this focus. The recycling of materials such as concrete or brick aggregate, and waste glass from municipal waste or recycled waste gypsum boards can be used as a replacement for raw materials in cement production.
GlobalData's analysis also uncovers the companies at the forefront of each innovation area and assesses the potential reach and impact of their patenting activity across different applications and geographies. According to GlobalData, there are 30 companies, spanning technology vendors, established construction companies, and up-and-coming start-ups engaged in the development and application of recycled waste cement additives.
Key players in recycled waste cement additives – a disruptive innovation in the construction industry
'Application diversity' measures the number of different applications identified for each relevant patent and broadly splits companies into either 'niche' or 'diversified' innovators.
'Geographic reach' refers to the number of different countries each relevant patent is registered in and reflects the breadth of geographic application intended, ranging from 'global' to 'local'.
Patent volumes related to recycled waste cement additives
Source: GlobalData Patent Analytics
Leading innovators in the development of recycled waste cement additives include HeidelbergCement and Holcim, two of Europe's largest cement and concrete producers. HeidelbegCement has committed to achieve carbon neutrality across its entire concrete product portfolio by 2050. Recent progress towards this goal includes the first-ever continuous large-scale test of the re-carbonation of recycled concrete in a cement plant using flue gases obtained from kiln stack. The test was successfully carried out using recycled concrete paste as a CO2-sequestration substrate in a semi-dry circulating fluidised bed reactor. A key development by Holcim in the use of recycled cement additives include the production of the world's first cement clinker made entirely of recycled minerals in August 2022.
In terms of application diversity, leading companies in the recycled waste cement additive space include Geopolymer Solutions, a concrete technology company, and Gebr Knauf, a construction material manufacturer. In terms of geographic reach, leading companies include Solvay, Ruentex Engineering & Construction and Yara International.
To further understand the key themes and technologies disrupting the construction industry, access GlobalData's latest thematic research report on Construction.