The construction industry continues to be a hotbed of innovation, with activity driven by an increased focus on environmental sustainability and workplace safety, and the growing importance of technologies such as the Internet-of-Things (IoT) and robotics as well as higher quality construction products and materials. In the last three years alone, there have been over 248,000 patents filed and granted in the construction industry, according to GlobalData's report on Innovation in Construction: Mobile scaffolds.
However, not all innovations are equal and nor do they follow a constant upward trend. Instead, their evolution takes the form of an S-shaped curve that reflects their typical lifecycle from early emergence to accelerating adoption, before finally stabilising and reaching maturity.
Identifying where a particular innovation is on this journey, especially those that are in the emerging and accelerating stages, is essential for understanding their current level of adoption and the likely future trajectory and impact they will have.
80+ innovations will shape the construction industry
According to GlobalData's Technology Foresights, which plots the S-curve for the construction industry using innovation intensity models built on over 179,000 patents, there are 80+ innovation areas that will shape the future of the industry.
Within the emerging innovation stage, mullion-transom curtain walls is a disruptive technology that is in the early stages of application and should be tracked closely. Heat-insulated glazing panels, drainage gully grating, and acoustic ceiling panels are some of the accelerating innovation areas, where adoption has been steadily increasing. Among maturing innovation areas are abrasion-resistant decorative flooring and road construction milling tool, which are now well established in the industry.
Innovation S-curve for the construction industry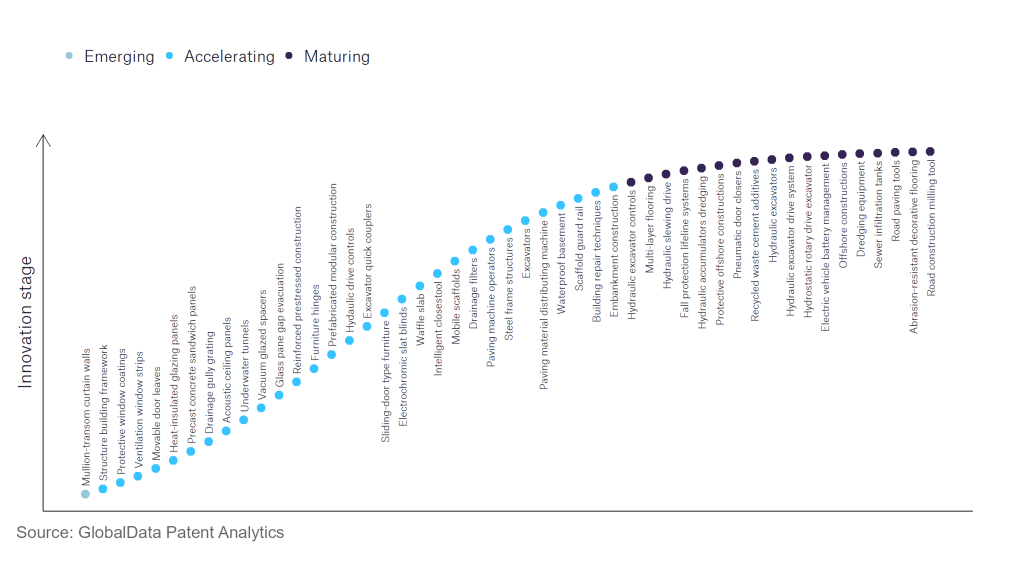 Mobile scaffolds are a key innovation area in construction
A mobile scaffold provides a movable working platform that is beneficial for tasks such as painting and plastering. It consists of a scaffold that can be adjusted for size and shape set on wheels or casters, allowing for fast manoeuvrability.
GlobalData's analysis also uncovers the companies at the forefront of each innovation area and assesses the potential reach and impact of their patenting activity across different applications and geographies. According to GlobalData, there are 10+ companies, spanning technology vendors, established construction companies, and up-and-coming start-ups engaged in the development and application of mobile scaffolds.
Key players in mobile scaffolds – a disruptive innovation in the construction industry
  'Application diversity' measures the number of different applications identified for each relevant patent and broadly splits companies into either 'niche' or 'diversified' innovators.
'Geographic reach' refers to the number of different countries each relevant patent is registered in and reflects the breadth of geographic application intended, ranging from 'global' to 'local'.
Patent volumes related to mobile scaffolds
Source: GlobalData Patent Analytics
A leading company in the mobile scaffold space is PERI. One of the company's recent innovations to improve the efficiency and safety of mobile scaffold usage involves the use of hydraulic cylinders, power units, and control units designed to allow the operator to raise and lower the height of the scaffold. In addition, the climbing unit would also extend and retract synchronously with the formwork, mitigating excess safety risks arising from exposed falling edges. Other companies in the space include China State Construction Engineering and Shanghai Construction Group.
In terms of application diversity, the leading companies are Safway Services, ThyssenKrupp, and PERI. The leading companies in terms of geographic reach are Safway Services, Thyssen Krupp, and MEVA Schalungs-Systeme.
To further understand the key themes and technologies disrupting the construction industry, access GlobalData's latest thematic research report on Construction.